US stocks closed lower on Tuesday, March 8, after the US banned Russian oil imports, causing a price surge, and investors trimmed bond holdings, fearing more turmoil in the market.
The S&P 500 declined 0.72% to 4,170.70. The Dow Jones fell 0.56% to 32,632.64. The NASDAQ Composite fell 0.28% at 12,795.55, and the small-cap Russell 2000 was up 0.60% to 1,963.01.
On Tuesday, the US banned oil imports from Russia, while Britain said it would phase out all Russian oil products by year-end. Brent oil rose 4.54% to US$128.80 a barrel after the news.
Prices of other commodities like gold, silver, and nickel also rose over supply disruption worries. Nickel is used in electric vehicle batteries.
Economists said the new supply disruptions would deeply impact the economy, coming close on the heels of pandemic-related lockdowns.
Energy and consumer discretionary sectors were the biggest gainers on Tuesday. Nine out of 11 sectors of the S&P 500 closed in the negative territory. Healthcare, consumer staples, and utility sectors were the bottom movers.
Shares of Enphase Energy, Inc. (ENPH) and SunPower Corporation (SPWR) surged more than 11% and 20% in intraday trading, respectively.
In other energy stocks, Exxon Mobile Corporation (XOM) rose 0.76%, Chevron Corporation (CVX) gained 5.24%, and BP plc (BP) increased by 4.39%.
Schlumberger Limited (SLB) was up 7.08%, and Shell Plc (SHEL) increased by 2.68%.
Cybersecurity firm Mandiant, Inc. (MNDT) stock plunged over 2% in intraday trading after it entered into a definitive agreement to be bought by Google for about US$5.4 billion in an all-cash transaction. The Alphabet Inc. (GOOGL) stock grew over 2% after the news.
The Apple Inc. (AAPL) stock fell 0.9% after it said it added 5G connectivity to its low-cost iPhone SE and iPad Air and introduced a faster chip for desktop.
Restaurant chain McDonald's Corporation (MCD) stock slid 0.3% after it said it would close all its 847 stores in Russia but continue paying employee salaries.
In the consumer discretionary sector, Tesla Inc. (TSLA) stock rose 2.46%, Lowe's Companies, Inc. (LOW) increased by 0.45%, and Airbnb, Inc. (ABNB) surged 8.01%. Booking Holdings Inc. (BKNG) and Ford Motor Company (F) were up 4.53% and 0.38%, respectively.
In the healthcare sector, Merck & Co., Inc. (MRK) declined 1.00%, Pfizer Inc. (PFE) fell 1.13%, and AbbVie Inc. (ABBV) declined 1.54%. Novartis AG (NVS) was down 0.09%, and Johnson & Johnson (JNJ) fell 2.03%.
The global cryptocurrency market was up 2.24% to US$1.73 trillion at 2.45 pm ET, as per coinmarketcap.com. Bitcoin (BTC) price jumped 3.26% to US$38,724.67 in the last 24 hours.
Also Read: From VALE to BHP: Top nickel stocks to explore amid supply concerns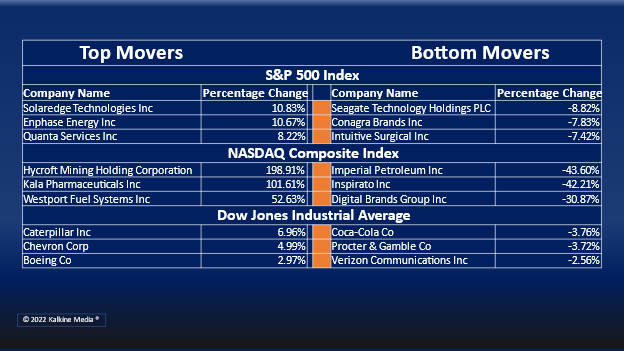 Also Read: What is privacy-focused Zcash (ZEC) crypto?
Also Read: Snyk IPO: When will the cybersecurity startup go public?
Futures & Commodities
Gold futures surged 3.04% to US$2,056.45 per ounce. Silver futures increased by 4.41% to US$26.855 per ounce, while copper futures declined by 0.20% to US$4.7215.
Brent oil futures increased by 4.54% to US$128.80 per barrel, and WTI crude futures were up by 4.46% to US$124.72.
Bond Market
The 30-year Treasury bond yields increased 3.80% to 2.233, while the 10-year bond yields were up 5.72% to 1.849.
US Dollar Futures Index declined 0.22% at US$99.080.