Wall Street indices closed mixed on Wednesday, June 29, following losses in two consecutive sessions after Jerome Powell reiterated that the US economy could withstand the central bank's rate hikes.
The S&P 500 fell 0.07% to 3,818.83. The Dow Jones rose 0.27% to 31,029.31. The NASDAQ Composite lost 0.03% to 11,177.89, and the small-cap Russell 2000 shed 1.12% to 1,719.37.
While speaking at the European Central Bank's annual economic policy conference, Fed Chair Jerome Powell exuded confidence in reining-in the inflation to a 2% target and said the economy is "strong enough" to absorb the rate shock. The US CPI inflation was 8.6% in May.
Meanwhile, on Wednesday, the Commerce Department released its revised first-quarter GDP data, which contracted further at an annual rate of 1.6% from the previously estimated 1.5%.
On Wednesday, healthcare, consumer staples, and information technology were the top performers in the S&P 500 index. Seven of the 11 sectors of the index stayed in the negative territory. The energy and real estate sectors were the bottom movers.
Shares of Bed Bath & Beyond Inc. (BBBY) fell 23.71% after the retailer's quarterly losses surpassed Wall Street's estimates. The company said it is replacing its Chief Executive Officer, Mark Tritton.
Cruise line operator Carnival Corporation & plc (CCL) stock fell 14.18% after analysts trimmed the stock's price targets.
Food company General Mills, Inc. (GIS) stock gained 5.91% after reporting strong quarterly sales, topping analysts' estimates. The company said that higher prices have bumped up its sales.
In the healthcare sector, UnitedHealth Group Incorporated (UNH) increased by 1.43%, Eli Lilly and Company (LLY) soared by 1.74%, and Novo Nordisk A/S (NVO) gained 1.63%. AstraZeneca PLC (AZN) and Abbott Laboratories (ABT) advanced 1.65% and 1.91%, respectively.
In consumer staples stocks, PepsiCo, Inc. (PEP) added 1.66%, Mondelez International, Inc. (MDLZ) rose 1.11%, and Dollar General Corporation (DG) jumped 1.49%. Monster Beverage Corporation (MNST) and Kimberly-Clark Corporation (KMB) surged 2.80% and 1.30%, respectively.
In the energy sector, Exxon Mobil Corporation (XOM) decreased by 3.68%, Chevron Corporation (CVX) fell by 2.08%, and Shell plc (SHEL) declined by 1.03%. PetroChina Company Limited (PTR) and ConocoPhillips (COP) plummeted by 3.09% and 3.91%, respectively.
In the crypto space, Bitcoin (BTC) rose 0.60%, while Ethereum (ETH) plunged 3.34%. The global crypto market cap tumbled 1.16% to US$903.49 billion at 4:14 pm ET on June 29.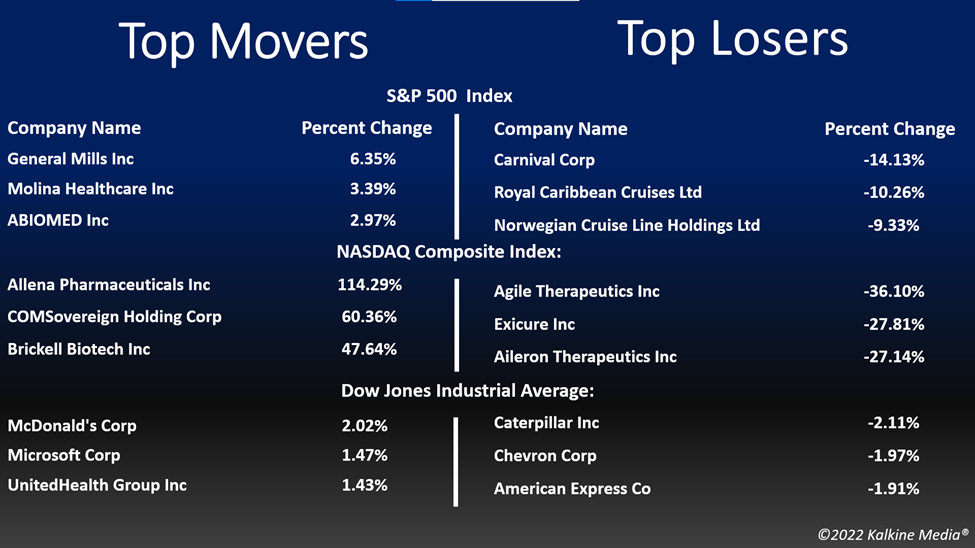 Futures & Commodities
Gold futures were down 0.09% to US$1,819.55 per ounce. Silver decreased by 0.67% to US$20.733 per ounce, while copper fell 0.30% to US$3.7687.
Brent oil futures decreased by 1.58% to US$112.00 per barrel and WTI crude was up 2.08% to US$109.44.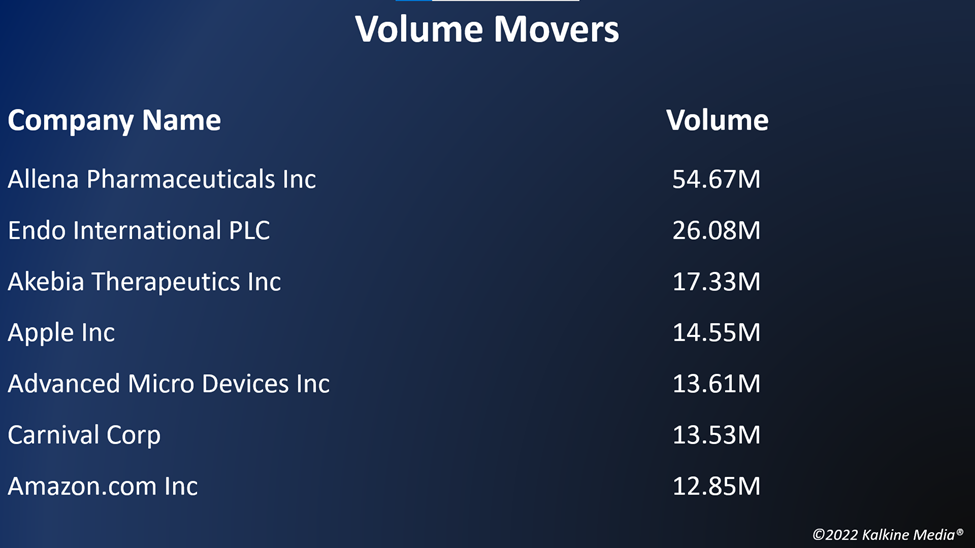 Bond Market
The 30-year Treasury bond yields were down 2.93% to 3.215, while the 10-year bond yields fell 3.68% to 3.089.
US Dollar Futures Index increased by 0.56% to US$104.845.