Benchmark US indices ended the session lower on Thursday, September 29, as the concerns over economic growth seem to have affected the investors' confidence. On the other hand, the reversing course of the treasury yields had also weighed on the market sentiment.
The S&P 500 fell 2.11 per cent to 3,640.47. The Dow Jones was down 1.54 per cent to 29,225.61. The NASDAQ Composite lost 2.84 per cent to 10,737.51, and the small-cap Russell 2000 fell 2.35 per cent to 1,674.93.
The investors appear to be keeping their distance from the risk-bet stocks, while sitting on the sideline, as the growing tensions over an economic slowdown due to the central bank's harsh effort to curb inflation has dampened the overall environment.
In addition to that, the hawkish remarks from the policymakers that they would continue to back more aggressive hikes in the coming months had also affected the investors' spirit.
The investors were anticipating that the Federal Reserve may turn dovish with their policy rates next year, while the recent comments from the Fed officials cemented bets that the central bank would keep increasing the rates through 2023.
On Thursday, September 29, all 11 segments of the S&P 500 index closed in negative territory. The information technology and consumer discretionary sectors were the bottom movers of the index.
Shares of CarMax, Inc. (NYSE: KMX) declined more than 24 per cent in the intraday session on September 29, after the used vehicle retailer reported its second quarter fiscal 2022 earnings results that may have come below the market expectations.
Another major retail firm, Bed Bath & Beyond Inc. (BBBY) plummeted more than four per cent on Thursday after the retail store operator reported its latest quarterly earnings results, which showed a 28 per cent drop in its recent quarter sales.
In the technology sector, Apple Inc. (AAPL) lost more than 4.91 per cent, Microsoft Corporation (MSFT) decreased by 1.48 per cent, and NVIDIA Corporation (NVDA) plunged by 4.05 per cent. Broadcom Inc. (AVGO) and ASML Holding N.V. (ASML) slipped by 3.40 per cent ad 3.05 per cent, respectively.
In consumer discretionary stocks, Amazon.com, Inc. (AMZN) fell 2.72 per cent, Tesla, Inc. (TSLA) dropped by 6.81 per cent, and The Home Depot, Inc. (HD) retreated 1.37 per cent. Toyota Motor Corporation (TM) and Nike Inc. (NKE) ticked down 2.29 per cent and 3.41 per cent, respectively.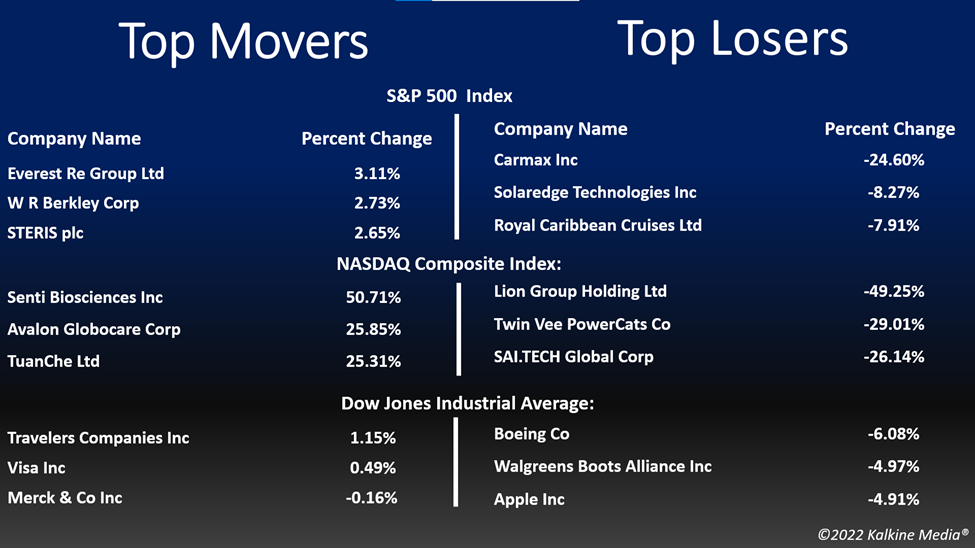 Futures & Commodities
Gold futures were down 0.07 per cent to US$1,668.75 per ounce. Silver decreased by 0.50 per cent to US$18.785 per ounce, while copper rose 2.03 per cent to US$3.4270.
Brent oil futures decreased by 0.66 per cent to US$87.47 per barrel and WTI crude was down 0.65 per cent to US$81.62.
Bond Market
The 30-year Treasury bond yields were up 1.06 per cent to 3.720, while the 10-year bond yields rose 2.17 per cent to 3.788.
US Dollar Futures Index decreased by 0.41 per cent to US$112.052.