S&P 500 and Dow Jones closed higher on Wednesday, October 20, pulled up by gains in healthcare stocks, while Nasdaq stayed near flat as investors turned their focus away from technology shares.
The S&P 500 was up 0.37% to 4,536.19. The Dow Jones rose 0.43% to 35,609.34. The NASDAQ Composite fell 0.05% to 15,121.68, and the small-cap Russell 2000 was up 0.61% to 2,289.77.
Traders remained upbeat as companies raised guidance following their strong quarterly earnings.
Healthcare and utility stocks saw gains for the second consecutive day on the S&P 500 index Wednesday. Technology and communication stocks were the bottom movers. Overall, eight of the 11 stock segments of the index stayed in the positive territory.
Stocks of Pinterest, Inc. (PINS) jumped 14.11% after media reports claimed that PayPal Holdings, Inc. (PYPL) is in talks to acquire the company for US$45 billion. However, PayPal stock fell 4.83%.
ASML Holdings N.V. (ASML) stock declined 4.64% after reporting quarterly results on Wednesday. Its total sales were €5.24 billion in Q3, FY21, which failed to meet analysts' expectations, while its earnings of €1.74 billion, or €4.26 per diluted share, were above the forecast.
Novavax (NVAX) stock fell 15.12% in intraday trading after it said it is facing challenges to meet the FDA quality standards for the Covid-19 vaccine.
On the other hand, Abbott Laboratories (ABT) stock rose 3.55% after reporting strong quarterly earnings and forward revenue guidance. Its sales rose by 23% YoY to US$10.9 billion in Q3, FY21.
UnitedHealth Group Incorporated (UNH) stock gained 2.33%, Pfizer, Inc. (PFE) rose 1.80%, and Thermo Fisher Scientific Inc (TMO) rose 2.41%.
Danaher Corporation (DHR) and Abbvie Inc. (ABBV) advanced 2.28% and 1.06%, respectively.
In the utility sector, NextEra Energy, Inc. (NEE) increased by 2.27%, The Southern Company (SO) rose 1.10%, and Dominion Energy, Inc. (D) gained 1.82%. Exelon Corporation (EXC) and American Electric Power Company, Inc. (AEP) were up 1.65% and 1.25%, respectively.
In consumer discretionary stocks, McDonald's Corporation (MCD) declined 1.00%, Booking Holdings Inc. (BKNG) fell 3.11%, and Chipotle Mexican Grill, Inc. (CMG) decreased by 1.02%. Las Vegas Sands Corp. (LVS) and MGM Resorts International (MGM) plummeted 2.18% and 1.15%, respectively.
Also Read: Five stocks with over 100% YTD return: Can they repeat that in 2022?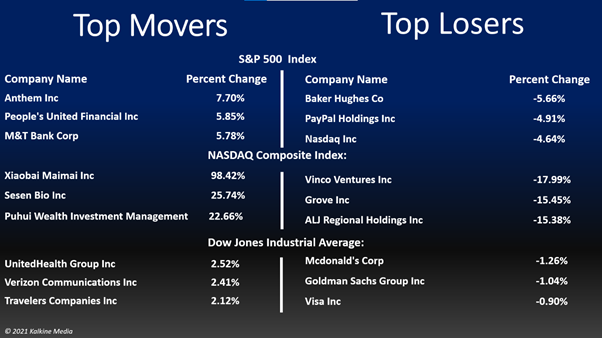 Also Read: Netflix (NFLX) beats estimates in Q3, adds record subscribers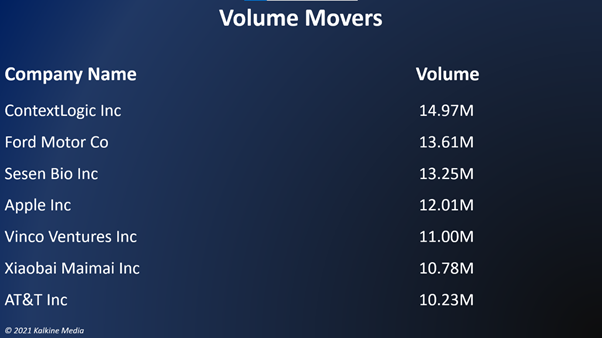 Also Read: Top chocolate and bakery stocks to explore for a sweet tooth
Futures & Commodities
Gold futures were up 0.67% to US$1,782.35 per ounce. Silver increased by 2.05% to US$24.372 per ounce, while copper rose 0.82% to US$4.7417.
Brent oil futures increased by 0.89% to US$85.84 per barrel and WTI crude was up 1.29% to US$83.50.
Bond Market
The 30-year Treasury bond yields was up 2.18% to 2.131, while the 10-year bond yields rose 1.23% to 1.654.
US Dollar Futures Index decreased by 0.12% to US$93.612.