U.S. stock market benchmark indexes NASDAQ Composite and S&P 500 closed lower on Tuesday, May 4, amid sell-off in the technology sector. However, Dow Jones managed to gain 20 points. Tech-savvy NASDAQ Composite lost 262 points and S&P lost 28 points.
Stocks in technology and consumer cyclical sectors declined the most on S&P, while basic materials and healthcare stocks offset the decline in technology and consumer stocks on Dow Jones.
The NASDAQ Composite dropped 1.88 percent to 13,633.50. The S&P 500 decreased 0.67 percent to 4,164.66. Dow Jones was up 0.06 percent at 34,133.03. The small-cap Russell 2000 fell 1.28 percent to 2,248.29.
The U.S. Treasury Secretary Janet Yellen reportedly suggested that the Federal Reserve might have to increase interest rates to keep the economy from "overheating" because of President Joe Biden's spending plans.
Meanwhile, the latest data from the U.S. Department of Commerce said the trade deficit in consumer goods and services during March widened 5.6 percent to US$74.4 billion, up US$3.9 billion from US$70.5 billion in February. Exports grew 6.6 percent to $200 billion while imports rose 6.3 percent to US$274.5 billion.
Image Source: Copyright © 2021 Kalkine Media LLC
Top Gainers
Top performers on S&P 500 were Gartner Inc1 (4.22%), Sealed Air Corp (9.51%), Henry Schein Inc (7.92%) and Leggett & Platt Inc (5.89%).
Cocrystal Pharma Inc (72.58%), SemiLEDs Corp (57.98%), BioLine RX Ltd (52.98%) and Reed's Inc (44.00%) were top performers on NASDAQ.
On Dow Jones, Dow Inc (2.59%), Caterpillar Inc (2.30%), Johnson & Johnson (1.55%) and JPMorgan Chase & Co (1.38%) gained the most.
Top Losers
Top laggards on S&P 500 were IPG Photonics Corp (10.44%), Catalent Inc (7.41%), Paycom Software Inc (6.49%) and Enphase Energy Inc (6.29%).
ChemoCentryx Inc (45.45%), Sequential Brands Group Inc (37.66%), Image Sensing Systems Inc (23.96%) and Ocugen Inc (20.22%) were among the top losers on NASDAQ.
On Dow Jones, Apple Inc (3.54%), Salesforce.Com Inc (2.94%), Microsoft Corp (1.62%) an Nike Inc (1.11%) were laggards.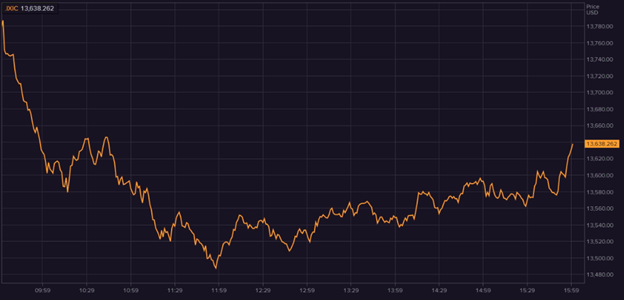 Source: Refinitiv, NASDAQ Composite Index on May 4 .
Volume Movers
Top volume movers were Cocrystal Pharma Inc (66.32M), Precipio Inc (35.66M), BioLine RX Ltd (31.34M), Apple Inc (30.17M), Sundial Growers Inc (16.13M), General Electric Co (13.15M), Ocugen Inc (13.14M), Bank of America Corp (12.24M), Ford Motor Co (11.93M), AT&T Inc (11.22M), Microsoft Corp (10.98M) and Farmmi Inc (10.42M)
Commodities
Gold Futures were up 0.12 percent to US$ 1778.10 per ounce on Tuesday. Silver increased 0.01 percent to US$ 26.560 per ounce, while copper were up 0.75 percent to US$ 4.5555.
Brent Crude Futures grew 0.89 percent to US$ 69.49 per barrel and Crude Oil Futures were up 0.78 percent to US$ 66.20.
Bond Market
The 30-year Treasury bond yields were down 0.019 percent on Tuesday to 2.265 while the 10-year bond yields were down 0.012 percent to 1.593.
US Dollar Futures Index was up 0.38 percent to US$ 91.28 on May 4.