Dow Jones and S&P 500 edged higher while Nasdaq closed flat on Wednesday, April 27, as strong quarterly earnings of Microsoft Corp and Visa Inc lifted the market sentiment in a reversal from the previous day's fall.
The S&P 500 rose 0.21% to 4,183.96. The Dow Jones rose 0.19% to 33,301.93. The NASDAQ Composite decreased by 0.01% to 12,488.93, and the small-cap Russell 2000 was down 0.34% to 1,884.04.
Shares of Microsoft Corporation (MSFT) and Visa Inc. (V) rallied 6.56% and 8.13%, respectively, a day after reporting strong quarterly results.
The software giant provided strong revenue guidance for its cloud computing business, while Visa projected its fiscal year revenue to surpass the pre-pandemic levels.
On Tuesday, the Nasdaq saw its biggest one-day percentage drop since September 2020 as economic concerns, and rising Covid-19 cases in China dented investors' motivation.
Meanwhile, traders were eagerly waiting for the quarterly results of Facebook parent Meta Platforms Inc (FB), which were due during the extended-hours trading.
On Wednesday, the Commerce Department said that the US goods trade deficit climbed 17.8% to an all-time high of US$125.3 billion in March, while goods imports surged 11.5% to US$294.6 billion.
Five out of 11 sectors of the S&P 500 index stayed in the positive territory. The information technology and basic materials sectors were the top gainers, while communication services and real estate sectors were the bottom movers.
The Boeing Company (BA) stock dropped 9.22% after reporting a US$1.24 billion loss in the first quarter on Wednesday. The company postponed the delivery timeline of its new 777X twin-aisle jets.
Audio streaming company Spotify Technology S.A. (SPOT) declined 11.18% after providing downbeat revenue guidance for the current quarter. It reported positive first-quarter earnings on Wednesday.
The shares of T-Mobile US, Inc. (TMUS) gained 4.67% after beating first-quarter earnings estimates. It added more phone subscribers than anticipated, driven by 5G cellular networks.
The Lucid Group, Inc. (LCID) stock surged 2.81% a day after announcing a mega order for 100,000 electric vehicles from the Saudi Arabian government. The EVs will be delivered over a 10-year period.
Google parent Alphabet Inc. (GOOG) stock declined 2.81% after the company reported slow sales in the first quarter due to disruptions in the digital ad segment.
In the technology sector, Salesforce, Inc. (CRM) increased by 2.70%, Qualcomm Incorporated (QCOM) rose 1.20%, and Sony Group Corporation (SONY) gained 1.44%. ServiceNow, Inc. (NOW) and Fiserv, Inc. (FISV) advanced 2.26% and 5.03%, respectively.
In basic material stocks, BHP Group Limited (BHP) surged 4.56%, Linde plc (LIN) added 1.16%, and Rio Tinto Group (RIO) soared 4.60%. Vale S.A. (VALE) and Freeport-McMoRan Inc. (FCX) ticked up 5.06% and 3.76%, respectively.
In the communication sector, Meta Platforms, Inc. (FB) decreased by 3.32%, Verizon Communications Inc. (VZ) fell 1.92%, and AT&T Inc. (T) declined 1.19%. Charter Communications, Inc. (CHTR) and Netflix, Inc. (NFLX) dropped 1.01% and 4.97%, respectively.
In the crypto space, Bitcoin (BTC) and Ethereum (ETH) surged by 3.00% and 1.98%, respectively. The global crypto market cap rose 2.02% to US$1.79 trillion at 4:31 pm ET on April 27.
Also Read: Why Vivakor, Inc. (VIVK) stock rose 100% on Wednesday?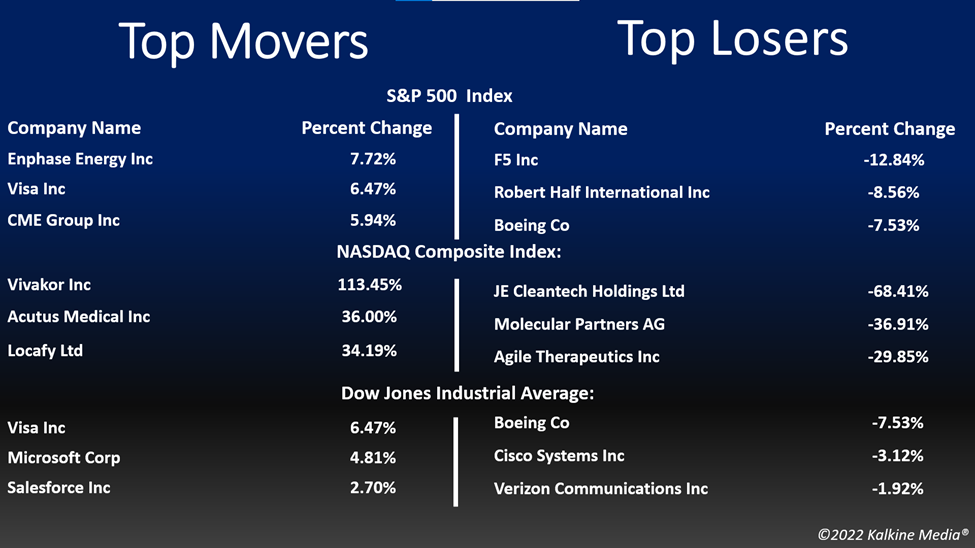 Also Read: What is Secret (SCRT) crypto and why is it drawing attention?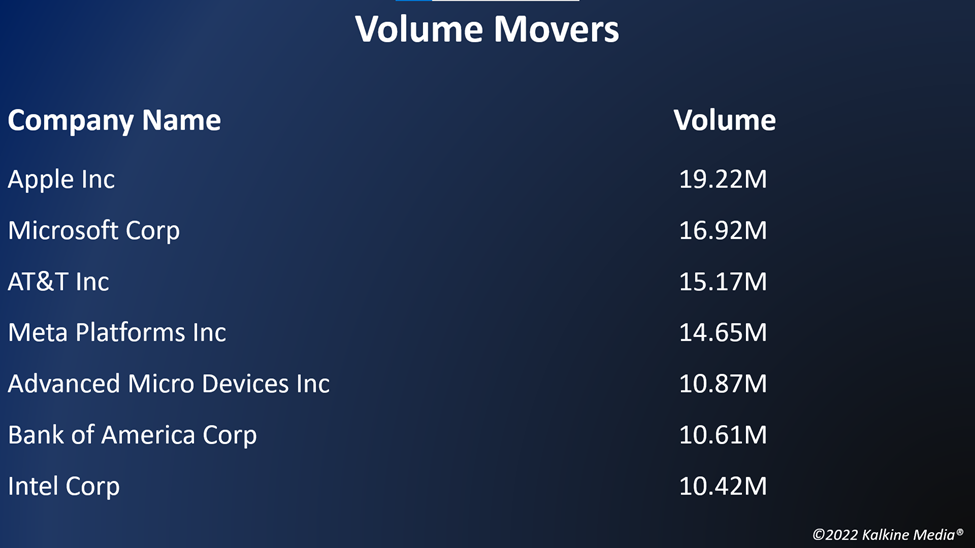 Also Read: Why is Arweave (AR) crypto rallying?
Futures & Commodities
Gold futures were down 0.96% to US$1,885.85 per ounce. Silver decreased by 0.95% to US$23.320 per ounce, while copper was flat at US$4.4638.
Brent oil futures increased by 0.22% to US$104.84 per barrel and WTI crude was up 0.38% to US$102.09.
Also Read: Ondo Finance's DAO, native token coming soon with US$20 mn capital boost
Bond Market
The 30-year Treasury bond yields were up 1.63% to 2.917, while the 10-year bond yields rose 2.09% to 2.830.
US Dollar Futures Index increased by 0.65% to US$102.980.