Highlights

The company is offering 10 million units in its initial public offering.


The IPO is priced at US$10 per share.


The offering is expected to close on January 20.
Malaysian blank check company Technology & Telecommunication Acquisition Corporation is set to make its US stock market debut on Tuesday, January 18.
The Kuala Lumpur-based company announced the pricing of the IPO on January 14.
Blank check firms are created to effect a merger, asset acquisition, etc.
Although the company hasn't selected any specific industry yet for its operation, it aims to focus on technology and the telecommunication sectors in Malaysia.
Chairman and CEO Tek Che NG leads the firm.
Also Read: Top 2 cannabis stocks to watch in 2022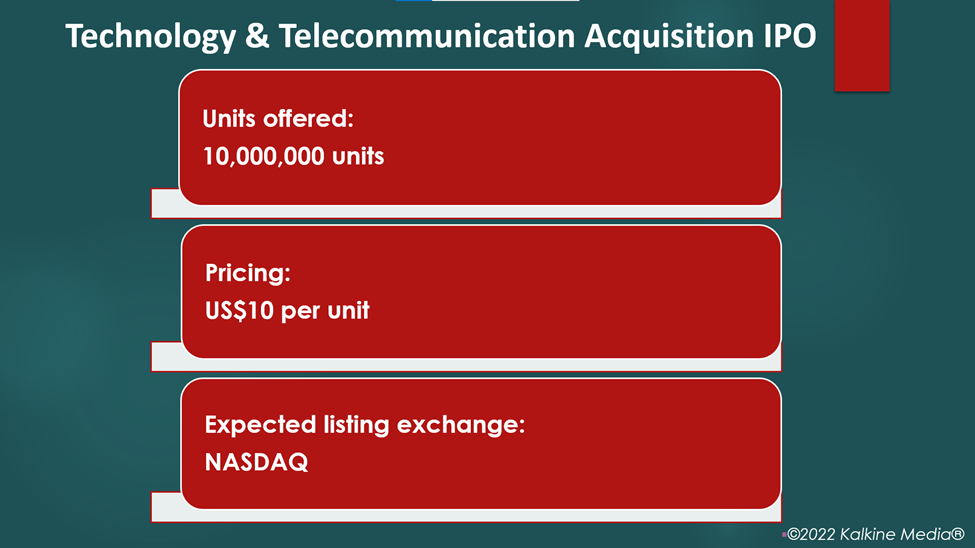 Also Read: Top 2 US financial stocks set to report their earnings this week
Shares offered in the IPO
The company is offering 10 million shares for US$10 per share in the IPO. Each unit comprises a Class A ordinary share and one redeemable warrant.

Each warrant authorizes the holder to buy one Class A ordinary share for US$11.50 per share.


Also Read: 5 best US hospital stocks for 2022

In addition, the company will grant a 45-day option for underwriters to purchase up to 1.5 million additional units at the offering price to cover over-allotments, if any.
The IPO is expected to close on January 20. The ticker symbols for the Class A ordinary shares and warrants are TETE and TETEW, respectively.
Also Read: These 2 NYSE basic industry stocks returned over 200% in a year
Bottomline


The US IPO market saw a record number of public offers last year, estimated at nearly 1,000. In addition, SPAC companies accounted for more than half of all US IPOs. Experts predict a slowdown in public offers in the first few months of 2022 but is expected to pick up later in the year as concerns over Omicron and the macro-economic factors decline.