Highlights

HashiCorp has raised US$1.2 billion in its IPO on Wednesday.


HashiCorp announced the pricing of its proposed offering.


The software firm is offering 15.3 shares of its Class A common stock in the IPO.
HashiCorp Inc. is all set to debut in the NASDAQ Global Select Market on Thursday, a day after its initial public offering (IPO), in which the software company raised US$1.2 billion.
According to people familiar with the IPO, the proceeds exceeded the expectations. The company sold 15.3 million shares of its Class A common stock for US$80 per share.

At this opening price, HashiCorp is valued at US$14 billion. Its fully diluted market value will be US$16 billion if the employee stock options and restricted shares are considered.
HashiCorp's initial offering price was in the range of US$68 to US$72, its filings with the market regulator, the Securities and Exchange Commission (SEC), showed.

The San Francisco-based firm offers open-source tools and commercial products that allow developers, operators, and other professionals to run a secure cloud computing infrastructure. The company was co-founded by Mitchell Hashimoto and Armon Dadgar in 2012.
Also Read: Will these five travel stocks weather the Covid-19 threat in 2022?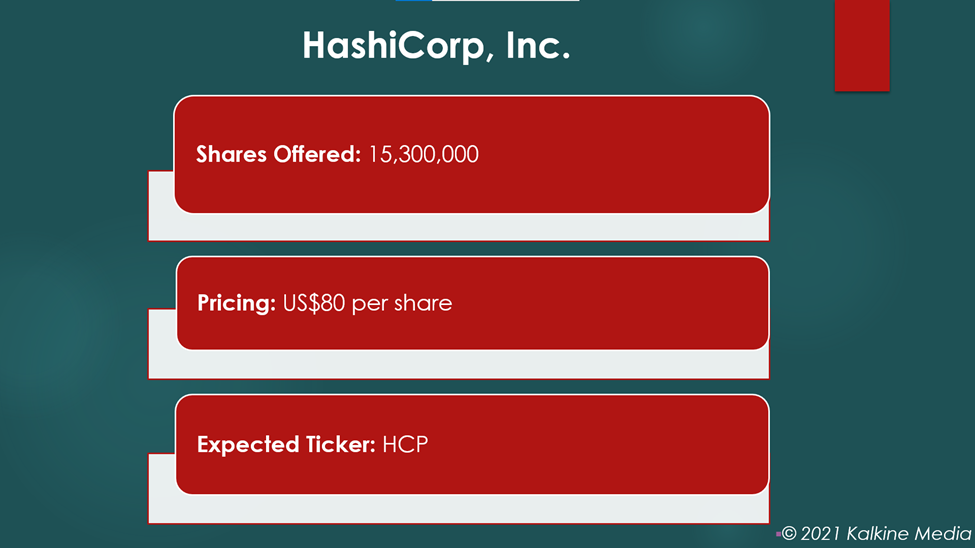 Also Read: Grove Collaborative to go public in merger with Branson-backed SPAC
HashiCorp will trade in Nasdaq
HashiCorp shares are expected to start trading on the Nasdaq Global Select Market on December 9 under the ticker symbol HCP. The offering is expected to close on December 13, subject to the satisfaction of customary closing conditions.
The company is providing a 30-day option for the underwriters to purchase an additional 2.295 million shares at the offering price, excluding discounts and commissions.
Also Read: Holiday shipping deadlines for USPS, UPS & FedEx: All you need to know
Last year, the company raised US$175 million in a Series E funding round that brought its valuation to US$5.1 billion. HashiCorp has partnerships with cloud service providers like Amazon AWS and Alphabet's Google.
For the six months ended on July 31, 2021, the company's revenue was US$142.02 million compared to US$94.79 million in the same period a year ago. In the same period, it reported a net loss of US$40.42 million against a loss of US$67.32 million a year ago.
Also Read: Will Ethereum (ETH) price hit US$5,000 before Christmas?
Bottomline


Software companies have raised more than US$37 billion in 80 IPOs so far this year. The tech companies were the most sought-after IPOs. Investors, however, should evaluate the stocks carefully before investing in stocks.