Highlights

Credo Technology provides high-speed data connectivity solutions.

The company is offering 25,000,000 ordinary shares in the IPO.

It reported a net loss of US$16.7 million in the six months ended October 31, 2021.
Credo Technology Group Holding Ltd is gearing up for its stock market debut after filing for its initial public offering (IPO) on January 3. It is expected to debut on January 27.
The company is offering 25,000,000 ordinary shares, including 1,616,200 shares from its existing shareholders. An additional 3,750,000 shares are reserved for the underwriters, with a 30-day buy option at the IPO price in case of overallotment.
It will have 144,947,064 shares outstanding after the IPO, or 148,697,064 shares if the underwriters exercise their purchase option in full.
The California-based expected to raise around US$235.9 million, or US$274.5 million, in case the underwriters exercise their buy option in full after deducting discounts, commissions, and the IPO expenses. The estimation is based on the mid-price range of the offering.
Also Read: These 2 NYSE basic industry stocks returned over 200% in a year
It will use the proceeds for working capital and general corporate purposes.
The IPO price range is kept in the range of US$10.00 to US$12.00 per share. The company plans to trade its stocks on Nasdaq under the ticker symbol CRDO.
The underwriters are Goldman Sachs & Co. LLC, BofA Securities, Cowen, Mizuho Securities, Needham & Company, Roth Capital Partners, Stifel, Craig-Hallum, and Cathay Securities Corporation.
Also Read: How to research a stock? A beginner's guide to share selection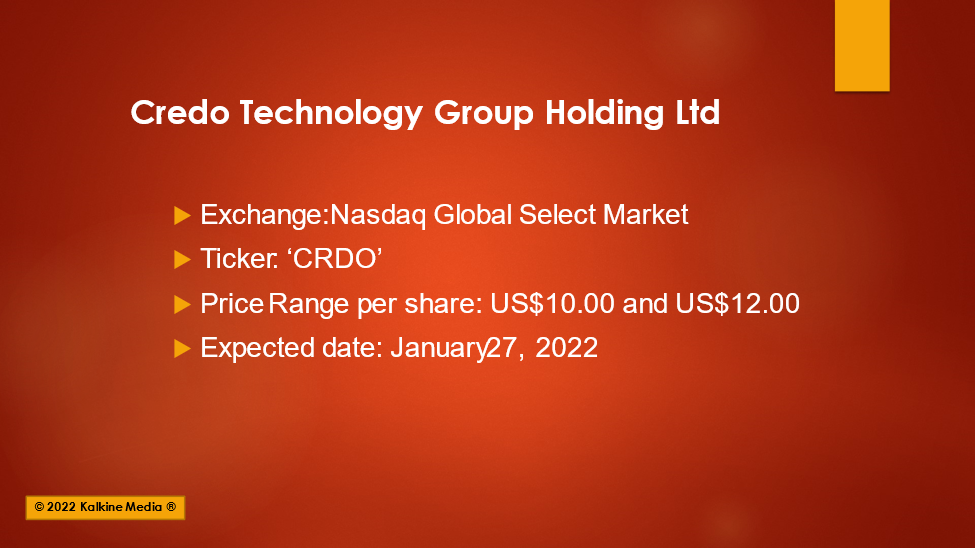 Also Read: Top 5 US semiconductor stocks to watch in 2022
What does Credo do?
The company provides high-speed connectivity solutions to the data infrastructure market. Its solutions are optimized for different optical and electrical Ethernet applications and ease the system bandwidth bottlenecks.
Financials
For the six months ended October 31, 2021, the company booked revenue of US$37.15 million compared to US$25.5 million in the same period a year ago.
The net loss was US$16.7 million or US$0.24 per diluted share, versus a net loss of US$19.3 million or US$0.27 per diluted share for the same period of 2020.
Also Read: Stocks that could give FAANG companies a run for money
Bottomline
Many companies have cancelled or postponed their IPOs in January due to the volatile market conditions. Rhodium Enterprises and Four Springs, which were to debut this week, have shelved their plans.