Highlights

Credo Technology provides high-speed connectivity solutions for the data market.

Credo priced its IPO at US$10.00 per share, the lower end of the price range.

It is scheduled to debut on Nasdaq on January 27.
The Credo Technology Group Holding Ltd has priced its initial public offering (IPO) at US$10.00 per share, the lower end of the price range, for its planned debut on Thursday, January 27.
It had set the price range at US$10.00 to US$12.00 per share.
Credo will be valued at US$1.4 billion after the IPO at the offering price for the outstanding shares listed, as per its filing with the US Securities and Exchange Commission.
Bloomberg reported that the Credo IPO was downsized to 20 million shares from 25 million shares in the initial filing. The company has allocated an additional 3,750,000 shares for the underwriters, with a 30-day buy option, at the IPO price.
Also Read: REITs with over 5.5% dividend yield to explore
San Jose, California-based company provides high-speed connectivity solutions to the data infrastructure market, mainly 5G networking. It offers solutions for different optical and electrical Ethernet applications and removes system bandwidth bottlenecks.
It is scheduled to debut on Nasdaq Global Select Market under the ticker symbol CRDO on January 27, 2022.
The underwriters are Goldman Sachs & Co. LLC, BofA Securities, Cowen, Mizuho Securities, Needham & Company, Roth Capital Partners, Stifel, Craig-Hallum, and Cathay Securities Corporation.
Also Read: Top 5G stocks to explore as US rolls out the service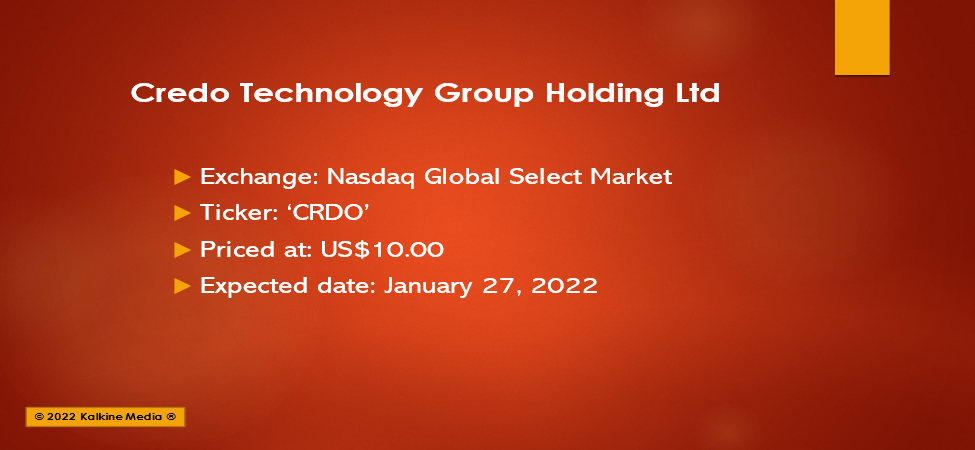 Also Read: Top ETF trends to watch in 2022
Financials
Credo Technology booked a net loss of US$16.7 million or US$0.24 per share diluted on revenue of US$37.15 million for the six months ended October 30, 2021.
In the same period in 2020, the net loss was US$19.3 million, or US$0.27 per share diluted, on revenue of US$25.5 million.
As per the filing, the company intends to use its IPO proceeds for working capital and general corporate purposes.
Also Read: Top five cloud computing stocks to explore in 2022
Bottomline
It is reportedly the first major technology IPO in the US in 2022. The Credo IPO comes amid an uncertain market condition due to Omicron and plans to increase the interest rates to curb high inflation. Many companies have postponed their IPOs over these concerns.