Highlights:

Tether (USDT) slipped from its dollar-pegged price on Thursday.
The global crypto market slumped over 7% on Thursday morning.
USDT can be traded on exchanges like Binance, OKEx, etc.
Stablecoins were in focus this week as the cryptocurrency market looked set for a major crash. TerraUSD, one of the leading stablecoins, also lost its dollar-pegged price.
Tether (USDT) also lost its US$1-pegged price on Thursday, as the broader crypto market fell 7.55% to US$1.22 trillion. Stablecoins are digital currencies pegged to real-life assets like gold and fiat currencies issued by the government.
Also Read: Why is Maker (MKR) crypto up 35%?
What is Tether (USDT) crypto?
USDT is a stablecoin pegged to the US dollar. It is issued by Tether, a Hong Kong-based company. It maintains the token price by pegging it to the US dollar, realized by holding commercial papers, fiduciary deposits, cash, and other assets equivalent to USD.


USDT was launched as a second-layer crypto-token in 2014. It was initially named Realcoin. However, it was renamed to USTether, and then USDT.
The project, built on the Bitcoin blockchain using the Omni platform, was later updated to work on Ethereum, Algorand, and OMG blockchains.
The USDT token ensures price stability and unrestricted crypto transfers that do not require a third-party intermediary. The token was launched by Brock Pierce, Craig Sellars, and Reeve Collins. It is available on exchanges like Binance, OKEx, Huobi Global, etc.
Also Read: Why is XYO (XYO) crypto rising despite market turbulence?
What's happening now?
Tether, one of the biggest stablecoins, lost more than 90% of its value from its US$1-pegged price on Thursday morning.
The decline comes amid a wider crypto crash that wiped off billions of dollars from the market. TerraUSD also slipped from its US$1 pegged price.
TerraUSD regained some losses later. It maintains its pegged price by trading its sister token, LUNA. But Tether holds the price by pegging it to USD. The group has been criticized for its lack of transparency over its holdings. Last year, the US Commodity Futures Trading Commission fined Tether for misleading statements regarding its reserves.
Also Read: Is FTX Token (FTT) crypto trending on New York Trust Charter news?
Tether CEO Paolo Ardoino on Thursday said the company is "honoring USDT redemptions at US$1. He added that it managed over 300 million in the last 24 hours "without a sweat drop".
Also Read: What is EOS crypto? All you need to know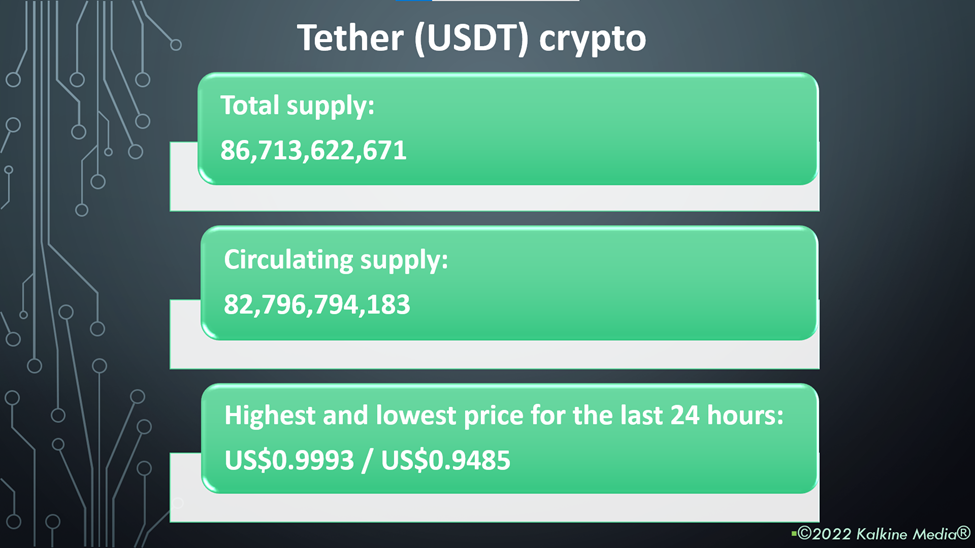 Data Source: CoinMarketCap.com
Also Read: Why is Project Galaxy (GAL) crypto's campaign drawing attention?
Bottom line:
The USDT token was priced at US$0.9942 at 9:36 am ET on May 12, down 0.26%, while its volume for the last 24 hours jumped 25.53% to US$175.99 billion. It has a market cap of US$82.34 billion, and its fully-diluted market cap is over US$86.08 billion.
The token has a total supply of 86.71 billion, and its current circulating supply is 82.80 billion. Its lowest price in the last 24 hours was US$0.9485.
Also Read: Why is Boba Network (BOBA) crypto drawing attention?
Risk Disclosure: Trading in cryptocurrencies involves high risks including the risk of losing some, or all, of your investment amount, and may not be suitable for all investors. Prices of cryptocurrencies are extremely volatile and may be affected by external factors such as financial, regulatory, or political events. The laws that apply to crypto products (and how a particular crypto product is regulated) may change. Before deciding to trade in financial instruments or cryptocurrencies you should be fully informed of the risks and costs associated with trading in the financial markets, carefully consider your investment objectives, level of experience, and risk appetite, and seek professional advice where needed. Kalkine Media cannot and does not represent or guarantee that any of the information/data available here is accurate, reliable, current, complete, or appropriate for your needs. Kalkine Media will not accept liability for any loss or damage as a result of your trading or your reliance on the information shared on this website.