Highlights:

IoTeX is an open-source, decentralized platform aiming to enhance "open economics for machines".
The IOTX token is available for trading on exchanges, such as Binance and Huobi Global.
It returned 35% gains in the last seven days.
The IoTeX (IOTX) crypto rose more than 2%, lifted by gains in the broader market. The crypto market gained 1.82% to US$1.31 trillion in the last 24 hours to Monday morning, while its trading volume rose over 19% to US$67.58 billion in the same period.
Despite its price gains, the IOTX crypto's trading volume fell 20% in the trailing 24 hours. Let's understand more about the IoTeX crypto before exploring the possible reasons for its rally.
Also Read: Why is Tron (TRX) crypto rising amid a market crash?
What is IoTeX (IOTX) crypto and why is it rising?
IoTeX started its journey as an open-source project in 2017. It has created a decentralized platform that intends to enhance the "open economics for machines", an open ecosystem where people can earn economic incentives with the help of machines.


It claims to have built an EVM-compatible blockchain from scratch by using the Roll-DPoS consensus in April 2019. According to IoTeX, more than 100 delegates globally used the blockchain and processed over 10 million transactions.
Also Read: What is Ravencoin (RVN) crypto? know price and performance
The project team has developed essential infrastructure blocks on the IoTeX blockchain to connect Ethereum, BSC, and other blockchains. Its products include the ioPay wallet and ioTube bridge, whose services are used by more than 10,000 users.
IoTeX aids in scaling the EVM-based decentralized applications without requiring expensive gas fees. In addition, middlewares like decentralized identity, confidential computing, etc., enable access to self-sovereign devices, like Ucam real-world oracle Pebble.
Also Read: 5 penny stocks to watch in June: PVL, SNRG, GOFF. CHKR & FDOC
The project was founded by Raullen Chai, Qevan Guo, Xinxin Fan, and Jing Sun. The IOTX is the ecosystem's native token, available for trading on exchanges like Binance, Huobi Global, VCC Exchange, etc.
IoTeX is expected to launch the blockchain's Mainnet v1.8 this month. The mainnet would include staking through web3 tools, enhanced peer-to-peer (P2P) robustness, multiple API improvements, etc., it said on May 21.
The mainnet is expected to be activated at around 11 pm UTC on May 30. It also announced a partnership with Hacken to boost the products and services in the IoTeX ecosystem.
These developments, along with the positive momentum in the crypto market on Monday, may have helped gains in the IOTX crypto.
Also Read: Why gaming crypto platform MOBOX (MBOX) volume soared 124%?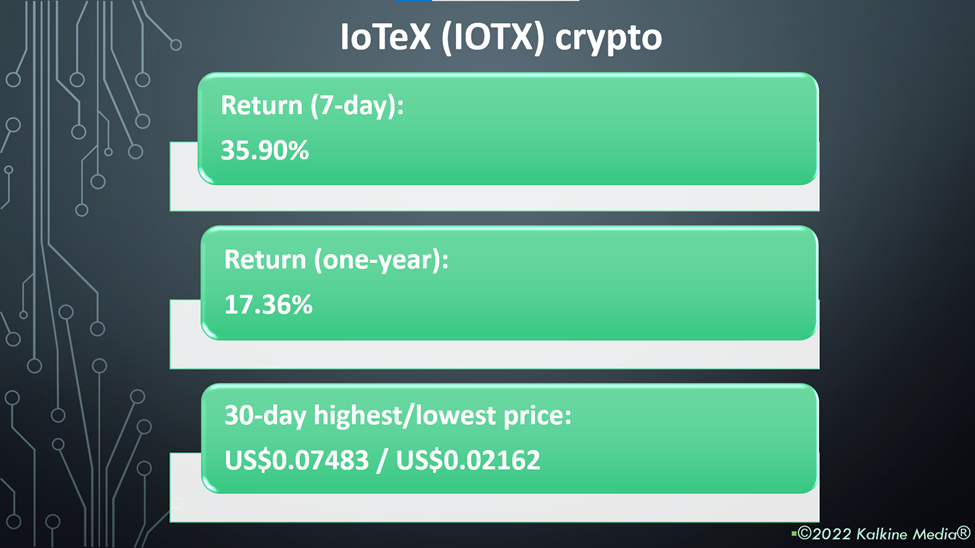 Data Source: CoinMarketCap.com
Bottom line:
The IOTX crypto was priced at US$0.04108 at 8:42 am ET on May 23, up 2.51%, while its volume for the last 24 hours fell 20.31% to US$66.25 million. It has a market cap of US$391.92 million, and its fully-diluted market cap is US$410.78 million.
The token has a maximum supply of 10 billion, a total supply of 9.62 billion, and its current circulating supply is around 9.54 billion. It returned gains of 35.90% over the last seven days while increasing 17.36% over the last 12 months.
The IOTX token saw the highest price of US$0.07483 and the lowest price of US$0.02162 in the last 30 days.
Also Read: Will Russian minister's comments on legalizing cryptos reenergize the market?
Risk Disclosure: Trading in cryptocurrencies involves high risks including the risk of losing some, or all, of your investment amount, and may not be suitable for all investors. Prices of cryptocurrencies are extremely volatile and may be affected by external factors such as financial, regulatory, or political events. The laws that apply to crypto products (and how a particular crypto product is regulated) may change. Before deciding to trade in financial instruments or cryptocurrencies you should be fully informed of the risks and costs associated with trading in the financial markets, carefully consider your investment objectives, level of experience, and risk appetite, and seek professional advice where needed. Kalkine Media cannot and does not represent or guarantee that any of the information/data available here is accurate, reliable, current, complete, or appropriate for your needs. Kalkine Media will not accept liability for any loss or damage as a result of your trading or your reliance on the information shared on this website.