Highlights:

Fantom is a directed acyclic graph (DAG) smart contract platform and provides DeFi solutions to developers through its bespoke consensus algorithm.
Fantom Foundation's smart contract deployment surged 4200% YoY through February 2022.
The FTM token is available on exchanges like Binance, OKX, etc.
The Fantom (FTM) crypto price rises again after a sharp decline that coincided with the departure of its two key personnel associated with the project.
Andre Cronje and Anton Nell had recently said in a tweet to quit the decentralized finance (DeFi) industry. Cronje, who had extensively worked on Fantom, and Nell, a senior architect of the firm, added that several of the apps they developed would stop working after their departure.
However, despite the losses, investors seemed to be bullish on the FTM token.
Also Read: What is Zebec (ZBC) crypto? All you must know
What is Fantom (FTM) crypto?
Fantom is a directed acyclic graph (DAG) smart contract platform that provides DeFi solutions to developers through its bespoke consensus algorithm.
Fantom Foundation, founded by Dr. Ahn Byung Ik, offers solutions to smart contract related issues, especially in transaction speed that it claims have reduced to less than two seconds.
It is a layer-1 blockchain that uses the scratch-based consensus mechanism and the independent consensus layer, Lachesis. Fantom facilitates decentralized finance (DeFi) and other solutions based on smart contracts through these mechanisms.
In addition, Lachesis offers security for other layers like Opera, which is Fantom's EVM-compatible smart contract chain.
Also Read: Why Audius (AUDIO) crypto gained 50% in last 7 days?
Why is it rising?
The recent surge in the FTM price could be due to several reasons. First, the company's announcement of a 4,200% increase in smart contract deployment in the past year through February 2022 has drawn investors' attention.
According to the company, the number of deployer verified contracts surged from 111 in February 2021 to 4,677 in the same month this year, increasing by 4,200%.
In addition, the WhaleStats' report on ETH whale's purchase of 2,000,000 FTM tokens may have raised investors' confidence in the token.
Another reason could be Fantom Foundation's announcement of a robust increase in unique addresses joining its network. The number of unique addresses rose from 4,637 in February 2021 to 364,874 in February 2022.
Also Read: What is play-to-earn metaverse Highstreet (HIGH) crypto?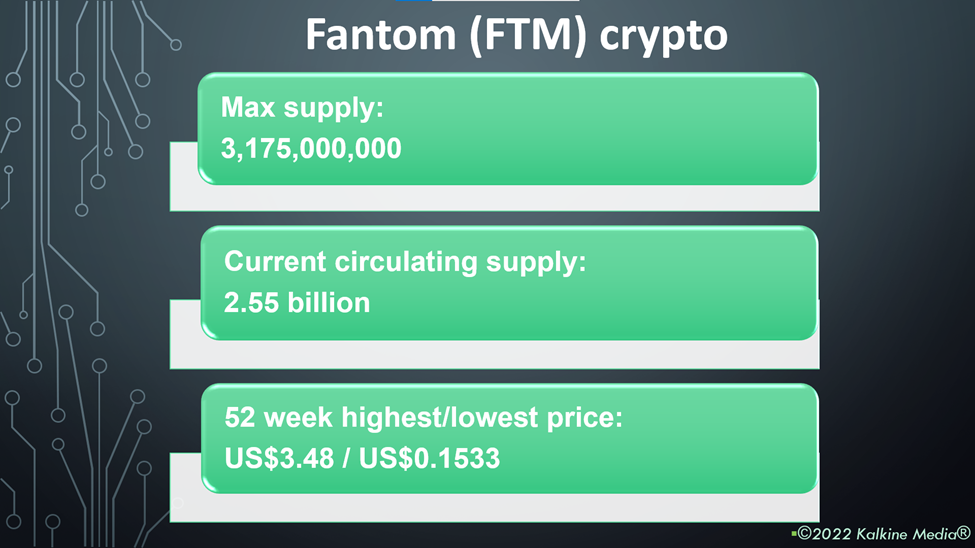 Source: *Data provided by CoinMarketCap.com
Bottom line:
The FTM token was priced at US$1.29 at 10:39 am ET on March 21, up 2.27%, while its volume for the last 24 hours tumbled 2.45% to US$604.47 million. It has a market cap of US$3.29 billion, and its fully-diluted market cap is US$4.10 billion.
The token's max supply is 3.17 billion, and its current circulating supply is 2.55 billion. It is available on exchanges like Binance, OKX, Bitget, etc.
Also Read: Why is Bonfida (FIDA) crypto gaining attention?
Risk Disclosure: Trading in cryptocurrencies involves high risks including the risk of losing some, or all, of your investment amount, and may not be suitable for all investors. Prices of cryptocurrencies are extremely volatile and may be affected by external factors such as financial, regulatory, or political events. The laws that apply to crypto products (and how a particular crypto product is regulated) may change. Before deciding to trade in financial instruments or cryptocurrencies you should be fully informed of the risks and costs associated with trading in the financial markets, carefully consider your investment objectives, level of experience, and risk appetite, and seek professional advice where needed. Kalkine Media cannot and does not represent or guarantee that any of the information/data available here is accurate, reliable, current, complete, or appropriate for your needs. Kalkine Media will not accept liability for any loss or damage as a result of your trading or your reliance on the information shared on this website.