Highlights:

Audius is a decentralized music streaming protocol on Solana.
The AUDIO token is available on popular crypto exchanges like Binance, Bybit, etc.
It returned over 31% gains in the last seven days.
The global crypto market declined on Monday morning, partly due to the losses in major cryptocurrencies like Bitcoin (BTC) and Ethereum (ETH). The market fell 3.61% to US$1.82 trillion at 11:52 am ET on April 18, while its one-day volume rose 64.52% to US$84.69 billion. Bitcoin (BTC) and Ethereum (ETH) declined 2.99% and 5.16% to US$39,254.39 and US$2,913.72, respectively, according to CoinMarketCap.com.
Meanwhile, despite a decline in the overall market, some cryptos managed to stay in the positive territory, and Audius (AUDIO) crypto is one of them. The price of the AUDIO token jumped over 9%, while its volume for the last 24 hours rose by over 304%.
Also Read: Is Algorand (ALGO) crypto darkening Times Square for Earth Day?
What is Audius (AUDIO) crypto and why is it rising?
Audius, initially built on the POA network, is a decentralized music streaming protocol on Solana. It was incepted to address the issues in the music industry like transparency, music rights, different intermediaries between artists and audience, etc.
It intends to align the artists, fans, and node operators' interests through its platform, powered by its native utility token, AUDIO.
Also Read: What is Tornado Cash (TORN) crypto and why is it gaining attention?
The artists can upload their music on the platform and store and distribute it through the fans' content and discovery nodes. Fans can listen to the tracks for free. It claims to reward the content creators by featuring their work in the weekly trending lists of songs, playlists, etc.
Meanwhile, it is also planning to integrate stablecoins in the future to reward the artists who would offer paid content and tokens that would provide access to the fans for exclusive content.
Also Read: Why is Sweatcoin (SWEAT) crypto new buzz in town?
The Audius was founded by Forrest Browning and Roneil Rumburg in 2018. The AUDIO token is available on popular crypto exchanges like Binance, Bybit, FTX, etc.
Even though there is no apparent news for the recent surge in its price, it may have gained attention due to its innovative services. Meanwhile, various investors seem to be bullish on the project prospects.
Also Read: Crypto firm Beanstalk (BEAN) seeks FBI help after hacker loots US$80 Mn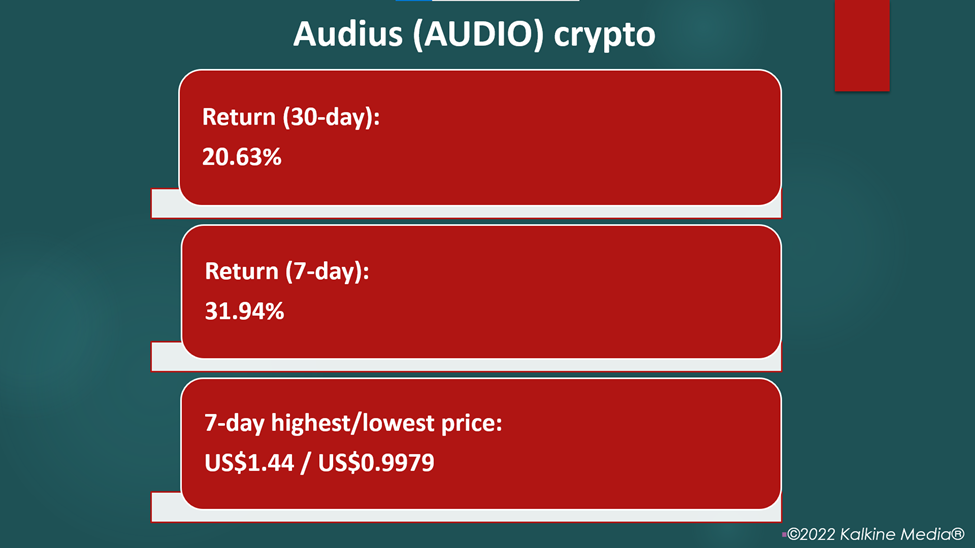 Data Source: CoinMarketCap.com
Bottom line:
The AUDIO token was priced at US$1.36 at pm ET on April 18, up 9.02%, while its volume for the trailing 24 hours skyrocketed 304.31% to US$183.47 million. It has a market capitalization of US$841.87 million, and its fully-diluted market cap is over US$1.49 billion.
The token's total supply is more than 1.09 billion, and its current circulating supply is over 620.80 million. It returned 31.94% gains in the last seven days while increasing 20.63% over the past 30 days. Despite the gains in the crypto, investors should exercise due diligence as the crypto market is highly volatile, and various risks are associated with digital currencies.
Also Read: What is Phoenix (FIRE) crypto?
Risk Disclosure: Trading in cryptocurrencies involves high risks including the risk of losing some, or all, of your investment amount, and may not be suitable for all investors. Prices of cryptocurrencies are extremely volatile and may be affected by external factors such as financial, regulatory, or political events. The laws that apply to crypto products (and how a particular crypto product is regulated) may change. Before deciding to trade in financial instruments or cryptocurrencies you should be fully informed of the risks and costs associated with trading in the financial markets, carefully consider your investment objectives, level of experience, and risk appetite, and seek professional advice where needed. Kalkine Media cannot and does not represent or guarantee that any of the information/data available here is accurate, reliable, current, complete, or appropriate for your needs. Kalkine Media will not accept liability for any loss or damage as a result of your trading or your reliance on the information shared on this website.