Highlights

Beefy Finance (BIFI) is a decentralized, multi-chain, yield-optimizer platform.
Its main products are vaults, where one can stake crypto tokens.
The platform has a Total Value Locked (TVL) of US$396.7 million.
Beefy Finance (BIFI) traded 97.59% higher to US$882.59 at 5:19 am ET on Monday. The token began to rally after the yield-optimizer platform announced several updates on Saturday.
After multiple hacking attacks on apps on Tuesday, Beefy warned its Tweeter followers to avoid SpiritSwap or QuickSwap Dex for trading. It added that Beefy Vaults were safe where one could stake crypto tokens.
In another update, it announced partnering with Oasis Protocol, a privacy-enabled layer one blockchain. The third update on the same day said that users could also deposit the token in the Binance crypto exchange from blockchain Fantom blockchain.
Also Read: Why is Step App (FITFI) crypto up 200%?
In yet another announcement, Beefy on Monday said people could purchase the BIFI token directly from the Beefy App using fiat currency through Transak, which allows users to buy cryptocurrencies using debit/credit cards or bank transfers.
Backed by these developments, the token raced up on Monday. Its trading volume surged more than 3145% to US$38.65 million in the last 24 hours.
Also Read: Why is THORChain (RUNE) crypto rising?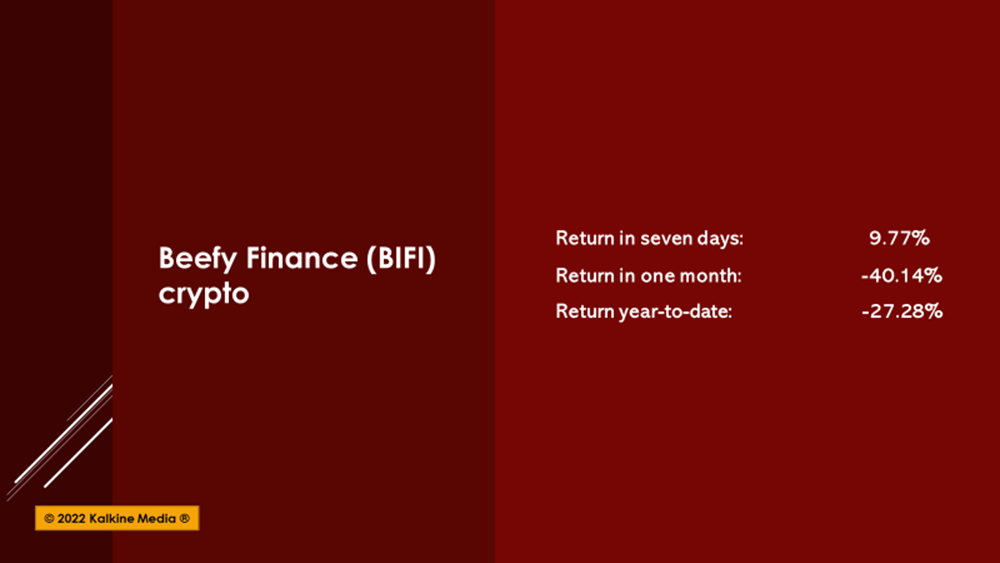 Data Source: coinmarketcap.com
Also Read: Global cryptocurrency regulatory body on the anvil, says top official
What is Beefy Finance?
Beefy Finance is a decentralized yield-optimizer platform that works on multi chains. The platform allows users to earn compounded interest on their crypto holdings. It claims to offer users the highest APYs with safety and efficiency.
Beefy Finance uses different investment strategies secured by smart contracts, which automatically maximize users' rewards from yield farming in the DeFi ecosystem, liquidity pools (LPs), and automated market-making (AMM) projects.
Also Read: Why is Numeraire (NMR) crypto gaining attention?
Its main products are vaults, where one can stake crypto tokens. These vaults have specific investment strategies. The token deposits are compounded automatically.
Unlike the traditional vaults, Beefy Finance Vaults do not lock funds, and people can withdraw them whenever they want. This way, the user has total control over the funds. The profits from the vaults are distributed to those who stake BIFI.
Video: What is High Yield Arbitrage Trading?
BIFI token:
The BIFI tokens are 'dividend-eligible', meaning the token holders can earn a profit when they stake their tokens. They also have the right to vote on platform decisions. Hence, BIFI is the native governance token of Beefy Finance.
BIFI has a market cap of US$62.89 million. Its Total Value Locked (TVL) is US$396.7 million. The token can be traded on Binance, Crypto.com Exchange, Hoo, Gate.io etc.
Of the total supply of 80,000 BIFI tokens, its circulating supply is 72,000 BIFIs.
Also Read: Why MetaPay (METAPAY) crypto zoomed 240% in one day?
Bottom line:
The crypto market made a significant recovery after crashing to US$1.13 trillion last week, driven down by Terra stablecoin losses. The market was up 0.56% to US$1.27 trillion on Monday morning. Cryptos are highly volatile assets, and investors should apply caution before investing in them.

Risk Disclosure: Trading in cryptocurrencies involves high risks including the risk of losing some, or all, of your investment amount, and may not be suitable for all investors. Prices of cryptocurrencies are extremely volatile and may be affected by external factors such as financial, regulatory, or political events. The laws that apply to crypto products (and how a particular crypto product is regulated) may change. Before deciding to trade in financial instruments or cryptocurrencies you should be fully informed of the risks and costs associated with trading in the financial markets, carefully consider your investment objectives, level of experience, and risk appetite, and seek professional advice where needed. Kalkine Media cannot and does not represent or guarantee that any of the information/data available here is accurate, reliable, current, complete or appropriate for your needs. Kalkine Media will not accept liability for any loss or damage as a result of your trading or your reliance on the information shared on this website.