Highlights

Braintrust is a decentralized talent network that claims to offer various benefits to freelancers.
The Braintrust freelancing community controls the platform where they also find work.
Global firms like Nestle, Goldman Sachs, Nike, Porsche, etc., use the Braintrust network.
The Braintrust (BTRST) crypto is drawing attention after announcing a slew of benefits for its freelancing community as part of a beta program in partnership with other firms.
Braintrust provides mentorship, part-time, and full-time Web3 work opportunities besides healthcare benefits to freelancers. It has partnered with Opolis for the medical risk cover.
In addition, the firm offers work opportunities through its tie-ups with crypto companies like DFinity, Decentology, Sifchain, ConsesSys Mesh, and Provenance Blockchain Foundation.
On Tuesday, the Braintrust (BTRST) token traded up 8.74% to US$4.01 at 4:49 am ET.
As the Web3 phenomenon grows big, many projects are exploring opportunities in the space.
One such interesting project is Braintrust, which aims to build a talent network.
The platform is controlled by community members who align or redistribute the incentives between freelancers and organizations.
Its biggest USP is the offer of full-time employment benefits to freelancers.


What is Braintrust (BTRST)?
The Braintrust Technology Foundation is behind creating the Braintrust decentralized talent network. Besides healthcare benefits, freelancers also get work on the platform.
The company deducts about 20%-50% of their income for their health insurance.
Braintrust does not charge any fee from freelancers.
The network connects skilled workers with companies globally. It is not centrally controlled but managed by its members. Besides finding work for themselves, they also upkeep the platform.
Braintrust, co-founded by Adam Jackson and Gabriel Luna-Ostaseski, has over 50,000 members worldwide and is backed by firms like Tiger Global, Coinbase ventures, Pantera, and Multicoin Capital.
Also Read: What is socialize-to-earn Gamium (GMM) crypto? Things to know
Global companies like Nestle, Goldman Sachs, Nike, Porsche, Atlassian, etc., take the services of Braintrust's decentralized talent network.
Braintrust doesn't charge any fee from freelancers who can keep 100% of their income. According to its website, the Braintrust freelancers earned a staggering US$63 million.
Also Read: What is Secret (SCRT) crypto and why is it drawing attention?
The company said it currently has 3,262 jobs, 35,661 talent proposals, and 52,866 skilled freelancers, with an average project size of US$75,646 and an average duration of 215 days.
The freelancers earn on an hourly basis for projects like engineering, designing, etc.
Also Read: Pi Network (PI) crypto: What do we know about its price?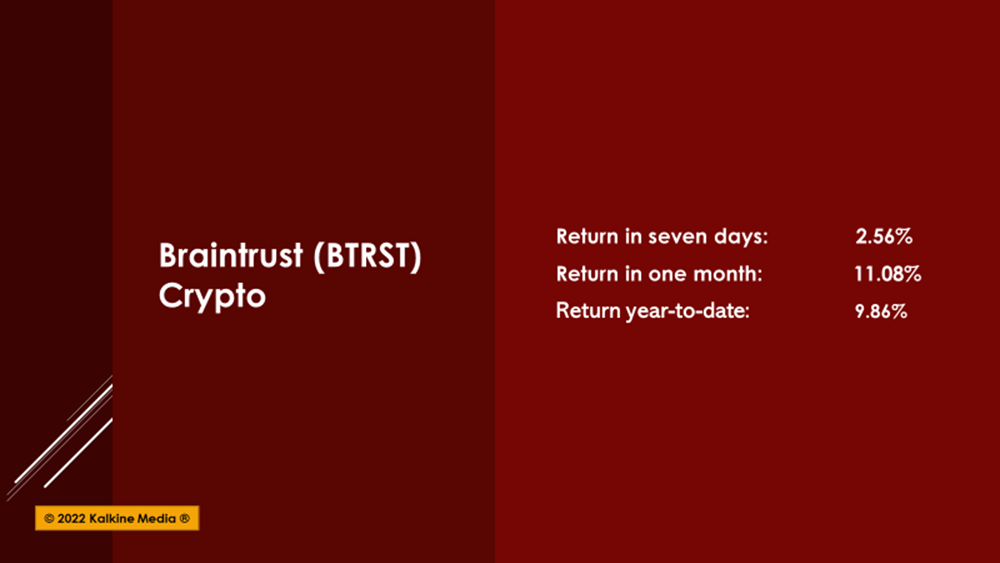 Data Source: coinmarketcap.com
Also Read: Will Quant (QNT) crypto see a price boost after website launch?
BTRST token:
BTRST is the native governance token of Braintrust. It is used for ownership and control.
Braintrust has 3,193 token holders. Its current market capitalization is US$357.03 million. Braintrust is built on the Ethereum blockchain.
The trading volume of the BTRST token soared 74.50% to US$5.66 million in the last 24 hours. Its circulating supply is 89 million BTRST, and the total supply is 250 million.
The token is available for purchase on MEXC, BTCEX, gate.io, and Coinbase crypto exchanges.
Also Read: Why is Nexo (NEXO) crypto grabbing attention?
Bottom line:
The crypto market is volatile and prone to various risks. Hence, investors should exercise due diligence before investing in digital assets.
Risk Disclosure: Trading in cryptocurrencies involves high risks including the risk of losing some, or all, of your investment amount, and may not be suitable for all investors. Prices of cryptocurrencies are extremely volatile and may be affected by external factors such as financial, regulatory, or political events. The laws that apply to crypto products (and how a particular crypto product is regulated) may change. Before deciding to trade in financial instrument or cryptocurrencies you should be fully informed of the risks and costs associated with trading in the financial markets, carefully consider your investment objectives, level of experience, and risk appetite, and seek professional advice where needed. Kalkine Media cannot and does not represent or guarantee that any of the information/data available here is accurate, reliable, current, complete or appropriate for your needs. Kalkine Media will not accept liability for any loss or damage as a result of your trading or your reliance on the information shared on this website.