Highlights

Ampleforth is a protocol on the Ethereum blockchain to create a safe and resilient financial ecosystem.
The protocol has two tokens, AMPL and FORTH.
Ampleforth launched the FORTH token in April 2021.
The Ampleforth Governance Token (FORTH) rose 59.59% to US$6.82 at 7:31 am ET on Monday, with a trading volume of US$138.38 million, an increase of 2072.98% in the last 24 hours. However, the broader crypto market was down 5.31% to US$1.50 trillion in the past 24 hours.
Let's understand what AMPL and FORTH tokens are and how they work.


What is Ampleforth?
Ampleforth is a protocol or a set of instructions on the Ethereum blockchain that help provide a safe and resilient financial ecosystem. The protocol has two tokens, AMPL and FORTH.
Ampleforth supports the new digital economy by providing AMPL, Ampleforth's unit of account protocol, and FORTH is its unit of DAO governance protocol.
It also plans to launch an upcoming inflation resistant stablecoin protocol called SPOT.
Ampleforth protocol targets the CPI-adjusted 2019 US Dollar and automatically increases or decreases the number of tokens in users' wallets based on the token's demand and price.
Also Read: Will Quant (QNT) crypto see a price boost after website launch?
AMPL is an ERC-20 token and is the primary building block of the Ampleforth Elastic Finance Ecosystem, a decentralized financial infrastructure to drive innovation in money. AMPL is used for lending and borrowing, creating derivatives, and as collateral for a decentralized stablecoin.
FORTH is Ampleforth ecosystem's governance token used by holders for voting. This ERC-20 token governs protocol parameter changes, directs liquidity emissions, and DAO's treasury assets to boost innovation in elastic finance and DeFi space.
Also Read: Bitgert (BRISE) crypto rally continues, returns 290% gains YTD
What are Forth DAO and FORTH token?
Launched in April 2022, Forth DAO is a decentralized autonomous organization to govern Ampleforth protocol and boost the growth and adoption of AMPL. The DAO does so through various initiatives such as protocol owned liquidity, ecosystem development, and marketing, among many others.
The DAO, through the FORTH token holders, governs the Ampleforth protocol.
Also Read: What is WAX (WAXP) blockchain and how is it eco-friendly?
According to the whitepaper, the FORTH token has protocol-enforced inflation of 2% per annum to the maximum. The DAO controls the new FORTH token emission or release. Every year, the FORTH token holders may vote to skip or mint up to the full amount. The proceeds from FORTH minting are used as the DAO decides.
Members of the DAO may vote with their FORTH tokens directly or delegate their vote to another address who may vote on their behalf. According to its website, the next minting for the FORTH token will take place after April 21, 2023.
Also Read: Why is the crypto market down?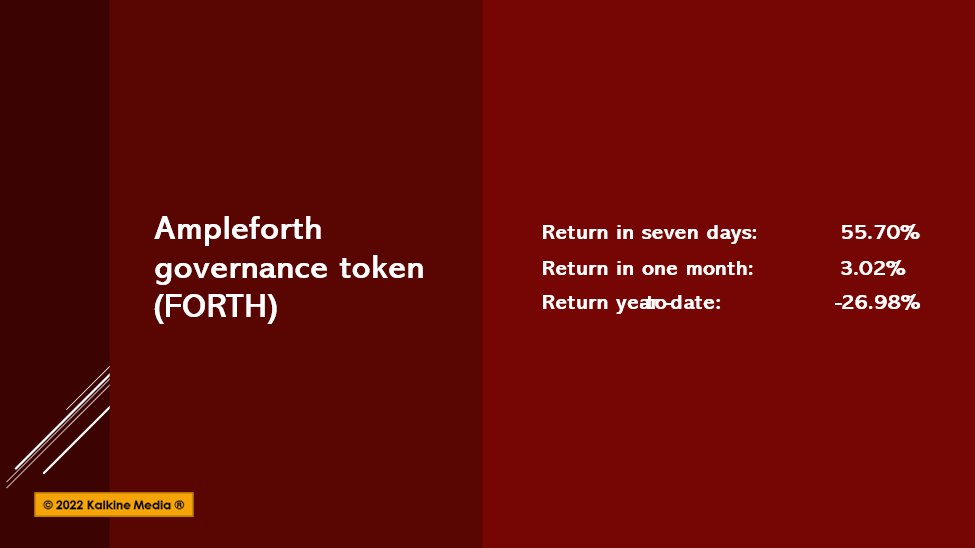 Data Source: coinmarketcap.com
Also Read: Why is SUKU (SUKU) crypto grabbing attention?
FORTH token:
Ampleforth launched the FORTH token in April 2021.
The token has a market capitalization of US$104.52 million. Its fully diluted market capitalization is US$102.49 million. It has a circulating supply of 15.3 million and a total supply of 15,297,897.
Also Read: What is Flow (FLOW) crypto and why is it rising?
Bottom line:
FORTH token is available for purchase on crypto exchanges such as Binance, KuCoin, OKX, MEXC etc.
Risk Disclosure: Trading in cryptocurrencies involves high risks including the risk of losing some, or all, of your investment amount, and may not be suitable for all investors. Prices of cryptocurrencies are extremely volatile and may be affected by external factors such as financial, regulatory, or political events. The laws that apply to crypto products (and how a particular crypto product is regulated) may change. Before deciding to trade in financial instrument or cryptocurrencies you should be fully informed of the risks and costs associated with trading in the financial markets, carefully consider your investment objectives, level of experience, and risk appetite, and seek professional advice where needed. Kalkine Media cannot and does not represent or guarantee that any of the information/data available here is accurate, reliable, current, complete or appropriate for your needs. Kalkine Media will not accept liability for any loss or damage as a result of your trading or your reliance on the information shared on this website.