Highlights:

The TLOS token trades on several crypto exchanges like Bitget, KuCoin, etc.
The Telos network's block time is 0.5 seconds.
It returned over 12% gains in the last 12 months.
The Telos crypto traded in the green early Tuesday before reversing its course into the negative territory. It gained significant traction among social media users in recent days. But before we discuss its price and performance, let's understand first what Telos is.
What is Telos (TLOS) crypto?
Telos claims it is built for speed and scalability. It is a high-performing layer-1 network or the foundation for the fastest Ethereum Virtual Machine (EVM).
Telos' non-fungible tokens and smart contracts are used in decentralized finance (DeFi), gaming, social media applications, etc. The Telos network is home to over 100 decentralized applications (DApps), including Qubicles, Wordproof, Zeptagram, and Appics.
The network offers a block time speed of 0.5 seconds, with over 10,000 transactions per second. Besides, these Apps enjoy Telos' strong on-chain solutions for voting, decentralized file storage, etc. It also claims to have the most high-performing EVM available. It is the only blockchain supporting two leading standards - EVM and EOSIO - for developing smart contracts.
The TLOS token trades on several crypto exchanges like Bitget, MEXC, KuCoin, etc.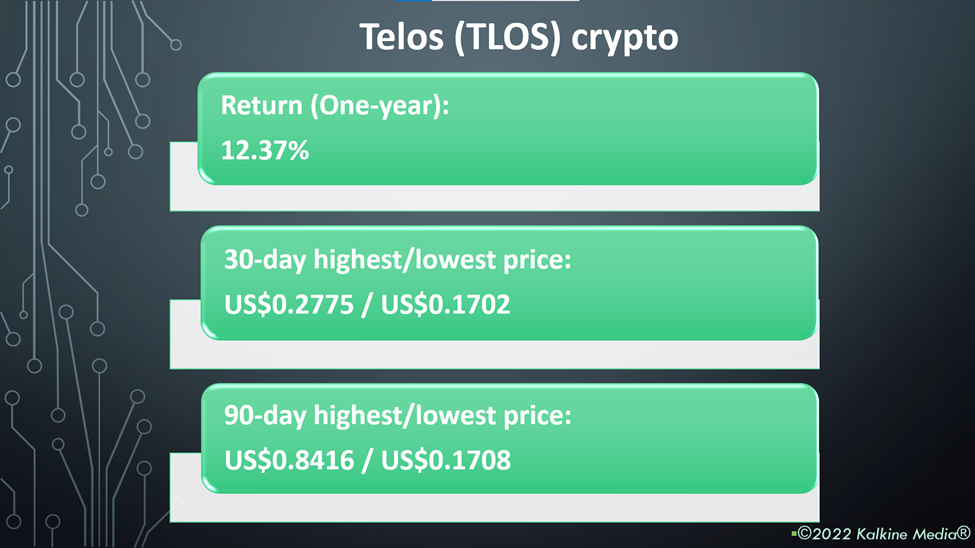 Data Source: CoinMarketCap.com
Price and performance:
The TLOS token was priced at US$0.1716 at 9:40 am ET on July 5, down by 0.88%, while its one-day volume declined 1.41% to US$2.57 million. It has a market cap of US$46.33 million, and its fully-diluted market cap is US$60.92 million.
The token has a total and maximum supply of over 355.20 million, and its current circulating supply is more than 270.12 million. Even though its price has declined this year, it returned gains of over 12% in the last 12 months.
The TLOS crypto saw the highest price of US$0.2775 and the lowest price of US$0.1702 in the last 30 days.
Bottom line:
The crypto market hasn't been immune to the global financial market turmoil. The crypto market shed 0.73% to US$879.16 billion at 9:45 am ET on Tuesday, while its volume soared 35.25% to US$61.45 billion in the trailing 24 hours. However, investors should exercise due diligence before spending on digital currencies as it carries several risks.
Risk Disclosure: Trading in cryptocurrencies involves high risks including the risk of losing some, or all, of your investment amount, and may not be suitable for all investors. Prices of cryptocurrencies are extremely volatile and may be affected by external factors such as financial, regulatory, or political events. The laws that apply to crypto products (and how a particular crypto product is regulated) may change. Before deciding to trade in financial instruments or cryptocurrencies you should be fully informed of the risks and costs associated with trading in the financial markets, carefully consider your investment objectives, level of experience, and risk appetite, and seek professional advice where needed. Kalkine Media cannot and does not represent or guarantee that any of the information/data available here is accurate, reliable, current, complete, or appropriate for your needs. Kalkine Media will not accept liability for any loss or damage as a result of your trading or your reliance on the information shared on this website.