Highlights:

Ravencoin is a digital peer-to-peer (P2P) network built on a Bitcoin code fork.
The RVN token is available on exchanges like Binance, Huobi Global, etc.
It returned gains of more than 26% in the last seven days.
The Ravencoin (RVN) crypto gained traction on Thursday, evidenced by its price rally. The RVN token was up over 4%, but the volume fell 10% in the last 24 hours to Thursday morning.
What is Ravencoin (RVN) crypto?
Ravencoin is a digital peer-to-peer (P2P) network focused on implementing a use case-specific blockchain created to handle one specific function - transferring assets from one party to another. It is built on a fork of Bitcoin code.
Also Read: Why is Kyber Network Crystal v2 (KNC) crypto up over 17%?
After unveiling the project in October 2017 and releasing the binaries for mining, its full launch came in January 2018, without any pre-mine, initial coin offering, or masternodes. The project name has been inspired by the hit television series Game of Thrones.
Bruce Fenton, Joel Weight, and Tron Black had published the project's whitepaper. It claims to have made key changes to the network, like modifying the block reward issuance schedule for 5,000 RVN tokens, reducing the block time to one minute, and capping a coin supply of 21 billion. It also introduced a mining algorithm that lowered the mining centralization caused by ASIC hardware.
Also Read: What is Grove (GVR) token? know price and performance
It intends to solve the issues related to the transfer of assets over the blockchain. Meanwhile, the RVN coins are designed as an internal currency within the Ravencoin ecosystem. RVN must be burnt for issuing the tokens on the network. These assets could represent real-world custodial objects like gold, currencies, stocks, etc.
The RVN token is available on exchanges like Binance, Huobi Global, OKEx, etc.
Also Read: Top S&P 500 industrial stocks to explore: DE, RTX, LMT, WM & RSG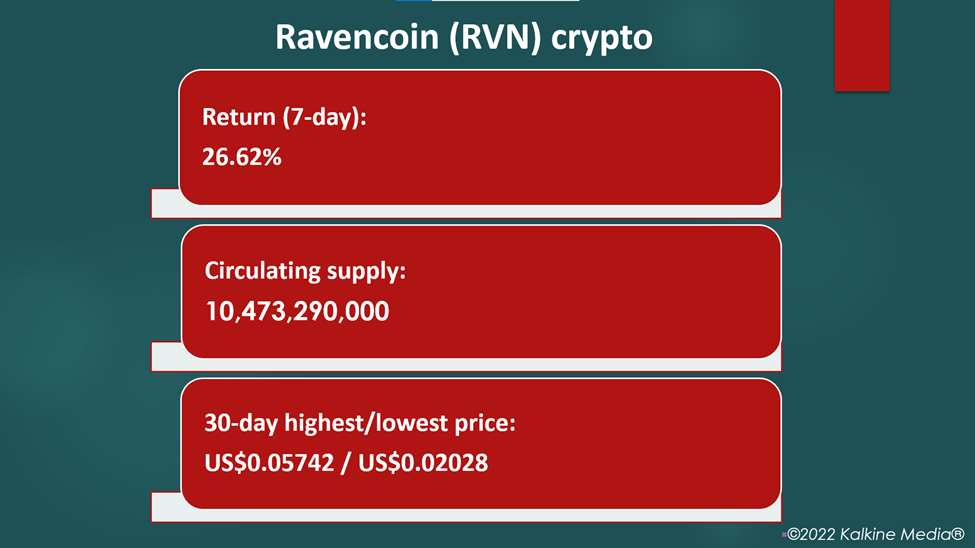 Data Source: CoinMarketCap.com
Bottom line:
The Ravencoin (RVN) crypto was priced at US$0.03026 at 10:50 am ET on May 19, up 4.63%, while its volume for the last 24 hours declined 10.11% to US$16.86 million. It has a market cap of US$311.46 million, and its fully-diluted market cap is over US$624.51 million.
The token has a maximum supply of 21 billion, and its total and current circulating supply are over 10.47 billion. It returned gains of 26.62% in the last seven days. The token saw the highest price of US$0.05742 and the lowest price of US$0.02028 in the last 30 days.
Also Read: Why is IDEX (IDEX) crypto up over 122%?
Risk Disclosure: Trading in cryptocurrencies involves high risks including the risk of losing some, or all, of your investment amount, and may not be suitable for all investors. Prices of cryptocurrencies are extremely volatile and may be affected by external factors such as financial, regulatory, or political events. The laws that apply to crypto products (and how a particular crypto product is regulated) may change. Before deciding to trade in financial instruments or cryptocurrencies you should be fully informed of the risks and costs associated with trading in the financial markets, carefully consider your investment objectives, level of experience, and risk appetite, and seek professional advice where needed. Kalkine Media cannot and does not represent or guarantee that any of the information/data available here is accurate, reliable, current, complete, or appropriate for your needs. Kalkine Media will not accept liability for any loss or damage as a result of your trading or your reliance on the information shared on this website.