Highlights

Helium is a decentralized wireless connectivity platform for IoT devices powered by blockchain.
On Helium, network participants purchase the hotspots, get coverage over a certain radius and at the same time, they can also mine the token HNT.
It has 642,421 hotspots currently.
Internet of Things (IoT) exists everywhere in today's life, starting from personal to professional. The IoT connectivity of various devices gives people better control over their time, a reason for its increasing dependability.
It helps in making smart, automated devices for the home and businesses to get insights about the performance of machines, logistics operations etc.
While counting the benefits of IoT, the blockchain-powered wireless connectivity platform, Helium (HNT), is gaining traction today, and its volume rose 24.55% in 24 hours to US$22,530,259.
What Is Helium (HNT)?
Helium is a decentralized wireless connectivity platform. It is a blockchain-powered network for the Internet of Things devices. The network's mainnet enables low-powered wireless devices to communicate to send data across nodes.
Helium was launched in 2019. According to its website, it has 642,421 hotspots currently.
The company aims to build IoT communication for the future by improving on the in-efficiencies of the current infrastructure. Its Hotspots are the combination of a blockchain mining device and the wireless gateway where node users mine and earn rewards in the HNT, the native cryptocurrency of Helium.
In 2013, Amir Haleem, Shawn Fanning and Sean Carey co-founded the company. The CEO Haleem comes from an active eSports and game development background and, before Helium, served as a CTO at the gaming startup Diversion.
Fanning has developed the music-sharing service Napster, popular peer-to-peer internet service in the 1990s. Before Helium, Carey worked in different development roles and created an advertising optimization firm, which PayPal later acquired.
Also Read: Why is NFT game Alien Worlds' (TLM) offer catching attention?
The Internet of Things has changed a lot since its launch. The Helium that aims to improve the communication capabilities of wireless IoT devices refers to its decentralized network as 'The People's Network'.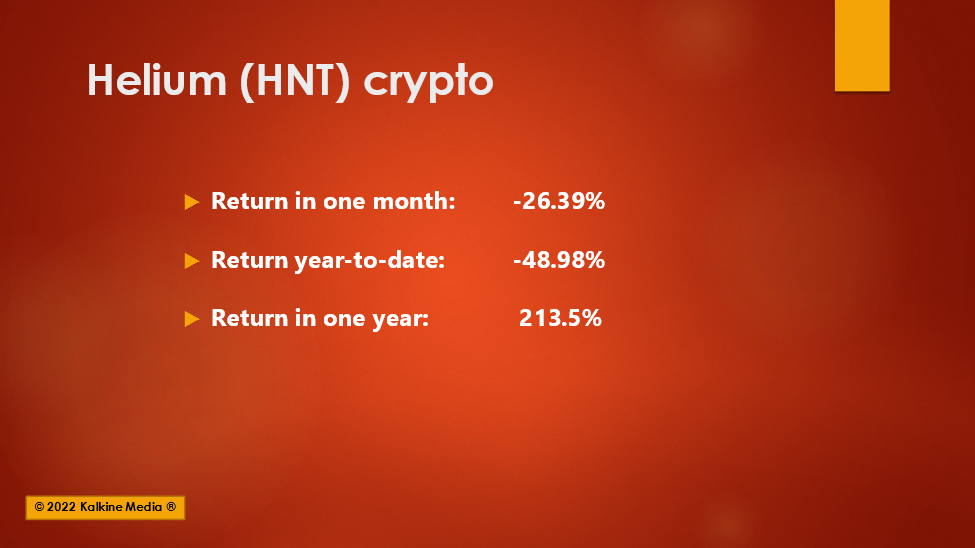 Helium claims that the network participants can purchase the hotspots and at the same time, they can also mine the token HNT.
Price and Performance:
Helium (HNT) is trading at US$20.25, down 3.37% at 8:23 am ET, Monday; however, there is no proper evidence behind its fall lately.
The coin has a market capitalization of US$2.29 billion. HNT's maximum supply is 223 million, and the circulating supply is 113,351,249.81 HNTs.
The Helium token is currently available for purchase on Binance, Bybit, FTX, Mandala Exchange, and KuCoin.
Also Read: Why is HyperVerse (HVT) crypto gaining attention?
Bottom line
The company claims that the platform uses its wallet for asymmetric keys to increase users' private key security. However, lately, many hacking and cyberattack incidents have occurred, and thus the users must exercise due diligence while using or investing in cryptos and related services.
Risk Disclosure: Trading in cryptocurrencies involves high risks including the risk of losing some, or all, of your investment amount, and may not be suitable for all investors. Prices of cryptocurrencies are extremely volatile and may be affected by external factors such as financial, regulatory, or political events. The laws that apply to crypto products (and how a particular crypto product is regulated) may change. Before deciding to trade in financial instrument or cryptocurrencies you should be fully informed of the risks and costs associated with trading in the financial markets, carefully consider your investment objectives, level of experience, and risk appetite, and seek professional advice where needed. Kalkine Media cannot and does not represent or guarantee that any of the information/data available here is accurate, reliable, current, complete or appropriate for your needs. Kalkine Media will not accept liability for any loss or damage as a result of your trading or your reliance on the information shared on this website.