Highlights:

BORA can be described as a decentralized entertainment platform specializing in digital content distribution and incentivizes the participants.
The BORA token is available on various crypto exchanges like Gate.io, Upbit, etc.
It gave a return of over 144% in the last 12 months.
In recent days, the crypto market seems to be marking its place in various mainstream fields like sports, gaming, music, and other content-related industries.
Cryptocurrencies exploring the sports and gaming space often gain traction, and a crypto called BORA appears to have caught the investors' attention, as evidenced by the price rally.
Also Read: Why did Stargate Finance (STG) rose over 98% in a week?
What is BORA (BORA) crypto?
BORA can be described as a decentralized entertainment platform specializing in digital content distribution and incentivizes the participants. It is a layer-2 platform with a KCT-based token system.
BORA, a DApp platform, is designed to solve the current issues in the industry by distributing games and other content while promoting user interactions by utilizing a dual blockchain structure.
It intends to enable secure and transparent distribution of contents while preserving and unlocking the digital assets' value on the blockchain.
BORA allows the independent blockchain implementation by the content providers through modular architecture that ensures each service data and operations work independently and without impacting other services on the platform. The users, on the other hand, can enjoy the advantage of a single unified user experience of several contents provided by its ecosystem.
Also Read: Terra (LUNA) hits all-time high: Why is LUNA crypto rising?
Why is it rising?
Various investors may have turned their focus, especially from the gaming community, following KRAFTON, Inc. subsidiary, RisingWings announced its plan to enter the global blockchain gaming market with COMPETZ. COMPETZ is a blockchain-based esports solution that enables the players to compete and earn rewards depending on their skills and experiences.
RisingWings said that COMPETZ would be integrating into BORA. The players will use the BORA platform to acquire the in-game currency required to play games in COMPETZ and exchange the in-game currency for the BORA token.
Also Read: Why is Flux (FLUX) crypto rising?
RisingWings said that it would develop and release various new games for the service this year, where the players can compete with other players. The winners of the head-to-head matches will win the allocated prize pool.
In addition to that, on early Wednesday, BORA announced that it had been listed on the OKX exchange. The deposits and trading are opening today on OKX, and the withdrawals will be opening on March 31.
BORA is also available on various crypto exchanges like Gate.io, Upbit, Indodax, etc. These developments may have triggered the recent rally of the token.
Also Read: Why Lionel Messi wants to promote Socios.com crypto?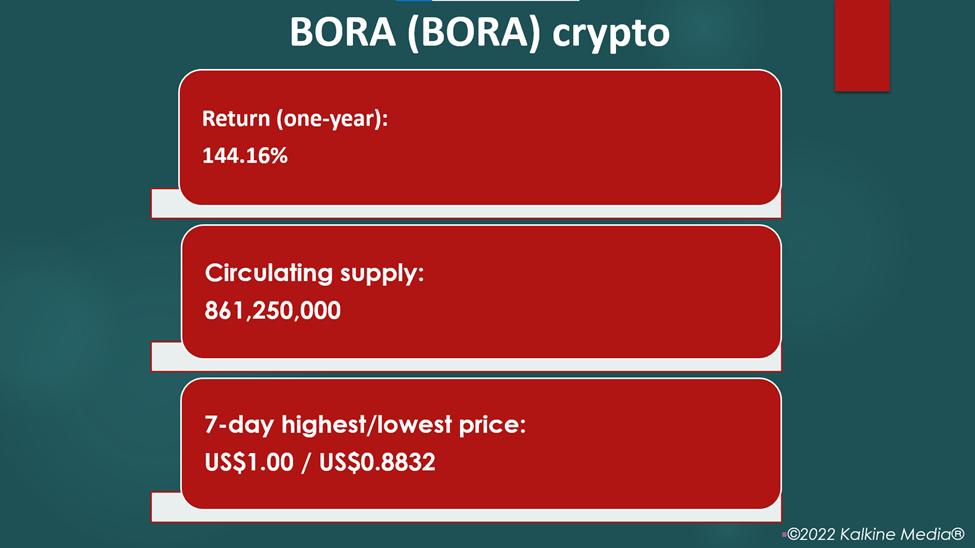 Source: *Data provided by CoinMarketCap.com
Bottom line:
The BORA (BORA) crypto was priced at US$0.9659 at 6:40 am ET on March 30, up 2.25%, while its volume skyrocketed 180.93% to US$151.22 million. Its total supply is over 1.20 billion, and its current circulating supply is around 861.25 million.
The token has a market capitalization of US$828.51 million, and its fully-diluted market cap is US$1.16 billion. It returned 7.14% over the past 7-days and 144.16% over the past 12 months.
Also Read: What is Dripto (DRYP) crypto and why is it rising?
Risk Disclosure: Trading in cryptocurrencies involves high risks including the risk of losing some, or all, of your investment amount, and may not be suitable for all investors. Prices of cryptocurrencies are extremely volatile and may be affected by external factors such as financial, regulatory, or political events. The laws that apply to crypto products (and how a particular crypto product is regulated) may change. Before deciding to trade in financial instruments or cryptocurrencies you should be fully informed of the risks and costs associated with trading in the financial markets, carefully consider your investment objectives, level of experience, and risk appetite, and seek professional advice where needed. Kalkine Media cannot and does not represent or guarantee that any of the information/data available here is accurate, reliable, current, complete, or appropriate for your needs. Kalkine Media will not accept liability for any loss or damage as a result of your trading or your reliance on the information shared on this website.