Highlights:

Ethereum will transition to a PoS mechanism through its Merge upgrade to boost network security.
The token can be traded on exchanges like Binance, OKX, etc.
It reached the highest price of US$US$3,573.96 in the last 30 days.
The Ethereum (ETH) crypto gained traction on Wednesday after informing about its Merge upgrade for the transition to a PoS mechanism as part of efforts to boost network security.
Its lead developer Tim Beiko gave the updates. The ETH token surged over 1% after the announcement on Wednesday morning. But the one-day volume was down over 24%.
Also Read: Why is Sphere Finance (SPHERE) crypto gaining attention?
When is the Merge happening?
Tim Beiko said on Twitter the Merge update would happen after June. He said Ethereum would complete the transition to a proof-of-stake (PoS) mechanism a few months after June.
The Ethereum network now depends on a proof-of-work (PoW) mechanism, in which the decentralized network of computers competes for validating transactions. Ethereum's shift to a PoS system would enable users to secure the network by staking ETH.
Also Read: Why is metaverse-focused Meta Ruffy (MR) crypto rising?
It is also expected that the transition would trim Ethereum energy costs by around 99% while making the scaling of the network easier.
The proof-of-work consensus mechanism uses energy-intensive advanced computers to validate transactions and secure the network. On the other hand, the new PoS mechanism would allow ETH holders or stakers to operate as validators.
Also Read: What is NEXO's crypto-backed credit card? How is Mastercard involved?
On Monday, Ethereum developers successfully launched a shadow fork to the Ethereum mainnet for stress testing the upcoming software.
Beiko had earlier said the upgrade could happen in the fall but didn't give a specific timeline. The Merge upgrade witnessed multiple delays since its start.
Also Read: Why is GMX crypto gaining attention?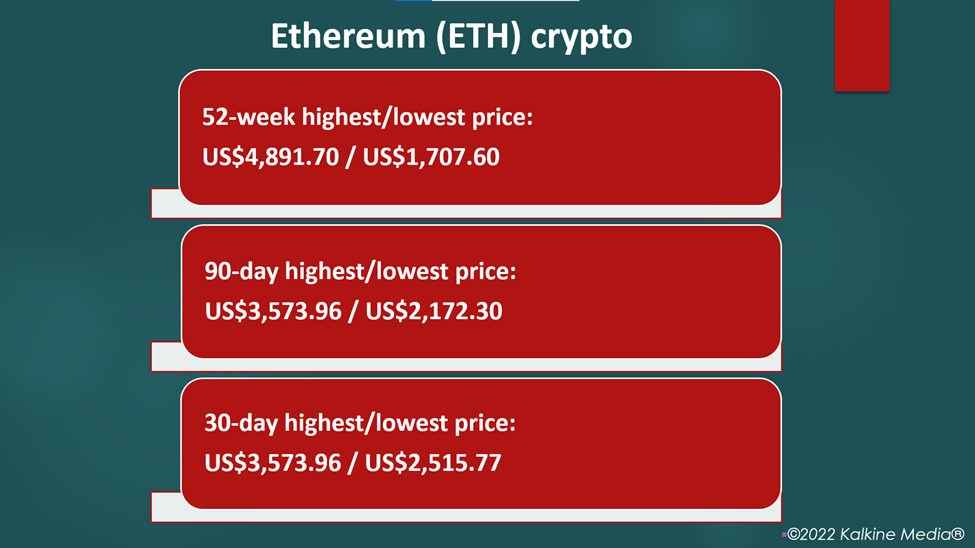 Data source: CoinMarketCap.com
Bottom line:
The ETH token was priced at US$3,074.91 at am ET on April 13, up 1.67%, while its volume for the last 24 hours declined 24.81% to US$17.25 billion. It has a market cap of US$370.77 billion, and its fully diluted market cap is US$370.44 billion.
The token's total and current circulating supply is over 120.36 million. Its price plummeted 17.22% YTD, while its larger rival, Bitcoin (BTC), fell 12.8% YTD.
It saw the highest price of US$US$3,573.96 and the lowest price of US$US$2,515.77 in the last 30 days. The token is available for trading on exchanges like Binance, OKX, Bybit, etc.
Also Read: Why is Polygon (MATIC) rising? Does it have a Robinhood connection?
Risk Disclosure: Trading in cryptocurrencies involves high risks including the risk of losing some, or all, of your investment amount, and may not be suitable for all investors. Prices of cryptocurrencies are extremely volatile and may be affected by external factors such as financial, regulatory, or political events. The laws that apply to crypto products (and how a particular crypto product is regulated) may change. Before deciding to trade in financial instruments or cryptocurrencies you should be fully informed of the risks and costs associated with trading in the financial markets, carefully consider your investment objectives, level of experience, and risk appetite, and seek professional advice where needed. Kalkine Media cannot and does not represent or guarantee that any of the information/data available here is accurate, reliable, current, complete, or appropriate for your needs. Kalkine Media will not accept liability for any loss or damage as a result of your trading or your reliance on the information shared on this website.