Highlights

Solana (SOL) is a high throughput blockchain that can process more than 700,000 transactions per second (TPS).
PUBG game maker Krafton has joined hands with Solana (SOL) to develop and market blockchain-based new games.
SOL token is up 20431.11% to US$102.82 at 4:44 AM ET Friday from its all-time low in 2020.
There is probably nobody who has not heard about PUBG, a famous player-to-player shooter game with more than 1 billion downloads across platforms. Gaming and sports have always had die-hard fans, but with blockchain technology-based gaming, the segment is witnessing high-speed growth with having more players than fans.
In blockchain-based crypto games, the Ethereum-based Axie Infinity (AXS) has reportedly generated over US$4 billion worth of NFT trading volume.
In the latest development, Krafton, the company behind PUBG, is joining hands with Solana (SOL), a high-performance blockchain, to develop and market blockchain-based new games. The traditional video game player is exploring the Web3 space for gaming using NFTs and cryptocurrencies.
The SOL token was up 5.3% at US$102.82 per token at the time of drafting.
Also Read: Why is Oasis (ROSE) crypto rising?
What Is Solana (SOL)?
Solana is a high throughput blockchain built to enable scalable, user-friendly decentralized finance (DeFi) solutions and apps for users. Solana is a general-purpose blockchain like Ethereum.
The project started in 2017 but was officially launched in March 2020 by the Solana Foundation. The blockchain is based on the Proof of History (PoH) and Proof of Stake (PoS) consensus mechanism. This hybrid consensus model attracts both small-time traders and institutional traders alike.
Also Read: Why is AltSwitch (ALTS) crypto rising?
Solana can process more than 700,000 transactions per second (TPS); its high throughput ability makes it suitable for more extensive and high-frequency use cases.
Solana blockchain's average cost per transaction is US$0.00025, and it is much faster than its Ethereum. Solana's speed and lower fees are what make it attractive. It boasts 400 millisecond block times.
Solana ecosystem's end-user applications include decentralized finance (DeFi), non-fungible tokens (NFT), marketplaces, games, e-commerce, etc.
Also Read: Why did Quantstamp (QSP) crypto's volume rose over 7000%?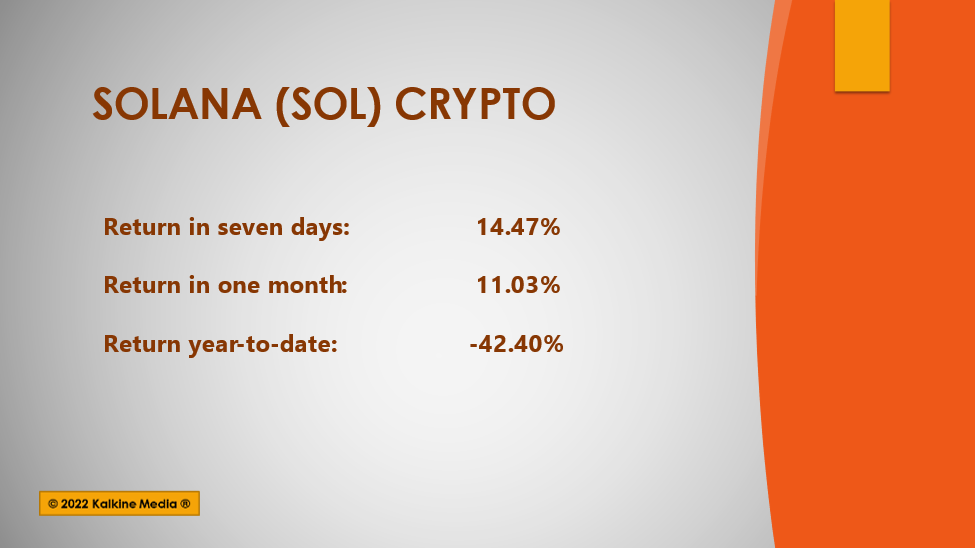 Data Source: coinmarketcap.com
Also Read: Why is Cardano (ADA) crypto rising?
SOL token details:
SOL is its native token. It is used to pay the transaction fees and staking to support the Solana network.
Solana (SOL) fell 60.4% to US$102.82 from its all-time high price of US$259.96 in November 2021. The token touched the all-time low in May 2020 at US$0.500801.
Also Read: What is Kryll (KRL) crypto and why is it rallying?
The token has a market capitalization of US$33.2 billion. Its circulating supply is 322.9 million SOL, and the total supply is 511.6 million.
The token is available for purchase crypto exchange including Binance, Coinbase Exchange, Mandala Exchange, Hotcoin Global crypto etc.
Also Read: Why Audius (AUDIO) crypto gained 50% in last 7 days?
Bottom line
The token saw a steep rise in 2021 due to higher development activity in its network ecosystem and the gaming and NFT vertical increase on the Solana chain. However, in 2022 overall crypto market fell approximately 12.4% YTD, and Solana (SOL) also retraced.
But with more players and Dapps on its chain, it is to be seen how it will fare.
However, one should keep in mind the highly volatile nature of the crypto market and the possibilities of hacking and scams before exposure to it.
Risk Disclosure: Trading in cryptocurrencies involves high risks including the risk of losing some, or all, of your investment amount, and may not be suitable for all investors. Prices of cryptocurrencies are extremely volatile and may be affected by external factors such as financial, regulatory, or political events. The laws that apply to crypto products (and how a particular crypto product is regulated) may change. Before deciding to trade in financial instrument or cryptocurrencies you should be fully informed of the risks and costs associated with trading in the financial markets, carefully consider your investment objectives, level of experience, and risk appetite, and seek professional advice where needed. Kalkine Media cannot and does not represent or guarantee that any of the information/data available here is accurate, reliable, current, complete or appropriate for your needs. Kalkine Media will not accept liability for any loss or damage as a result of your trading or your reliance on the information shared on this website.