Summary

The company is offering designer Bluetooth prescription glasses, with the same price and appearance of designer eyewear
It has a strong intellectual property position with the exclusive license to 3 utility patent applications and 22 design patents
Established in 2020, Innovative Eyewear, the pioneer of smartglasses, is all set to launch its new Lucyd Lyte™ e-glasses in November 2020. The new line brings exciting smart features at the same price as regular glasses, making the e-glasses accessible to all prescription eyewear and sunglass customers. Starting next month, customers will be able to enjoy all the high-end features of Lucyd Lyte™ e-glasses, which acts like headphones and glasses in one, bringing vision correction together with digital connectivity.
(Featured: Richard Sherman of the NFL wearing Lucyd Lyte. Image source–Company)
Competitive Advantage
The team of Innovative Eyewear, which created the Lucyd brand, has a strong intellectual property position which includes three utility patent applications and 22 issued design patents.
In a recent comparison of the new Lucyd Lyte™ frames with the new Bose Tenor™ glasses, Lucyd Lyte™ was rated superior overall from a design/fashion perspective, in addition to it being 28% lighter, which is key for comfortable, all-day wear and having 18% longer battery life. The reviewer rated it a better value at approximately half the price.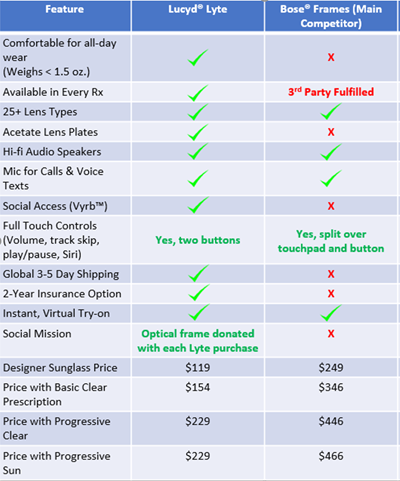 (Image source- Company)
Further raising the bar, in Q1 2021, the company is planning to launch a unique mobile application called Vyrb™, which enables the user to engage with social media using their voice. The user will be able to post and hear social updates using voice commands, right on Lucyd frames. At present, none of the competitors is offering voice control of social media features.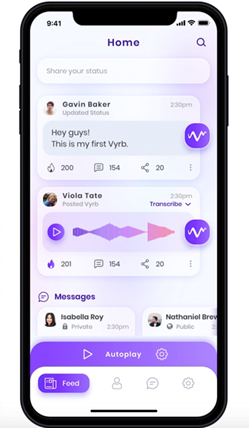 (Featured: Simulation of the Vyrb feed, including an audio-playback option for use on the e-glasses. Image Source–Company.)
Swift Inroads to The Mass Market
Lucyd frames are gaining attention because of their new form factor, providing all smart features without sacrificing anything from a typical eyewear experience. Innovative Eyewear is all set to earn a leadership position in the tech eyewear market, taking the concept of e-glasses mainstream. It has achieved its goal to deliver smart eyewear, with cutting-edge design in a lightweight spectacles format.
Road Ahead
The tech eyewear market is on a roll with even fashion-conscious eyewear consumers looking for a tech solution. But very few companies are there to offer truly ergonomic and useful tech-enhanced eyewear.
Innovative Eyewear is on its way to create a revolution in the smartglasses segment with Bluetooth prescription glasses for the mass market, priced for the mass market at $119 USD. It will not only match the fit and finish of designer fashion eyewear, but is being offered at an affordable rate, with prescription lens upgrades starting at just $35 USD. The offering is a unique combination of prescription, wearable utility, safer mobile computing and fashion all in one.
The company is offering an opportunity to be a part of their growth journey by investment through its Registered Crowdfund on the Startengine platform. (Due to Reg CF requirements, UK and Canada residents are not eligible to participate in this round.)