Highlights

The NFIB found that daters who started online relationships between Christmas and Valentine's Day period were at risk of facing online romance fraud.
Fraud victims, aged between 50 to 59 years, were among the largest age bracket to fall for such scams, as per NFIB reported frauds last year.
The NFIB had received about 901 reports of online dating fraud in March 2021.
According to recent data from the UK's national policing body, the National Fraud Intelligence Bureau, (NFIB) it was found that those who start online based relationships between the Christmas and Valentine's Day period, were at a risk of facing romance-related fraud.
About 901 such reports were received by the NFIB in March last year. Moreover, about 20 per cent of such fraud reports in the last year, showed that victims were aged between 50 to 59 years.
And, about 18 per cent of such victims during the period, were aged between 40 and 49 years, and those belonging to the age bracket of 30 to 39 years made up about 17 per cent of the victims as per NFIB's report.
The modus operandi of such fraudsters involves gaining the trust of their victims in the beginning by not showing any inclination or desire for any money, according to the City of London Police's temporary detective chief superintendent Matt Bradford.
Bradford added that once fraudsters gain their victim's trust over the span of weeks or months, they thereafter ask for money based on various emotional reasons.
He called on the family members of such victims to help protect them from falling for such scams by educating them about some early warning signals.
Cybercrimes, in general, have seen a sharp rise in the last year amid the pandemic, as more and more people are using tech for various purposes.
Let us take a look at 2 FTSE listed cybersecurity stocks and explore their investment opportunities:
Darktrace PLC (LON: DARK)
Darktrace is an FTSE 250 index listed cybersecurity AI firm.
According to a research report by the company, it found that cyberattackers targeted the IT and communications sector the most last year. This is a shift from the finance and insurance sector, which were the most targeted in 2020.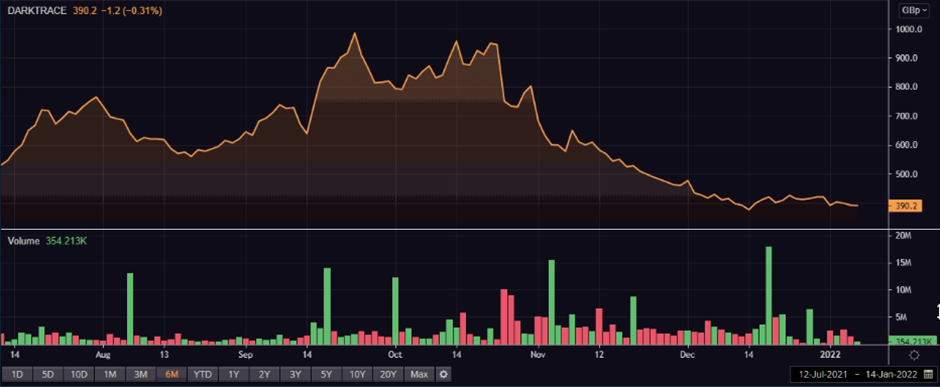 Image source: Refinitiv
The group's shares were higher by 0.82 per cent trading at GBX 394.60 on 10 Jan. 22 at 08:40 AM BST, while the FTSE 250 index was at 23,267.96, down by 0.37 per cent.
The company has a market cap of £2,727.93 million as of date. It was admitted to the LSE on 30 April last year.
Kape Technologies PLC (LON: KAPE)
Kape is a UK based software company involved in developing and distributing cyber security-based digital offerings. It is a part of the FTSE AIM 100 index.
The group recently completed the acquisition of ExpressVPN, a VPN software firm, in a deal worth about US$ 9361 million. It is expected to be a very accretive deal, with the company estimating its FY 2022 revenue to be in the US$ 610 to US$ 624 million range.
Image source: Refinitiv
The group's shares were trading in red at GBX 430.00 5,767.06, down by 0.58 per cent.
The company has a market cap of £1,504.35 million as of date. In the last one year, the group has given shareholders a return of 118.10 per cent as of 10 January.