Summary

The FTSE 250-listed stock has observed huge growth in sales and profits for the first half of FY2021.
Despite the second lockdown impacting the business, the company was successful in resuming its dividend.
Dunelm Group PLC (LON: DNLM), the homeware retailer of the UK, posted its interim results on Wednesday for the first half of FY2021 that ended on 26 December 2020. The company generated higher profits this financial year as compared to the H1 previous year and also declared its interim dividend. The company generated £112.4 million of profits before tax, witnessing a growth of 34.4 per cent over the same period previous year (H1 FY20: £83.6m).
The initial half of H1 2021 saw pent-up online demand as more people were confined indoors and the online platforms performed well. However, the store closures across the estate and varying restrictions during the second lockdown impacted the company's performance. In November 2020, almost 85 per cent of the group's stores remained closed for a period four weeks.
Copyright © 2020 Kalkine Media Pty Ltd.
Established in 1979, Dunelm started as a market stall business and caters to its customers over 174 stores and online services. The company has a workforce of 10,000 colleagues and sells roughly 50,000 product lines. At present, the company is operating only one store because of the latest lockdown set out in Britain.
Performance Highlights
Some significant highlights and figures posted by the company for H1 2021 in comparison with H1 2020:
Sales: Despite the closed stores during November and December, the company recorded a total sales growth of 23.0 per cent (H1 FY20: 6.0 per cent) in the H1 2021.
Digital sales: The group witnessed a huge growth in digital sales due to customers shifting to click & collect and home delivery during lockdowns. The digital sales increased by 111 per cent in H1 2021 (FY20 H1: 20.4 per cent), accounting for 35.0 per cent of total sales.
Digital penetration was 40 per cent in the second quarter of FY 2021.
Number of customers: The total number of active customers grew by 4.4 per cent because of the increase in online customers.
Total sales growth: The first and second quarters recorded a sales growth of 36.7 per cent and 11.8 per cent, respectively.
Gross margin: The gross margin expanded by 50 basis points (H1 FY20: +120bps), driven by sourcing gains and a lower proportion of discounted sales.
Free cash flow: Dunelm reported free cash flow of £98.0 million, with net cash of £140.9 million at the end of the period (FY20 H1: net debt £67.7 million).
Dividends: The retailer resumed dividends by proposing an interim dividend of 12.0 pence (FY20: nil paid).
Also Read: Dunelm Group Plc (LON: DNLM) returns back £14.5-mn claimed under furlough scheme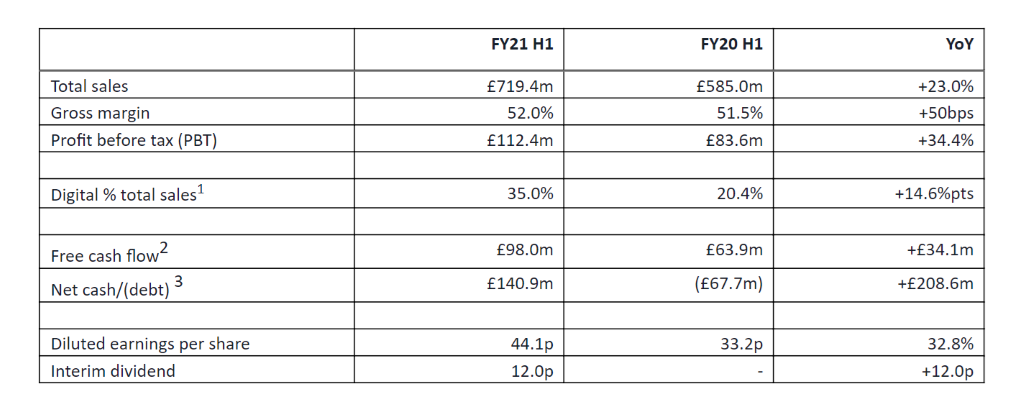 (Source: Company's RNS, LSE)
Share Price Performance
The shares of the FTSE 250 stock were soaring high at GBX 1,331.00 after the company announced its results, recording a 5.55 per cent increase from GBX 1,261.00 on 10 February at 10:52 AM GMT.
Outlook
The company's H1 2021 performance was very strong across the total retail system, with key metrics such as active customer growth, free cash flow, profit, and sales witnessing progress. Dunelm was unable to provide an outlook for the entire FY 2021 ending 30 June as only one of its stores remain functional and there's no certainty as to when the stores will re-open. However, the company is offering the Click & Collect10 and home delivery services.
The homeware retailer also said that it has been covering around 70 per cent of the previous year's sales through home delivery and Click & Collect10 services.  Presently, the company is making a modest weekly loss.