Summary

The Footsie-listed oil major incurred its first full-year financial loss of $5.7 billion in a decade.
BP has written-off its oil and gas assets worth $6.5 billion during the year 2020 and has slashed dividends and announced job cuts.
FTSE 100-listed oil & gas giant BP Plc (LON: BP.) seems to be in a tight spot as it succumbed to its first full-year financial loss of $5.7 billion in a decade in the year 2020. The onslaught of the coronavirus pandemic has wreaked havoc on the oil & gas industry.
The pandemic-induced lockdowns and travel bans brought the aviation and shipping sector, which are the major consumers of transport fuel, to a screeching halt. This has led to lower oil demand, however, supply remained constant. This led to a steep fall in crude prices that impacted the oil & gas businesses. Notably, BP had earned a profit of $10 billion in 2019.
Also read: BP's (LON: BP.) CEO Bernard Looney and his restructuring plans
To curb the volatility in the prices of crude, the OPEC members have decided to control the supply of oil by limiting oil production. Controlling the supply can help in keeping a lid on oil prices. The volatility in oil prices has troubled the oil companies whole last year.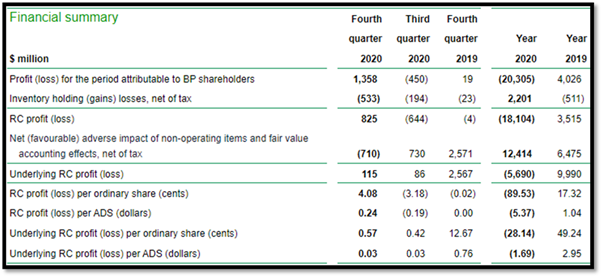 (Source: Company's filings, LSE)
Besides, the oil & gas majors are feeling the pressure exerted by local governments and environmental activists to cut down on carbon emissions. The oil & gas industry has slashed its oil prices projections over the long-term, and therefore, BP has written off its oil & gas assets worth $6.5 billion in 2020.
Also read: Shell (LON: RDSA) To Buy Electric Car-Charging Company Ubitricity
The company has been prudent in optimising the costs for the company as the pandemic has stayed for much longer than anticipated. BP has already downsized its workforce by 10,000. During 2020, BP slashed its dividend pay-out to conserve liquidity for the first time since the Deepwater Horizon disaster.
Despite all the unprecedented challenges faced by the ailing oil business in 2020, BP managed to earn an underlying profit of $115 million for the final quarter. This underlying profit earned by the company can be attributed to substantial improvement in the demand for transport fuel during the final quarter of 2020.
As the initial set of lockdowns were lifted, Prime Minister Boris Johnson had called for sustainable development and a transition towards a low carbon future. Despite the pain and anguish caused by Covid-19, BP set itself a target of becoming a net zero carbon company by 2050.
BP has made conscious efforts in reducing debt and cutting costs. In 2021, BP might make divestments worth between $4 and 6 billion. By 2025, BP is expected to sell off $25 billion worth of assets. The proceeds from these divestitures might help the company in reducing its overall debt. In addition, BP must restructure its portfolio by offering greener, cleaner technologies to derive growth in the long-term.
Shares of BP traded at GBX 259.65 on 2 February 2020 at GMT 1:35 PM+1, down by 2.79 per cent from previous day price close.