Summary

AIM-listed gold exploration and development company Orosur Mining Inc's (LON: OMI) shares soared above 83 per cent on Tuesday.
The surge came on the back of better-than-expected drill results from its Anza project site in Colombia.
The gold mining company's one-year return is a whopping 703.28 per cent.
AIM listed and South American focused gold exploration and development company Orosur Mining Inc's (TSX: OMI) (LON: OMI) shares surged over 83 per cent on 6 July after the company announced fantastic drill results at its Anza project site located in Colombia.
Orosur Mining (LON: OMI) share price & finance performance
Orosur Mining's shares closed at GBX 24.50, up by 83.13 per cent on Tuesday, while the FTSE AIM All Share index, which it is a part of, ended at 1,264.36, down by 0.08 per cent.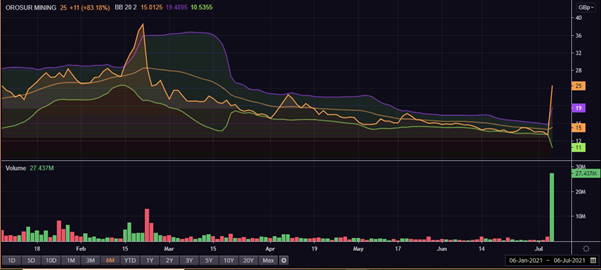 (Image Source: Refinitiv)
The gold mining company's one year return stood at a whopping 703.28 per cent, while its market cap was at £25.20 million. The company's FY 2020 basic earnings per share stands at 1.00 cent per share.
Orosur Mining Anza drill results
Orosur Mining reported finding multiple high-grade gold intersections with associated silver and zinc. Some of the significant results on the gold assay include 9.61g/t Au at 59.55m and 2.05g/t Au at 61.75m from assay results of nine additional diamond drillholes numbered from MAP-083 to MAP-091.
A gold assay is a process of doing a compositional analysis of the precious metal to identify its purity and content. The Anza drill result's assay was done at ALS Chemex laboratory based in Lima, Peru.
Meanwhile, on the silver and zinc front, it reported results of 6.23g/t Ag and 3.75 per cent Zn at 59.55m and 3.3g/t Ag and 0.82 per cent Zn at 61.75m, respectively.
Also Read: 3 Golden Picks from Our Shining Metal Sector
OMI Project update
The company also stated in the update that the drilling program is close to completion as planned. The drilling project had begun in November 2020. Once drilling in the last hole is complete, Orosur Mining plans to expand the mineralisation zone at the Aragon-Pastorera Trend Area (APTA) in Anza by leaving one rig at the location to continue drilling.
The first drilling phase at the Anza land package has given a higher level of guidance regarding the shape and nature of gold mineralisation at APTA. Furthermore, the company is also planning to develop 3D models of gold mineralisation to better aid in targeting precious metal in the future.
The company stated in its Colombia update that it is planning further assays. It is also planning geophysical surveys, set to begin around early August to better assist in drilling.
The update also mentioned the company's regional exploration programs have been progressing at a good pace, and results are expected in the near term.
Orosur's regional fieldwork has been concentrated in its NE licence area, although the company has identified Pupino and Pepas as two new prospect locations.