Summary

Adriatic tweaked its Rupice underground mine plan this week to estimate a 26 percent increase in silver equivalent metal production.
Kavangi Resources has partnered with Spectral Geophysics Ltd.
Shanta Gold has completed 3,590 metres of drilling in the two projects.
Mining has been a vital industry of the United Kingdom with more than 2,000 active mines in the country, which produces a wide range of metals, industrial minerals, and fossil fuels. It is one of the sectors, which is increasingly exposed to Environmental & social governance (ESG) issues that are shaping both recruiting criteria and the skills employers need in the mining sector. Both the industry and investors are repeatedly focussing on these issues.
Companies that are concerned about ESG problems strive to prevent environmental disasters like the Vale tailings dam burst in Brazil and the Mount Polley tailings breach in British Columbia.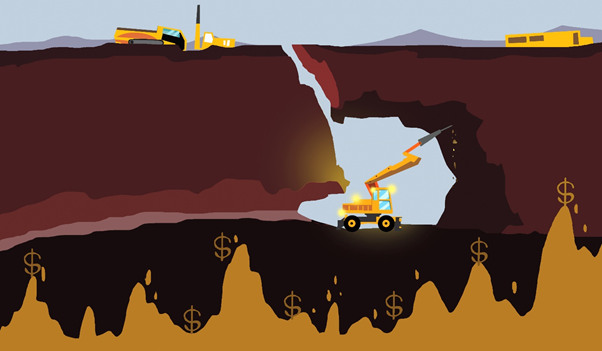 Copyright © 2021 Kalkine Media Pty Ltd.
Let's have a look at three mining stocks and the latest development associated with them:
Adriatic Metals
The multi-metals company recently tweaked its Rupice underground mine plan, resulting in 26 per cent increase in silver equivalent metal production in the first two years by focusing on the high-grade centre. The company has also reported that for the project permits about Urban Planning and Exploitation are likely to be obtained this quarter. It has also received various non-binding term sheets for its Vares Project Financing.
The stock of Adriatic Metals (LSE: ADT1) was trading at GBX 129, almost the same price of GBX 127 it was on 19 February. That means the share price has hardly shown any movement for last almost two months. However, on a yearly basis, the stock has given a strong over a 107 per cent return.
Shanta Gold
Shanta Gold Limited (LON: SHG), an East African company that develops, produces, and explores gold, has announced an update on its South Western Tanzania mine New Luika Gold Mine (NLGM) and the West Kenya Project in Kenya.
The company has completed 3,590 metres of drilling in the two projects in the month of February and March. Post this, the deposit at Luika underground has increased by 76,461 ounces. As a result, total JORC resources at Luika have increased 23 per cent to 425,341 ounces, with the total grade rise of 14 per cent to 3.47 grammes per tonne.
Drilling highlights in West Kenya include LCD 0227 intersected at 1.5 metres of 13.9 grammes per tonne gold, LCD 0228 at 1.8 metres of 20.99 grammes per tonne gold, and LCD0236 at 15.8 metres of 4.08 grammes per tonne gold.
Shares of Shanta Gold were trading at GBX 14.75 on 20 April, up 1.72 per cent on LSE at the time of writing this article (12:44 PM GMT+1). The stock has given a return of over 36 per cent in the last one year.
Eric Zurrin, CEO, Shanta Gold reacting to the development, said:
Kavangi Resources
Exploration company Kavangi Resources (LON: KAV) has signed a strategic agreement with Spectral Geophysics Ltd to partner in helping in the world-class mineral deposit discovery, it announced on Tuesday.
Spectral has specialised knowledge and experience in mapping subsurface geology, and as per the deal agreement, it will share it with Kavango for the further remote survey of Kalahari Suture Zone (KSZ).
The company will chart the Kalahari Suture Zone project in Botswana as part of the collaboration. In exchange for Spectral's surveying services, Kavango will give it 3 million shares worth 3 pence each and 3 million warrants worth 4.25 pence each.
On Tuesday, Kavango shares were up 6.45 per cent to GBX 3.30 on 20 April at the time of writing. The stock has given huge return of over 288 per cent in last one year.