Summary

Britvic Plc has reported a revenue contraction of 6.8% during FY20.
The Company has completed the sale of three juice manufacturing sites in France.
The adjusted net debt/EBITDA stood at 2.4x during FY20.
The Company will make all plastic bottles in GB from recycled plastic by the end of 2022.
Britvic Plc (LON: BVIC) is the LSE listed consumer discretionary stock. Based on 1-year performance, shares of BVIC have generated a return of -18.68%. Shares of Britvic Plc were trading at GBX 805.50 when the market closed on 27 November 2020.
Britvic Plc is the FTSE 250 listed Company, which operates in manufacturing and distribution of soft-drinks. The Company's brands include Robinsons, J2O, Tango, Fruit Shoot and Ballygowan. It is the largest supplier in the UK. The various geographic segments areGB stills, GB carbs, Ireland, France, Brazil and International.
Upcoming Events – The Company will announce its quarter one trading statement on 28 January 2021.
Soft Drinks Overview
The soft drink industry constitutes a significant portion of the entire consumer industry. However, most of the industries were shaken up due to Covid-19 pandemic, and F&B is not an exception. The F&B sector does not have a severe impact as other sectors like retail, travel and advertising.
A soft drink is a non-alcoholic drink, which is a blend of carbonated water and natural or artificial flavouring. The soft drinks industry is basically driven by several market factors like increasing disposable income, rising younger aged population bases, especially in the emerging economies. The industry has the traditional shift in the consumer taste from standard flavours (such as orange, lemon, cola) to innovative flavours such as tropical fruits or fusion of flavours are also expected to provide a significant market growth.
Operational Highlights as reported on 26 November 2020.
The Company has witnessed double-digit revenue growth and market share gain in Brazil driven by both core brands and innovation.
The Company has acquired The Boiling Tap Company to complement our capability beyond the bottle.
The Company has witnessed strong growth at home from the portfolio of trusted brands.
Pepsi MAX is the top cola variant by volume in the At-Home channel, and 7UP has become the top lemon and lime brand in the At-Home channel during FY20.
Rockstar Energy has reached number two position by value making.
FY20 results (ended 30 September 2020) as reported on 26 November 2020.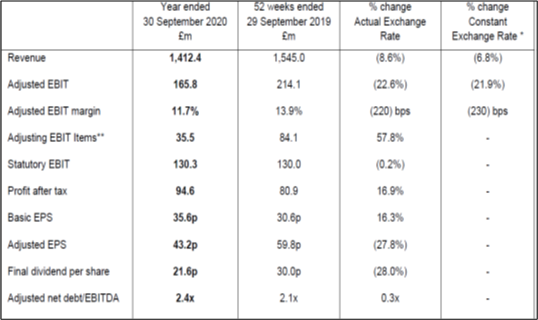 (Source: Company result)
The revenue of the Company declined by 6.8% to £1,412.4 million during FY20 from £1,545.0 million for FY19. Similarly adjusted EBIT has reduced by 21.9% to £165.8 million during FY20 from £214.1 million for FY19. However, profit after tax has increased by 16.9% to £94.6 million.
The adjusted earning per share has declined by 27.8% to 43.2 pence per share for FY20.
Regarding the financial position, the net debt of the Company stood at £555.5 million as of 30 September 2020. The Group had £1,030 million of committed debt facilities, consisting of a £400 million undrawn bank facility which matures in 2025.
The Company has announced a full-year dividend of 21.6 pence, maintaining 50% of the dividend payout ratio.
The Company is having free cash flow of £90.0 million during FY20 while it was £88.4 million for FY19.
The Company is not seeking any furlough support or the COVID-19 Corporate Financing Facility (CCFF) offered by the UK government.
The adjusted net debt/EBITDA stood at 2.4x during FY20.
Recent Developments
20 October 2020: Exclusive PepsiCo Bottling agreement
The Company has updated regarding its agreement with PepsiCo for a new and exclusive 20-year franchise bottling agreement for the production, distribution, marketing and sales of its carbonated soft drink brands - including Pepsi, 7UP and Mountain Dew - in Great Britain. The relationship between both parties was commenced in 1987, and now it is extended until 31 December
The Company has also added Rockstar energy brand in its portfolio from 01 November 2020.
The Company has also announced its intent for all plastic bottles in Great Britain to be made from 100% recycled plastic (rPET) by the end of 2022 which is around three years earlier than its original plans, and ahead of the previous target of 50%. It will consist of the entire Great Britain portfolio of Britvic-owned and PepsiCo brands and demonstrates both companies' commitment to sustainability and to a healthier planet.
October 2020: Sale of three bottling facilities in France.
The Company has updated regarding completion of the sale of its juice assets in France to Refresco following approval by the French Competition Authority in July. The transaction includes the sale of three juice manufacturing sites, related private label juice business and the Fruité brand.
The Company has retained the ownership of the Pressade and Fruit Shoot brands, which will be manufactured by Refresco as part of a long-term partnership arrangement.
Share Price Performance Analysis of Britvic Plc
(Source: Refinitiv, chart created by Kalkine group)
Shares of Britvic Plc were trading at GBX 805.50 when the market closed on 27 November 2020. BVIC's 52-week High and Low were GBX 997.00 and GBX 536.00, respectively. Britvic Plc had a market capitalization of around £2.16 billion.
Business Outlook
The Company has started the new financial year with a fresh set of restrictions imposed by the government due to Covid-19 pandemic. The Company is quite pessimistic and accepted that the financial performance would be impacted during the first half of FY21. The industry has consistently proven to be a highly resilient category, and Britvic fully intends to be at the forefront of its recovery.
The Company is quite upbeat regarding its long-term prospects and anticipating rebuilding investment in 2021 behind its long-term growth drivers, including innovation and marketing, as well as its commitment to sustainability through its usual strategy of "Healthier People, Healthier Planet". Britvic will be in a good position to lead the long-term recovery of the category with a portfolio of market-leading, trusted brands, a track record of operational agility and a dedicated and committed team.