Summary

People may need the Covid passport only to enter large arenas and events like theatres and sports stadia.
Cabinet Office Minister Michael Gove could set out progress on the review into Covid passport.
In a big relief to the UK hospitality industry, the Boris Johnson government's review is likely to declare that people now will have to produce the Covid status certificates while entering large events like theatres, sports arenas. The Covid passport is a vaccination certificate, which has all details and medical record of an individual, whether a person is vaccinated, latest test report, and others. Covid passport could help in maintaining social distancing and ensure the safety of people.
Though there is still no official announcement, but sources have reported that Cabinet Office Minister Michael Gove could give out his review on the Covid passport in parliament on Thursday.
Despite the new development, the hospitality stocks are not showing much enthusiasm on the bourses. The hospitality sector, which was one of the worst-hit sectors during the pandemic, is gradually reopening after a series of lockdowns and strict restrictions. Experts feel that the road to recovery will be a bit more challenging for the sector than the rest.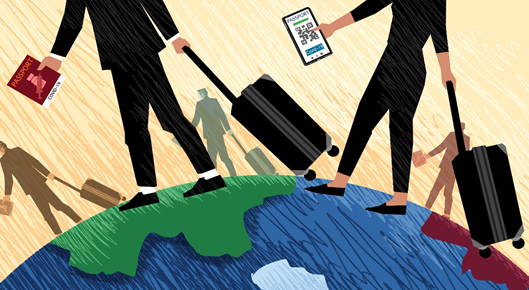 Copyright © 2021 Kalkine Media Pty Ltd.
In this article, we will look at the stocks of two hospitality companies.
SSP Group is a major global operator of food and beverage outlets in travel locations, and with operations in 35 countries. The company has an impressive international presence and has issued 258.1 million new shares at the price of 184 pence per share (12 new shares for every 25 existing shares to the shareholders).
For the year ended 30 September 2020, the company reported revenue of £1,433.1 million, 47.9 per cent lower on a constant currency basis and 48.7 per cent on actual exchange rates basis. The company reported an operating loss of £363.9 million on a reported basis under IFRS 16.
The stock of the company was trading at GBX 314.70, down by 1.19 per cent on 29 April 2021 at 15:09 PM. The stock has given a return of 34.42 per cent in the last one year.
Compass Group PLC (LON: CPG)
It is the world's leading foodservice company, having operations in around 45 countries. It employs and engages around 550,000 people and serves over 5.5 billion meals a year in different destinations, including offices and factories, schools, universities, hospitals, major sports and cultural spots, prisons as well as offshore oil platforms.
The group's organic revenue for the three months to 31 March is expected to be around 28 per cent lower as it begins to lap the COVID-19 impact on its last year's revenue. Organic revenues for the six months are expected to be around 31 per cent lower. In both Q2 and HY 2021, it has been operating near to 71 per cent of the 2019 revenues.
The group's operating margin is expected to increase by around 130 basis points from 2.7 per cent in Q1 to around 4.0 per cent in Q2, resulting in a half year margin of nearly 3.4 per cent, despite similar volumes quarter on quarter.
The stock of the company was trading at GBX 1,572.50, up by 0.26 per cent on 29 April 2021 at 15:09 PM. The stock has given a return of 17.03 per cent in the last one year.