Highlights

Catering giant Compass group's shares dropped almost 2 per cent on Tuesday, despite reporting a surge in its profits and after reinstating dividends.
Compass' FY 2021 underlying operating profit rose by 55.4 per cent to £811 million, from £522 million in FY 2020
The company resumed dividend pay-outs this year after pausing dividend pay-outs in 2020, reporting its FY 2021 final annual dividend is at 14 pence per share
UK based multinational catering company Compass Group PLC's (LON: CPG) shares, following the broader market trend, initially dropped on Tuesday, despite posting a rise in profits and resumption of dividend pay-outs in its FY 2021 results.
Compass Group's FY 2021 results
Compass Group, which is the world's largest catering company, reported its FY 2021 underlying revenue fell by 6.3 per cent to £18.1 billion, from £19.2 billion in FY 2020.
However, the group's full-year underlying revenue improved by 77 per cent from its pre-pandemic levels in 2019.
Its underlying operating profit soared by 55.4 per cent to £811 million, up from £522 million in the year before, while its FY 2021 operating margin improved by 160 basis points to 4.5 per cent, compared to 2.9 per cent in the previous year.
The group's FY 2021 free cash flow jumped by 209.9 per cent to £660 million, up from £213 million in FY 2020. The strong results were due to record new business win and were boosted by the reopening of the economy.
Dividend pay-outs resumed
The group also reinstated its dividend pay-outs in FY 2021 after pausing in the last year, with an annual dividend of 14 pence per share.
The company's decision to resume its dividend pay-outs was backed by strong FY 2021 group performance and a robust cash flow.
The company stated that its dividend pay-outs policy is estimated to be about 50 per cent of its underlying earnings from FY 2022.
The ex-dividend date for its final dividend for the year is 20 January in the next year, and its 2021 final dividend payment date is scheduled for 28 February next year.
The group intends to report its Q1 2022 trading update by 3 February.
Compass' FY 2022 guidance
The group estimates its FY 2022 organic revenue growth rate to be between 20 and 25 per cent, and its FY 2022 underlying operating margin is forecasted to be over 6 per cent.
The company also stated it anticipates its progress to be driven more during H2 2022 due to mobilisation costs and inflationary pressures weighing on H1 2022.
Compass Group PLC's (LON: CPG) share prices performance
Compass Group's shares were down by 1.97 per cent, trading at GBX 1,443.00 on 23 November at 08:41 AM BST. Comparatively, the FTSE 100 index, which it is a part of, was at 7,216.10, down by 0.54 per cent.
Meanwhile, the consumer services sectoral index was at 2,529.65, down by 2.07 per cent.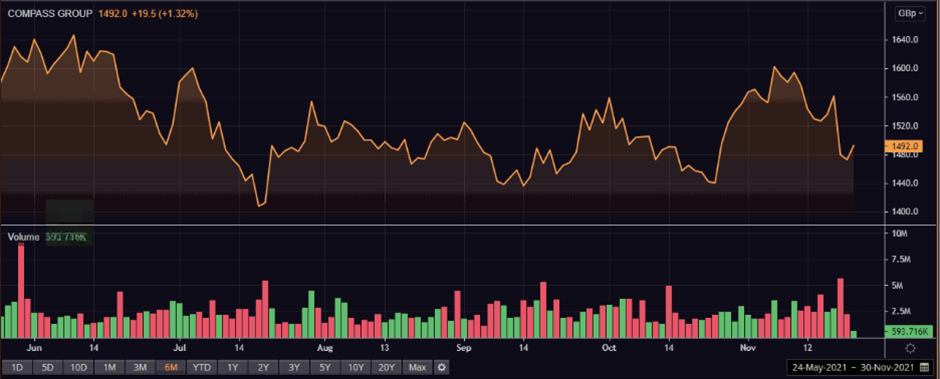 (Image source: Refinitiv)
The company's market cap was at £26,269.87 million, and its one-year return was at 7.85 per cent as of 23 November.