Summary

GameStop and AMC Entertainment shares rose by over 16 per cent and 19 per cent, respectively on Tuesday.
EV giant Tesla made headlines after it announced dropping its radar sensors from its fleet.
UK's Amigo Holdings shares faced volatility after its redress scheme was denied by courts on 25 May.
US-based meme stocks GameStop (NYSE: GME) and AMC Entertainment (NYSE: AMC) soared on Tuesday. Also, the billionaire entrepreneur Elon Musk's electric vehicle company Tesla (NASDAQ: TSLA) made major changes to its car features prompting it to have high trading activity for the day.
On the other hand, UK financial stocks such as Amigo Holdings PLC (LON: AMGO) and Lloyds Banking Group PLC (LON: LLOY) shares faced volatility due to individual company news. Meanwhile, the UK's central bank, the Bank of England, announced recently that the UK economic recovery will not be impacted by inflation concerns.
Here's a look at developments around these counters during Tuesday's trade:
GameStop Corp (NYSE: GME)
GameStop is a US-based video game and electronics store listed on the NYSE. Its shares jumped by 16.3 per cent on Tuesday after investors interest moved back into stocks, which had provided them with gains earlier this year. GME shares touched the highest level since March this year.
(Image Source: Refinitiv)
GME and other such meme stocks gained prominence in popular internet forum Reddit's WallStreetBets. GME's shares closed at US$ 209.43 on 25 May.
Also Read: GameStop's shares closed higher as company makes new leadership appointments
AMC Entertainment Holding Inc (NYSE: AMC)
AMC Entertainment is an American movie theatre chain and was another meme stock that rose almost 20 per cent on Tuesday, similarly led by WallStreetBets and some Twitter (NYSE: TWTR) users.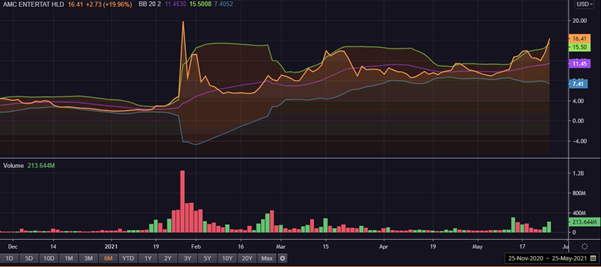 (Image Source: Refinitiv)
The rally in GME, AMC and other such stocks are expected to impact short sellers as they are expected to lose almost US$ 400 million from GME, AMC, and another meme stock Virgin Space (NYSE: SPCE) combined, from Tuesday's trading activity. AMC's shares closed at USD 16.41, up by 19.96 per cent on 25 May.
Tesla Inc (NASDAQ: TSLA)
US-based electric vehicle major Tesla announced that it would be dropping radar sensors and shifting to vision-only camera focused autopilot systems on its Model Y and Model 3 for its North American market. The changes will be implemented starting from the deliveries schedule for this month.
(Image Source: Refinitiv)
The EV company will still include certain features on a temporary basis, such as driver assisted system Summon. Moreover, radar sensors will still be included in the new version of the Model X and Model S for a limited period of time. TSLA shares closed down by 0.29 per cent at US$ 604.69 on 25 May.
Also Read: Tesla (NASDAQ:TSLA) Competing With Fast-Growing China Based EVs
Lloyds Banking Group PLC (LON: LLOY)
British banking giant Lloyds Group granted a funding of £12.5 million in the form of a revolving credit facility to cleaning products manufacturer Astonish on Tuesday. The funding will be utilised to increase production facility, help in new production equipment and boost capacity of its past product and liquid ranges and other new initiatives.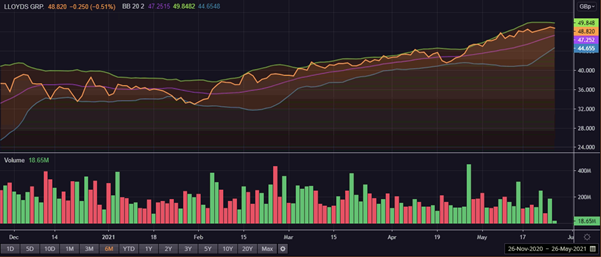 (Image Source: Refinitiv)
LLOY's shares ended lower at GBX 49.07, on 25 May. It holds a market capitalisation of GBP 34,821.19 million.
Amigo Holdings PLC (LON: AMGO)
Amigo Holdings is a UK based guarantor loans lender. The company's proposed customer compensation scheme was rejected by UK courts on 25 May.
AMGO shares fell by 55 per cent to GBX 8.32 on 25 May following the news on fears it would go bust if the redress scheme was not approved.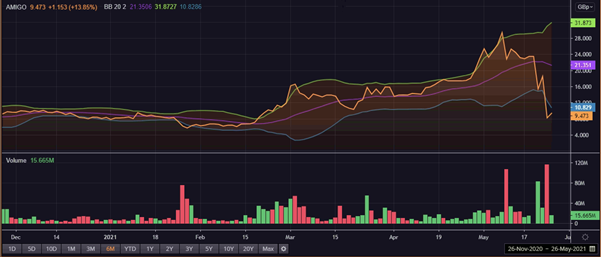 (Image Source: Refinitiv)