Summary

Just Eat Takeaway.com shares experienced a topsy-turvy trading on Monday
BlackRock Inc has bought a sizable chunk of shares, taking the net holding to 6.4%
Stock collapsed more than 4.5% in late trades from day's high
Shares of Just Eat Takeaway.com NV (LON: JET), the Amsterdam-headquartered food delivery service provider, gained a little more than 2% in the morning deals on Monday, 14 June, after the New York-based investment management firm BlackRock Inc (NYSE: BLK) bought a sizable chunk of shares of the company.
The stock of Just Eat continued to trade in the positive region until the afternoon session. It reversed all the gains in the terminal trades, falling more than 4% from the intraday high.
According to the data available at the London Stock Exchange, the stock of Just Eat surged as much as 2.16% to an intraday high of GBX 6,631 from the previous close of GBX 6,491 apiece. While, in the later half, the stock touched a day's bottom at GBX 6,318, down 2.67% from the last close and 4.72% from the intraday peak.
Just Eat shares (14 June)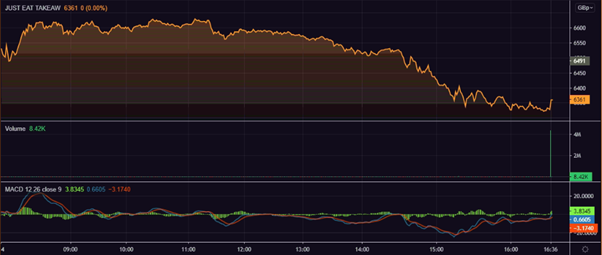 Image Source: REFINITIV
As per the regulatory filing by Just Eat, BlackRock now holds 6.4% stake in the company. The US investment manager attained the threshold on 11 June 2021, Just Eat notified on Monday.
High trading volumes were seen in the shares of Just Eat following the development. Over 800,000 shares of Just Eat exchanged hands on Monday, translating into a total traded turnover of more than £26.65 million.
Shares of Just Eat have had a rough trading patch in the present calendar year. The stock has lost approximately 23% of its market capitalisation on a year-to-date (YTD) scale, making it one of the worst performing FTSE 100 components.
Earlier last week itself, on 10 June, Just Eat declared that all the Grubhub shareholders will be receiving new shares of Just Eat Takeaway.com following the successful completion of the acquisition.
Also Read | Just Eat Takeaway.com N.V. to combine with Grubhub
The all-share agreement between Just Eat and Grubhub to the tune of US$7.8 billion represents one of the biggest amalgamations in the food delivery services. According to the terms of the arrangement, the Grubhub shareholders are entitled to receive 0.6710 Just Eat shares in exchange for one Grubhub stock.