Highlights

Petrochemicals company Ineos aims to invest more than £1 billion at its Grangemouth site to reduce its environmental impact
Ineos aims to be net zero by 2045, and reduce carbon emission output to 1.8 million tonnes by 2030
British multinational chemicals company Ineos said it plans to invest over £1 billion to reduce carbon emissions at its Scotland based petrochemicals plant and oil refinery located in Grangemouth.
The move is part of the petrochemicals company's target of achieving net zero carbon emissions by 2045. The company's Grangemouth petrochemicals plant will be converted to run on hydrogen instead.
Ineos' green transition roadmap
The company's 5 plants generate up to 3 million tonnes of carbon dioxide (CO2) per annum at present, down by 37 per cent from 5 million CO2 in 2005, when Ineos took over the Grangemouth site from British oil major BP PLC (LON: BP).
Ineos expects annual emissions will fall further down to 1.8 million by 2030.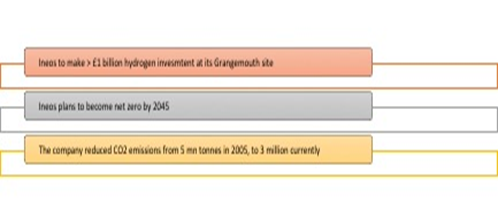 © 2021 Kalkine Media
The company plans to switch to producing and using hydrogen and also using carbon capture storage (CCS) technology for its green transition.
Ineos' Chairman, Andrew Gardner, said the company plans to use gas in the initial phase to produce blue hydrogen and store at least 1 million tonnes of carbon dioxide using CCS by 2030.
Mr. Gardner added, that the next phase would involve using green hydrogen technology.
He also stated that the roadmap involves using hydrogen and CCS technology via Project Acorn, in order to reduce emissions below 2 million tonnes per annum.
Project Acorn is UK's low cost and low risk CCS and hydrogen project. Ineos had signed a memorandum of understanding with Acorn earlier this year, in order to develop Scotland's first CCS system by 2027.
The third phase of Ineos' green transition roadmap will be developed once technology advances.
Bottom Line
The UK has made decarbonisation and sustainability a huge focus after setting an ambitious target of being net zero by 2050. However, decarbonising industries has been slower than others.
Ineos' strategy of using blue hydrogen, which still has a fossil fuel component compared to green hydrogen, has drawn criticism from climate groups.
However, Scotland's government has welcomed the news as it will have a ripple effect of aiding decarbonisation in other sectors and regions.