The economic recovery through the easing of Coronavirus-imposed lockdown has offset the apprehensions of geo-political unrest in Hong Kong post Beijing's proposed national security laws. Hence, market sentiments were encouraging and thus, British midcaps top 11-week high. Overall, the European and London markets surged today (before the close on 27th May 2020) and were dominated by the following factors:
Investors' showed optimism over fresh EU stimulus plan.
Renewed US-China tensions with protest in Hong Kong over national security law proposed by Beijing.
UK retailers are set to reopen from 1st June 2020; however, retail sales plunged again in May, as per the Confederation of British Industry.
In light of above stated market sentiments, we will discuss two LSE listed stocks from Financial Services industry - Provident Financial PLC (LON: PFG) and St. James's Place PLC (LON: STJ), as lockdown easing might provide some relief in strict regulatory policies as well. As on 27th May 2020 (before the market close at 2.20 PM GMT), PFG and STJ were trading at GBX 192.75 and GBX 940.00, reflecting a jump of 5.44 per cent and 7.18 per cent, respectively, against the previous day closing. Today, PFG released its trading statement, while STJ unveiled its new business update. Let's skim through their respective updates to understand their operational and financial position to throw light over the outlook scenario.
Provident Financial PLC (LON: PFG) – Resilience and Adaptation in Operations Underpinned by Robust Capital and Liquidity positions
Provident Financial PLC is a FTSE 250 listed consumer lending Company, which serves around 2.3 million customers with nearly 4,865 employees. It focuses on providing credit products to those who are not properly covered by mainstream lenders. Its operations are differentiated into four divisions: Moneybarn, Vanquis Bank and the Consumer Credit Division (comprising Satsuma and Provident home credit).
(Source: Presentation, Company Website)
Highlights of Business Model
Moneybarn

Customers: 77,000
Loan range: £4,000–£25,000
Loan terms: 3–5 years

Vanquis

Customers: 1.7 million
Loan range: £1,000–£5,000
Loan terms: 1–3 years

Provident

Customers: 386,000
Loan range: £100–£2,500
Loan terms: 13–104 weeks

Satsuma

Customers: 136,000
Loan range: £100–£1,000
Loan terms: 3–12 months
Recent Significant Developments
27th March 2020: The Group reported a £230m headroom of committed facilities and cash. Further, it decided to cancel the final dividend of FY2019 to save £40m in cash.
Trading Statement - Operational adaptations to Covid-19, with its leading position in the large markets
On 27th May 2020, the Group provided the trading statement (covering the period from 1 January to 30 April 2020), with businesses have adapted well to the unprecedented challenges of Coronavirus; the operational response has been effective and swift; and robust capital and liquidity positions.
Some additional highlights are stated below:
Through collections practices and implementing new lending, the Group's priority was to keep supporting the customers. In April 2020, the Company witnessed a reduction in business volumes, due to tighter underwriting standards.
PFG has a robust capital and liquidity positions, with regulatory capital of approximately £710 million at 30 April 2020 (reflecting headroom of around £190 million above the minimum regulatory requirement and core CET1 ratio of approximately 33.4 per cent) and approximately £1.2 billion of total headroom on committed facilities and surplus cash and liquid resources.
For a loan facility, PFG repaid an outstanding balance of £50 million with M&G, half of which was an initial repayment ahead of a contractual obligation in 2021 January, and also repaid a £25 million bond.
In the unprecedented crisis, Vanquis Bank adapted its operations well. By mid-April 2020, approximately 80 per cent of Vanquis contact centre and 100 per cent of head office colleagues were working remotely. During the current quarter, the Credit Line Increase programme has been temporarily paused, and new customer bookings have been decreased by approximately 75 per cent in Vanquis Bank division.
Moneybarn division has stayed open to new business, enabling brokers to keep serving clients.
Consumer Credit Division has fundamentally adapted its operations in light of the Coronavirus. Presently, all home credit collections are tracking at more than 80 per cent of pre-Covid expectations and are being carried out remotely.
Share Price Performance
(Source: Refinitiv, Thomson Reuters) - Daily Chart as of May 27th, 2020, before the market close
PFG's shares were trading at GBX 201.30 on 27th May 2020 (before the market close at 12:49 PM GMT+1). Stock's 52 weeks High is GBX 543.71 and Low is GBX 126.87. Total outstanding M-Cap. (market capitalization) stood at approximately GBP 463.61 million.
Outlook
Tighter underwriting standards across the Group saw a reduction in new business volumes in April 2020. However, in May 2020, there are signs of a modest recovery. The Company also witnessed that there are no additional contractual maturities of PFG's facilities until the second half of 2021. Presently, the sector is facing the biggest slowdown in productivity due to COVID-19, but it is implementing new lending and collecting practices. Despite 2020 being an unprecedented and difficult year, the Group showed a robust balance sheet, whilst generating decent returns for the shareholders. Moreover, the Group is operating as one of the biggest providers of consumer finance and taking immediate actions to preserve liquidity.
St. James's Place PLC (LON: STJ) – Encouraged by the Strong Closing Funds Under Management for April and Rising Inflows in May
St. James's Place PLC is a FTSE 100 listed wealth management company, which initiated trading in 1992. Presently, it has around GBP 108.8 billion of funds under management. The Group has around 733,000 clients with 97 per cent of client retention rate, which are served by around 4,271 advisers.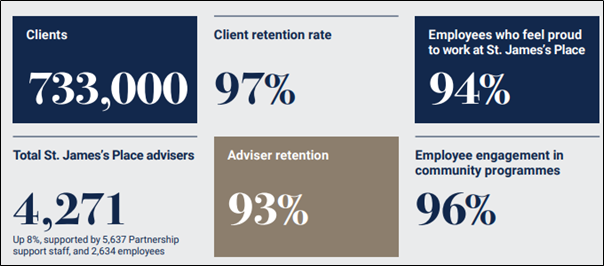 (Source: Company Website)
Recent Significant Developments of 2020
27th May 2020: The Group reported a strong net inflow during the May; however, expecting flows to remain uncertain due to the economic volatility and government measures.
30th April 2020: Due to sensitivity in regulatory policies, the Group decided to withhold one-third of the proposed final dividend of FY2019. At the end of Q1 2020, the Group's closing funds under management stood at GBP 101.67 Billion.
Update (as on 27th May 2020) – Continued Resilience in an Unprecedented Crisis
The Group provided the update on new business inflows and funds under management for the month to 30 April 2020, with a reduction in new investments, April gross inflows were robust, and April net inflows increased by 1 per cent. Additional highlights are:
For the four months to 30 April 2020, the gross inflows and net inflows increased to £5.21 billion and £3.18 billion as compared with the corresponding period of the last year.
Gross inflows for April 2020 stood at £1.17 billion, 13 per cent lower than the same month last year. Net inflows for April 2020 slightly surged to £0.81 billion against the same month last year.
Funds under management benefitted from both positive investment return and a positive net inflow, stood at £108.8 billion.
(Source: Update, Company Website)
Share Price Performance
(Source: Refinitiv, Thomson Reuters) - Daily Chart as of May 27th, 2020, before the market close
STJ's shares were trading at GBX 956.60 on 27th May 2020 (before the market close at 12:51 PM GMT+1). Stock's 52 weeks High is GBX 1,206.00 and Low is GBX 614.00. Total outstanding M-Cap. (market capitalization) stood at approximately GBP 4.65 billion.
Outlook
As per the industry scenario, with ageing of the population in the UK, the individuals are burdened with the retirement from the corporate and the state sectors. With the surge in the tax complexity, it is anticipated that in the longer-term period, demand for high-quality wealth management services will improve. Presently, the UK and international economies are experiencing unprecedented uncertainty stemming from COVID-19. From the perspective of the first-quarter new business, the Group witnessed a decrease in new investments, due to the COVID-19 crisis. During the month (April 2020), the retention of client investments was particularly robust. Moreover, the Company is encouraged by the healthy gross and net inflows in May, though economic volatility on the flows remains uncertain and the short to medium-term impact of government measures.
---
Disclaimer
The website https://kalkinemedia.com/uk is a service of Kalkine Media Ltd, Company Number 12643132. The article has been prepared for informational purposes only and is not intended to be used as a complete source of information on any particular company. Kalkine Media does not in any way endorse or recommend individuals, products or services that may be discussed on this site. Our publications are NOT a solicitation or recommendation to buy, sell or hold the stock of the company (or companies) or engage in any investment activity under discussion. We are neither licensed nor qualified to provide investment advice through this platform.
With Bank of England reducing the interest rates to a historic low level, the spotlight is back on diverse investment opportunities.
Amidst this, are you getting worried about these falling interest rates and wondering where to put your money?
Well! Team Kalkine has a solution for you. You still can earn a relatively stable income by putting money in the dividend-paying stocks.
We think it is the perfect time when you should start accumulating selective dividend stocks to beat the low-interest rates, while we provide a tailored offering in view of valuable stock opportunities and any dividend cut backs to be considered amid scenarios including a prolonged market meltdown.


CLICK HERE FOR YOUR FREE REPORT!