Petrofac Limited (PFC) is an oilfield services company that provides integrated services to the production and processing industries. The group builds and designs oil and gas facilities; manages, maintains and operates facilities on behalf of its consumer and trains personnel.
They design, build, operate and maintain oil and gas facilities, which are delivered through a range of commercial models flexible in nature, enabling them to respond to the different needs of each client and helping them to enhance the value creation of assets across the oil and gas life cycle.
The company also co-invests and develops in infrastructure and upstream projects. Petrofac offers engineering services, including feasibility and conceptual studies and FEED (front-end engineering and design) to consumers across the oil and gas asset life cycle, on either an integrated or stand-alone basis. The company operates through a network of operational centres, offices and training facilities worldwide.
Trading update for H1 FY19
Engineering & Construction results are in accordance with management expectations, with the top line for the full year expected to be around US$4.5 billion and net margins a tad lower than expected. The company has made steady progress regarding the portfolio of projects. The company got new orders worth US$1.6 billion in Engineering & Construction in the year to date (H1 FY18: US$1.6 billion), including a lump-sum engineering, procurement and construction (EPC) contract for the Ain Tsila Development Project (Algeria) and the Mabrouk Project (Oman).
In addition, Engineering & Production services are performing as expected. They have secured US$0.1 billion of awards and extensions in the year to date (H1 FY18: US$0.5 billion), including new awards and contract extensions in the UK North Sea, Oman, UAE and Iraq.
The average realised oil price (net of royalties) for the first half was US$69 (projected) per barrel of oil equivalent (H1 FY18: US$56/boe), reflecting higher prices(realised). The backlog of the company stood at US$8.9 billion as on May 31st, 2019. The Net debt of the company is expected to be nearly US$0.1 billion at June 30, 2019.
Recent News
Mohammed Ghazi Al-Mutairi has been appointed as Country Chair by Petrofac Ltd. He holds a bachelor's degree in chemical engineering and has more than 32 years of experience in the Kuwait oil & gas industry. He is a former Chief Executive Officer of Kuwait National Petroleum Company (KNPC) and has served as the Chairman of the Gulf Downstream Association.
Recently, the company has appointed Francesca Di Carlo as an independent Non-executive Director. She has a background in Audit and Corporate Finance with core strengths in strategy and transformative organisational change.
Earlier this year, a former employee of Petrofac admitted offences contrary to the UK Bribery Act 2010. Some Petrofac individuals, both former and currently associated with the company, and entities are alleged to have acted together with this individual.
The group had issued warning to investors of increased risks to its near future after one of its former employees was found guilty (bribery). The group stated that due to the evidence found in the investigation by the Serious Fraud Office, there is a potential risk of downside in share price movement. Other risks could be a prosecution, fines, penalties or other consequences such as reputation loss.
Marginal Field Development Company (MFDevCo) will be exploring extraction opportunities at stalled gas reserves along with Petrofac Ltd.
According to this strategic alliance, the companies will work in synchronisation to facilitate gas to wire technology for the renovation and revival of marginal gas fields, helping UK clients to optimise returns.
MFDevCo will focus on finding projects that will be developed and delivered using its gas-to-wire approach, well supported by technology, feasibility study provided by Petrofac Limited (Engineering and Production services).
This approach focuses on the maximum utilisation of stalled gas resources by using them for power generation for offshores.
The turbines installed on the platform can convert the gas into electricity that can then be transported to offshores in an efficient and more convenient manner than conventional methods. The focus is on mitigating the expenses, value creation and reducing dependency on pipeline networks.
This alliance will enable the company to be a technology provider and offer services (gas-to-wire) on projects.
Financial Highlights for Financial Year 2018 (US, million)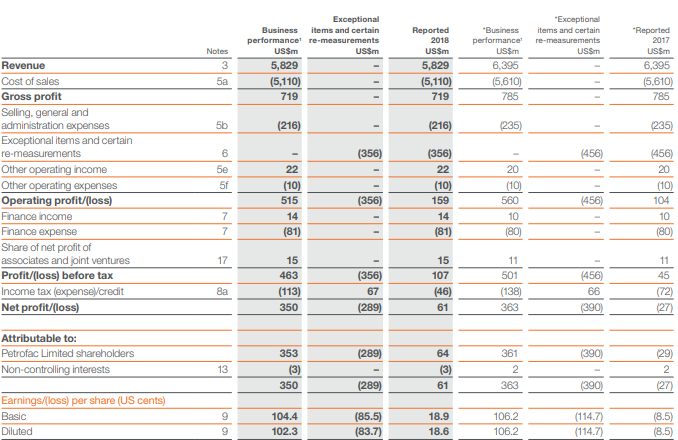 (Source: Annual report, Company's website)
The company's reported revenue stood at US$5,829 million for the fiscal year ended December 2018 (FY2018), a decrease of 9 per cent over FY2017. In FY2018, the company's operating margin was 2.7 per cent as compared to an operating margin of 1.6 per cent in FY2017. EBITDA plunged by 10 per cent to US$671 million as compared with the financial year 2017 data of US$748 million. The net profit of the company was US$353 million in FY2018 as compared to a net profit of US$361 million in FY2017. The group's net margin was 6.1 per cent in FY18 as compared to a net margin of 5.6 per cent in FY17. The effective tax rate was decreased by 3.1 ppts to 24.4 per cent as compared with the fiscal year 2017 of 27.5 per cent. The group's diluted earnings per share decreased by 4 per cent to 102.3 cents as compared to the financial year 2017 of 106.2 cents. Together with the interim dividend of 12.70 cents per share and proposed a final dividend of 25.30 cents per share, the total dividend per share was 38.0 cents which remained flat as reported in the last year. The net cash (inflow) from operations in the year was US$484 million as against US$422 million in FY17. The expenses (finance) for this year rose to US$81 million as against US$80 million in FY17.
The Revenue of the group from Engineering & Construction (E&C) dipped due to project phasing by 15 per cent. The Revenue of the group from Engineering & Production Services (EPS) surged by 6 per cent due to strong EPCm growth.
The revenue of the group from Integrated Energy Services (IES) surged by 24 per cent due to product mix, higher (average) realised prices and sale of assets.
The backlog of group plunged by 6 per cent to US$9.6 billion this year as against US$10.2 billion in FY17 due to success gained on the project portfolio (existing) and new order intake of US$5.0 billion in FY18.
In an environment filled with certain challenges, the company's net profit attributable to the group's shareholders stood at US$64 million. Return on capital employed stood at 26 per cent in FY2018.
The development of digital technologies was on the cards for the Board during the year. But, having witnessed disruption in other industries, they believe new technologies can change the way business is done across the sector and perhaps, more importantly, the way our clients do business.
Petrofac Limited Share price performance

Daily Chart as at June-25-19, before the market close (Source: Thomson Reuters)
At the time of writing (as on June 25, 2019, at 09:54 AM GMT), shares of Petrofac Limited were quoting at GBX 414.2 per share; down by 4.45 per cent against the yesterday's closing price level. The company had an outstanding market capitalisation of around £1.50 billion.
In the last 52-weeks, shares of Petrofac Limited have registered a high of GBX 679 (as on Aug 24, 2018) and a low of GBX 376.4 (as on Feb 12, 2019). At the current trading level, as quoted in the price chart, its shares were trading 38.99 per cent below the 52-week high price level and 10.04 per cent above the 52-week low price level.
The stock's volume (before the market close, at the time of writing) stood at 605,178. Stock's average traded volume for 5 days was 1,467,620.20; 30 days- 1,321,601.17 and 90 days – 1,635,416.08. The average traded volume for 5 days was up by 11.05 per cent as compared to the 30 days average traded volume.
The company's stock beta was 0.63, reflecting lower volatility as compared to the benchmark index with a dividend yield of 6.69 per cent.
The shares of the company (at the time of writing) were trading below the 60-days and 200-days SMA, which shows a negative trend in the stock price movement and could further move down from the current trading levels.
In the past 1 year, shares of Petrofac Limited have delivered a negative price return of 22.92 per cent. Also, on a year-to-date basis, the stock was down by approximately 9.12 per cent and plunged by 8.76 per cent in the past three months.
Share's RSI for the 30-days, 14-days and 9-days stood at 49.18, 53.44 and 56.51 respectively. Also, the stock's 3-days RSI stood at 51.87.
The volatility of the stock for 200 Days, 90 Days, 30 Days stood at 51.75, 34.58 and 29.70 respectively.
With Bank of England reducing the interest rates to a historic low level, the spotlight is back on diverse investment opportunities.
Amidst this, are you getting worried about these falling interest rates and wondering where to put your money?
Well! Team Kalkine has a solution for you. You still can earn a relatively stable income by putting money in the dividend-paying stocks.
We think it is the perfect time when you should start accumulating selective dividend stocks to beat the low-interest rates, while we provide a tailored offering in view of valuable stock opportunities and any dividend cut backs to be considered amid scenarios including a prolonged market meltdown.


CLICK HERE FOR YOUR FREE REPORT!