Global Markets: Global equity benchmarks of the United States traded in green after three consecutive days of fall in a row on December 04, with the broader S&P 500 index traded 23.82 points or 0.77% higher at 3,117.02, the price-weighted Dow Jones Industrial Average Index traded 196.55 points or 0.71% higher at 27,699.36 and the technology weighted Nasdaq Composite traded 56.97 points or 0.67% higher at 8,577.61 (before the US market close at 3:10 PM).
Global News: On 4th December 2019, the Wall Street opened in the green, after the United States and China moved ahead in the quest towards a trade deal, in spite of a heated rhetoric between the two powerhouses. Campbell Soup Company stock was down by 1.2 per cent after reporting lower than anticipated Sales figure. Alphabet was up by 0.8 per cent following reports that Sundar Pichai would take over as CEO replacing Larry Page. Peloton Interactive share price fell 10 per cent on Tuesday after broadcasting an ad that was claimed to be sexist by some viewers. Boeing stock was up by 0.5 per cent despite news reports suggesting that United Airlines will be buying 50 new jets from Airbus, which is company's competitor.
S&P 500 (SPX)
Top Performers*: Expedia Group Inc, Microchip Technology Inc and Zimmer Biomet Holdings Inc are top gainers and increased by 6.68%, 4.35% and 3.55% respectively.
Worst Performers*: Varian Medical Systems Inc, Alliance Data Systems Corp, and Travelers Companies Inc are the top three laggards and decreased by 1.56%, 1.08% and 0.90% respectively.
NASDAQ Composite (IXIC)
Top Performers*: Edison Nation Inc, Protagonist Therapeutics Inc, and YayYo Inc are top gainers and increased by 30.91%, 29.64% and 29.47% respectively.
Worst Performers*: Revance Therapeutics Inc, Ever-Glory International Group Inc and KBS Fashion Group Ltd are the top three laggards and decreased by 15.48%, 14.80% and 11.11% respectively.
Top Performing Sectors*: Energy (up 1.16%), Technology (up 0.60%) and Industrials (up 0.46%).
Worst Performing Sectors*: Telecommunication Services (down 0.07%) and Utilities (down 0.12%).
Dow Jones Industrial Average (DJI)
Top Performers*: Dow Inc, Walgreens Boots Alliance Inc and UnitedHealth Group Inc are top gainers and increased by 2.12%, 1.12% and 1.11% respectively.
Worst Performers*: Travelers Companies Inc, Verizon Communications Inc and Pfizer Inc are the top three laggards and decreased by 0.48%, 0.32%, and 0.16% respectively.
European Markets: The London's broader equity benchmark index FTSE 100 traded at 29.74 points or 0.41% higher at 7,188.50, the FTSE 250 index snapped 164.55 points or 0.80% higher at 20,665.48, and the FTSE All-Share Index ended 19.27 points or 0.48% higher at 3,990.92 respectively. Another European equity benchmark index STOXX 600 ended at 403.19, up by 4.71 points or 1.18 per cent.
European News: In economic news, the United Kingdom Services activity showed a decline in November 2019 after a brief period of stabilization in October 2019 with renewing fears of political and economic uncertainties that had been impacting the country's economy for some time now. In other economic news, the British pound sterling traded strongly today to a seven-month high amidst hopes of Boris Johnson winning the 12 December 2019 general elections comfortably, the currency jumped to stand at $1.3039, a level not seen since May of 2019.
In corporate news, European low-cost airline Ryanair has announced the closure of its two airlines based one in Nuremberg and another in Stockholm Skavsta on account of fewer number of deliveries of  Boeing 737 MAX aircrafts by the Boeing company, the company was scheduled to receive twenty aircrafts this year whereas it received only ten. In other news, M&G one of Britain's largest fund managers has stopped trading in one of its property funds siting Brexit as its reason, as it finds it increasingly difficult to sell illiquid property assets in order to meet redemption requests.
London Stock Exchange (LSE)
Best Performers*: CINEWORLD GROUP PLC (CINE), INDIVIOR PLC (INDV) and FUTURE PLC (FUTR) were on the bright spot for the day and up by 8.51%, 6.19% and 5.99% respectively.
Worst Performers*: DE LA RUE PLC (DLAR), INTU PROPERTIES PLC (INTU) and FRESNILLO PLC (FRES) are the top three laggards of the day and down by 5.00%, 4.57% and 4.33% respectively.
FTSE 100 Index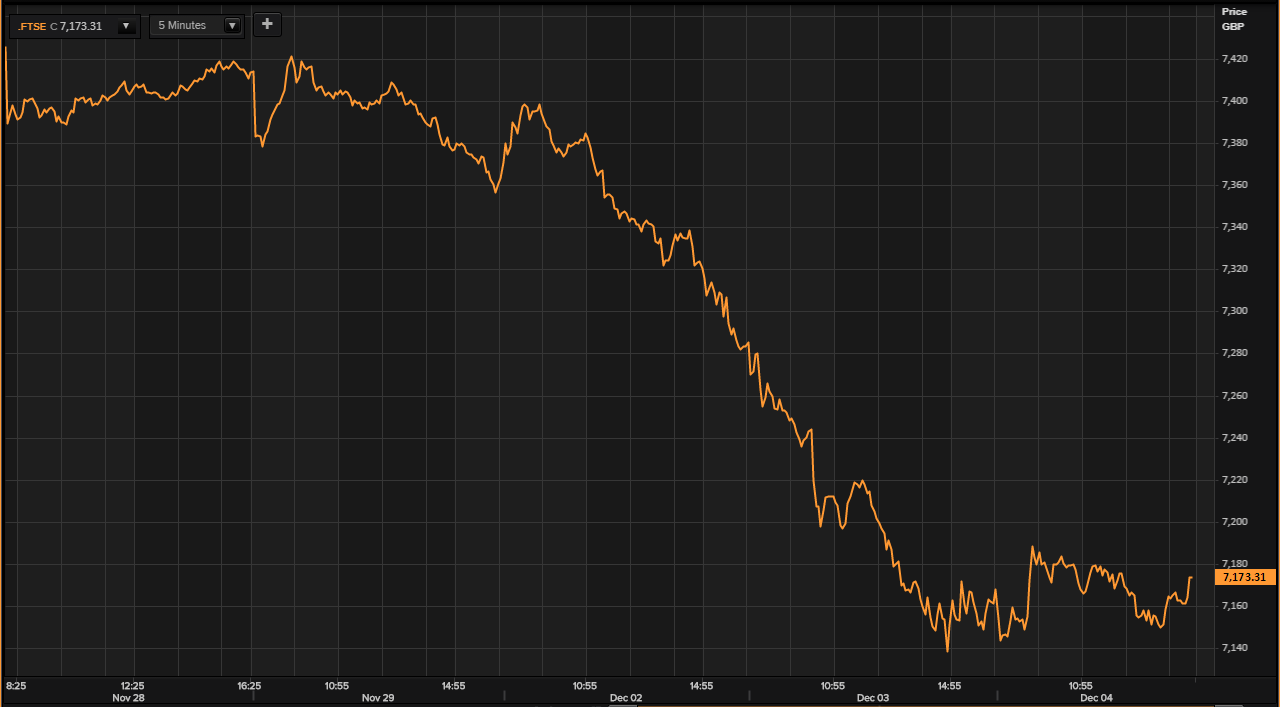 5-days Price Performance Chart of FTSE-100 Index (as on December-04-2019), before the market closed. (Source: Thomson Reuters)
Performers*: SMITH (DS) PLC (SMDS), JD SPORTS FASHION PLC (JD.) and MEGGITT PLC (MGGT) are the top three gainers in today's session and up by 2.55%, 2.40% and 2.29% respectively.
Laggards*: FRESNILLO PLC (FRES), MORRISON (W.M.) SUPERMARKETS (MRW), and SAGE GROWP PLC (SGE) are top laggards at the FTSE 100 index and down by 4.84%, 2.20% and 1.83% respectively.
Volume Gainers*: LLOYDS BANKING GROUP PLC (LLOY), VODAFONE GROUP PLC (VOD), and CENTRICA PLC (CNA).
Best Performing Sectors*: Utilities (up 0.73%), Consumer Cyclicals (up 0.67%) and Financials (up 0.53%).
Worst Performing Sectors*: Healthcare (down 0.45%), Technology (down 0.42%), and Consumer Non-Cyclicals (down 0.39%).
Forex Rates*: GBP/USD and EUR/GBP were quoting at 1.3100 and 0.8456, respectively.
Bond Yields*: U.S 10-Year Treasuries yield was quoting at 1.778%, and the UK 10-Year Government Bond yield was trading at 0.731%, respectively.
*At the time of writing
With Bank of England reducing the interest rates to a historic low level, the spotlight is back on diverse investment opportunities.
Amidst this, are you getting worried about these falling interest rates and wondering where to put your money?
Well! Team Kalkine has a solution for you. You still can earn a relatively stable income by putting money in the dividend-paying stocks.
We think it is the perfect time when you should start accumulating selective dividend stocks to beat the low-interest rates, while we provide a tailored offering in view of valuable stock opportunities and any dividend cut backs to be considered amid scenarios including a prolonged market meltdown.


CLICK HERE FOR YOUR FREE REPORT!