UK Market: The UK stock market traded in an upbeat mood on Tuesday even as new data on jobs painted a gloomy outlook. Boosted by mining stocks, the benchmark FTSE 100 index was trading 0.70% higher at about 12:30 pm GMT+1, while the FTSE 250 was up 0.11% at the same time. The market's mood remained unchanged despite data from the Office for National Statistics (ONS) showing that the regular pay of UK workers tumbled 3% in the quarter to June when adjusted for inflation.
BHP Group Plc (LON: BHP): The Australian multinational metals and mining company reported strong performance following record commodity prices. The miner posted its highest-ever full-year profit, with revenue climbing 14% to $65 billion in the 12 months to June. Shares of the company rose 4.47% during the day.
Ted Baker Plc (LON: TED): Shares of the high-street retailer rallied over 17% after it agreed on a takeover bid by American firm Authentic Brands Group (ABG). The 110p-a-share deal is significantly lower than the 160p-a-share that ABG was contemplating in May.
US Markets: The US market is likely to mirror its European counterparts and get an upbeat start, as indicated by the futures indices. S&P 500 future was up by 16.99 points or 0.40% at 4,297.14, while the Dow Jones 30 future was up by 0.45% or 151.39 points at 33,912.44. The technology-heavy index Nasdaq Composite future was also up by 0.62% or 80.87 points, at 13,128.05. (At the time of writing – 8:20 am ET).
US Market News:
Shares of the American multinational retailer Walmart (WMT) climbed 3.4% in the premarket trading session after it surpassed analyst expectations in its second-quarter results. The company estimates that its adjusted earnings will fall slightly less this year than earlier projections.
Shares of global medical technology firm Masimo (MASI) jumped 2.3% in the premarket trading session after activist investor Politan Capital Management took a 9% stake in the company. The investor plans to push Masimo to work on improving its share price.
European Indices Performance (at the time of writing):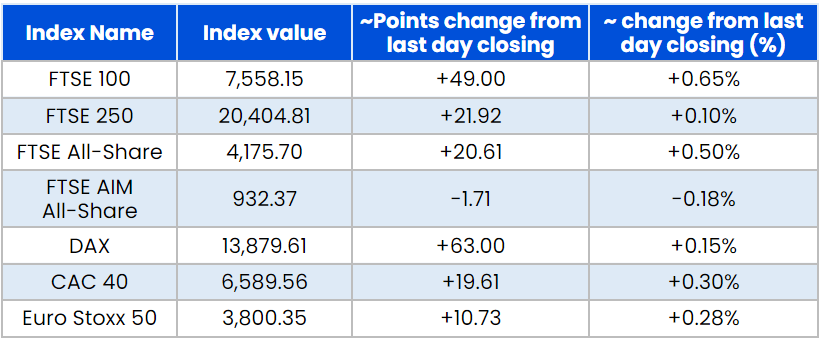 FTSE 100 Index One Year Performance (as on 16 August)
(Source: Refinitiv)
Top 3 Volume Stocks in FTSE 100*: Lloyds Banking Group plc (LLOY), Vodafone Group Plc (VOD), Glencore Plc (GLEN)
Top 3 sectors traded in green*: Basic Materials (2.68%), Utilities (1.31%), Energy (0.63%)
Top 3 sectors traded in red*: Real Estate (-0.49%)
London Stock Exchange: Stocks Performance (at the time of writing):
Crude Oil Future Prices*: Brent future crude oil (future) price and WTI crude oil (future) price were hovering at $95.79/barrel and $89.8/barrel, respectively.
Gold Price*: Gold price was quoting at US$ 1,792.35 per ounce, down by 0.32% against the prior day closing.
Currency Rates*: GBP to USD: 1.204; EUR to USD: 1.0135.
Bond Yields*: US 10-Year Treasury yield: 2.837%; UK 10-Year Government Bond yield: 2.098%.
*At the time of writing