US Markets: Broader indices in the United States traded in green - particularly, the S&P 500 index traded 54.09 points or 1.42 per cent higher at 3,853.00, Dow Jones Industrial Average Index expanded by 264.47 points or 0.86 per cent higher at 31,194.99, and the technology benchmark index Nasdaq Composite traded higher at 13,453.56, up by 256.38 points or 1.94 per cent against the previous day close (at the time of writing, before the US market close at 1:30 PM ET).
US Market News: The major indices of Wall Street traded in the green, riding on the positive investor confidence after Joe Biden sworn as 46th president of the United States. The MBA Mortgage applications dropped by 1.9% for the week ended on 15 January 2021 compared to the prior week. Among the gaining stocks, Netflix shares went up by 13.40% after the company said its global subscriber base had reached 200 million users by the end of December 2020. Shares of Pearson went up by 6.16% after the company reported encouraging sales trend during its fourth quarter. Morgan Stanley shares gained about 1.96% after it had reported a 57% growth in fourth-quarter profit. ASML shares jumped by around 0.91% after it had reported better than expected sales in the fourth quarter. Among the declining stocks, shares of United Health slipped by around 10.57% after it reported a drop of 37% in quarterly profit.
US Stocks Performance*

European News: The London and European markets traded in the green territory reflecting strong investor sentiments regarding UK inflation data and Joe Biden inauguration. The Office for National Statistics had reported an annual rate of inflation of 0.6% in December 2020 compared to 0.3% during November 2020. Among the gaining stocks, WH Smith shares grew by 10.35% after it reported the Christmas trading performance better than expectations. Shares of Midwich Group went up by 7.31% after it had reported profit ahead of the expectations. Hochschild Mining shares went up by 6.10% after the company increased its FY21 output guidance. Among the decliners, shares of Dixons Carphone went down by 3.49% as its warehouse stores remained closed under Covid-19 restrictions. IWG shares dropped by 0.72% after it warned of higher Covid-19 related costs. Shares of Standard Chartered had fallen the most on FTSE 100.
European Indices Performance (at the time of writing):
FTSE 100 Index One Year Performance (as on 20 January 2021)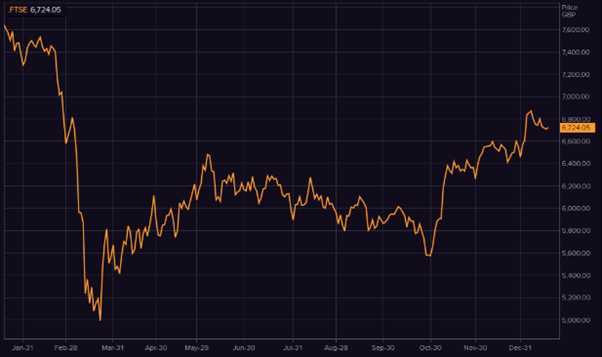 1 Year FTSE 100 Chart (Source: Refinitiv, Thomson Reuters)
Top 3 Volume Stocks in FTSE 100*: Lloyds Banking Group Plc (LLOY); Vodafone Group Plc (VOD); Barclays Plc (BARC).
Top 3 Sectors traded in green*: Basic Materials (+1.85%), Consumer Cyclicals (+0.97%) and Industrials (+0.27%).
Top 3 Sectors traded in red*: Healthcare (-0.88%), Utilities (-0.78%) and Financials (-0.46%).
London Stock Exchange: Stocks Performance (at the time of writing)
Crude Oil Future Prices*: Brent future crude oil (future) price and WTI crude oil (future) price were hovering at $56.28/barrel and $53.50/barrel, respectively.
Gold Price*: Gold price was quoting at US$1,865.55 per ounce, up by 1.38% against the prior day closing.
Currency Rates*: GBP to USD: 1.3643; EUR to GBP: 0.8874.
Bond Yields*: US 10-Year Treasury yield: 1.094%; UK 10-Year Government Bond yield: 0.301%.
*At the time of writing