Summary

Around 560 leading global companies have requested the governments to act on reversing the fast destruction of nature and fight against climate change.
Many companies said that the policy measures by the governments would strengthen their own steps towards a greener operation.
The request from the corporates has preceded a summit on biodiversity, by the UN, scheduled for 30 September 2020.
Leading global companies like Microsoft, Walmart, and Citigroup are among the 560 leading companies, with a combined revenue of $4 trillion, that have come together on the issue of climate change. These companies have called on the governments for reversing the fast destruction of natural world and supporting wider efforts to fight the serious issue of climate change.
Several of these corporations have stated that they were already implementing measures for making their operations greener. However, they stressed that the governments need to come up with requisite policy measures that would facilitate them in taking these steps ahead.
On 21 September 2020, these 560 companies have collectively signed a statement for necessary actions required to this end over the next ten years. The statement signed by the companies read that resilient economies, flourishing businesses, and healthy communities depend on nature. The governments need to come up with necessary policies to overturn the loss of nature over next ten years. The companies mentioned that it is required to come together for protecting, restoring, and sustainably using the available natural resources.
The request from the corporates has preceded a summit on biodiversity that is scheduled to be hosted by the United Nations (UN) on 30 September 2020. The summit by the UN intends to build a thrust towards forming a new international deal to ward off threats to nature displayed by the recent forest fires in the Amazon and California regions.
First time for such a large group to issue a joint statement
Business for Nature, the coalition that organised the statement mentioned that it was for the first time that such a large group comprising of corporate houses came together for issuing a joint call for stressing the important role that healthy ecosystems play in the well-being of humans. Business for Nature is an international coalition that has brought together influential organisations and forward-thinking businesses for required actions regarding reversing loss of nature.
Many species facing extinction
In 2019, the Intergovernmental Science-Policy Platform on Biodiversity and Ecosystem Services (IPBES) said that around a million species were facing a risk of extinction. The IPBES is an independent intergovernmental body. Moreover, the World Wildlife Fund (WWF) has also emphasised that over the last 50 years, around two-thirds of the world's animals, including mammals, amphibians, reptiles, birds, and fishes have vanished from the planet earth.
UN report on Global Biodiversity Outlook
Recently the UN has come out with a report on the global biodiversity outlook that has put out some recommendations to save roughly one million species that are on the verge of extinction. These recommendations apply to the agriculture sector as well as a variety of industries across the globe. The international body has also recommended to various government for retaining around 30 per cent of earth's total land and water areas for environmental conservation. The report suggests undertaking measures to slow down deforestation and preserve the wetlands.
Many oil companies including BP, Shell, and BHP Billiton are actively investing in climate change initiatives and are trying to reduce their carbon footprints. Let us discuss one such recent initiative by Shell.
Shell reduces fracking business to focus on renewable energy
In a recent development, Royal Dutch Shell plc (LON: RDSA) recently announced its plans to cuts back on the fracking activities to fund the drive for renewable energy. Shell is looking for freeing up cash to deal with the coronavirus-led crisis and invest in renewable energy projects, including early-stage carbon capture and hydrogen projects. The company would reduce about 40 per cent of its overheads consisting of staff in the United States (US)-focused shale oil and gas division by early 2021. This business comprises of seven projects in the US, Canada, and Argentina, including in the core shale region of the Permian Basin at Texas.
In March 2020, the oil major had launched a £7 billion cost-saving drive across its entire business to face the challenges brought in by the coronavirus pandemic. It has been a key strategy at the company to keep the shale costs low, given the fast rates of drilling needed to maintain the output. In addition, the oil giant is looking at increasing efficiencies as it is making efforts on adapting the international push towards lower carbon sources of energy generation. Shell is planning investment in early-stage carbon capture as well as hydrogen projects. In July 2020, it announced plans regarding reducing carbon emissions to net zero. In the same month, Shell had sold its Appalachia shale assets to National Fuel and Gas Company for $541 million. The oil major planned to concentrate on core assets with higher margin.
Recent Financial updates from Royal Dutch Shell
In end-July 2020, Royal Dutch Shell came up with its second quarter (Q2) results. The company's underlying operational expenditure (opex) decreased by $1.1 billion as compared to first quarter (Q1) 2020. The cash capital expenditure (capex) declined by $1.4 billion as compared to Q1 2020; manage cash capex to $20 billion or lower in 2020.
Q2 2020 results of Royal Dutch Shell Plc (unaudited)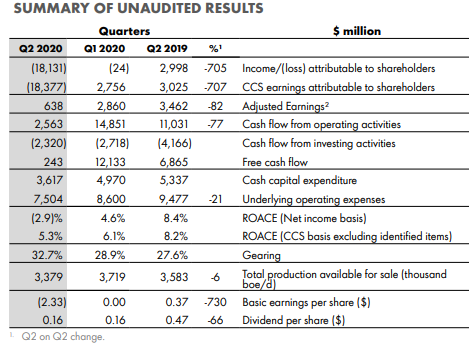 (Source: company website)
Ben van Beurden, Chief Executive Officer, Royal Dutch Shell, said that that company has delivered resilient cash flow in a challenging environment. He stated that it would keep its focus on safe and reliable operations. The measures for cash preservation would reinforce the strengthening of the company's balance sheet.
Due to the coronavirus pandemic, the reduction in demand resulted in lower liquified natural gas (LNG) and gas-to-liquids revenues, mainly because of the lower realised prices. The well write-offs and delayed tax charges brought a negative impact of $0.6 billion on the company's adjusted earnings.
Stock performance of Royal Dutch Shell plc
On 22 September 2020, at 9.11 AM, the company's stock (LON: RDSA) was trading at £ 1,008.40 up 0.36 per cent from its previous day's close of £ 1,034.60. The 52-week low high range was recorded as 970.80 and 2,408.50. With a market capitalisation (Mcap) of £41,209.25 million, the stock provided a negative return on price, which was minus 55.47 per cent on a year to date (YTD) basis. The total volume of shares traded at the time of reporting was recorded at 565,516.