US Markets: Broader indices in the United States traded on a mixed note - particularly, the S&P 500 index traded 20.71 points or 0.49 per cent lower at 4,202.99, Dow Jones Industrial Average Index dipped by 357.42 points or 1.05 per cent lower at 33,676.25, and the technology benchmark index Nasdaq Composite traded higher at 14,090.62, up by 50.94 points or 0.36 per cent against the previous day close (at the time of writing - 12:40 PM ET).
US Market News: The major indices of Wall Street traded on a mixed note, but the tech-heavy Nasdaq rose on growth prospects. Among the gaining stocks, Fisker (FSR) shares rose by about 5.86% after the electric vehicle maker had signed a manufacturing agreement with Magna International. Tenet Healthcare (THC) shares went up by about 3.03% after the Company had announced the sale of five hospitals. Among the declining stocks, CureVac (CVAC) shares plunged by around 43.35% after the Company had reported disappointing results from its Covid-19 vaccine study. The Honest Company (HNST) shares dropped by about 8.81% after the Company had reported a wider-than-expected loss for the first quarter.
UK Market News: The London markets traded in a red zone after the US Federal Reserve meeting indicated a hike in the interest rates by 2023.
Mining stocks such as Polymetal International, Glencore, and Fresnillo shares dropped by around 3.31%, approximately 3.20% and about 2.98%, respectively, as Federal Reserve Meeting had adversely impacted the commodity price.
Global Market Round Up || What Led To US Markets Close Flat And London Markets Trade In Red?
FTSE 100 listed Whitbread shares grew by about 1.88% after the Company had maintained the guidance despite an extension of Covid-19 related restrictions announced by the UK Government. Moreover, the Company had forecasted robust demand in coastal destinations.
Trainline had reported a stellar growth of around 324% in the first quarter sales after witnessing an accelerated recovery in commuter travel. Moreover, the shares climbed by approximately 5.16%.
Mind Gym shares surged by around 6.81% after the Company stated that it would return to profitability by FY23. Moreover, it had expected to break even during FY22 because of the high capital expenditure to be incurred for the digital offerings.
European Indices Performance (at the time of writing):

FTSE 100 Index One Year Performance (as on 17 June 2021)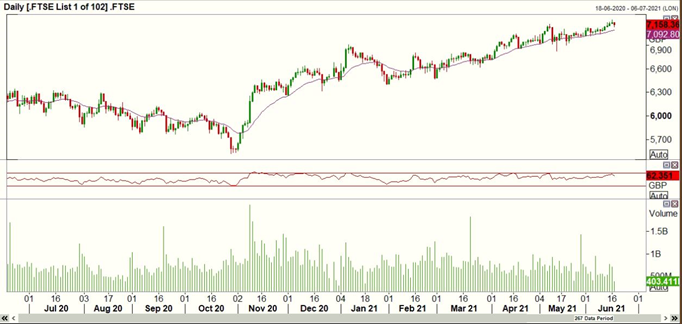 1 Year FTSE 100 Chart (Source: Refinitiv)
Top 3 Volume Stocks in FTSE 100*: Lloyds Banking Group Plc (LLOY); Barclays Plc (BARC); Vodafone Group Plc (VOD).
Top 3 Sectors traded in green*: Technology (+0.60%), Financials (+0.25%) and Consumer Non-Cyclicals (+0.06%).
Top 3 Sectors traded in red*: Basic Materials (-2.52%), Utilities (-0.81%) and Consumer Cyclicals (-0.36%).
London Stock Exchange: Stocks Performance (at the time of writing)
Crude Oil Future Prices*: Brent future crude oil (future) price and WTI crude oil (future) price were hovering at $72.91/barrel and $70.86/barrel, respectively.
Gold Price*: Gold price was quoting at US$ 1,781.05 per ounce, down by 4.32% against the prior day closing.
Currency Rates*: GBP to USD: 1.3927; EUR to GBP: 0.8557.
Bond Yields*: US 10-Year Treasury yield: 1.497%; UK 10-Year Government Bond yield: 0.7670%.
*At the time of writing