US Markets: Broader indices in the United States traded in green - particularly, the S&P 500 index traded 22.65 points or 0.54 per cent higher at 4,242.20, Dow Jones Industrial Average Index surged by 144.11 points or 0.42 per cent higher at 34,591.25, and the technology benchmark index Nasdaq Composite traded higher at 14,003.77, up by 92.02 points or 0.66 per cent against the previous day close (at the time of writing - 12:50 PM ET).
US Market News: The major indices of Wall Street traded in a green zone after the release of inflation and jobless claims data. Among the gaining stocks, RH (RH) shares went up by about 14.70% after the Company had reported a quarterly profit of USD 4.89 per share, well above the consensus estimates. ServiceNow (NOW) shares rose by about 4.76% after the Company was added to the "Conviction Buy" list at Goldman Sachs. Among the declining stocks, GameStop (GME) shares plunged by around 14.03%, although it had released better-than-expected quarterly results. Fastly (FSLY) shares dropped by about 3.05% after the Company was downgraded to "perform" from "outperform" by Oppenheimer.
UK Market News: The London markets traded on a mixed note after the US inflation figures came out to be more than the expectations. Moreover, the annual inflation rate had increased to 5.0% during May 2021, while it was 4.2% in April 2021.
Auto Trader Group shares surged by about 6.30% after the Company had reinstated the dividend payments. Moreover, the business performance was boosted by the dramatic shift in the consumer behaviour of making online purchases of cars.
Global Market Round Up || US Stocks Advance; FTSE 100 Traded On A Mixed Note
FTSE 100 listed BT Group stated that multibillionaire telecom dealer Patrick Drahi had purchased a 12.1% stake in the Group through Altice UK. Moreover, the shares grew by approximately 7.24% and remained the top performer on the FTSE 100 index.
CMC Markets shares went up by around 0.92% after the Company had reported an impressive 127% growth in full-year profits boosted by the elevated levels of volatility amid the pandemic.
Mitie Group stated that FY22 profit would remain ahead of the prior expectations. Furthermore, the shares climbed by about 5.22%.
European Indices Performance (at the time of writing):

FTSE 100 Index One Year Performance (as on 10 June 2021)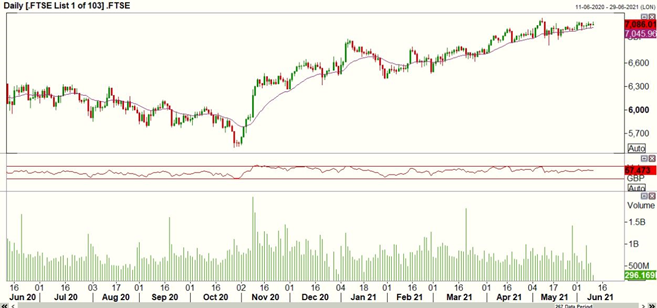 1 Year FTSE 100 Chart (Source: Refinitiv)
Top 3 Volume Stocks in FTSE 100*: Lloyds Banking Group Plc (LLOY); BT Group Plc (BT.A); Vodafone Group Plc (VOD).
Top 3 Sectors traded in green*: Technology (+2.53%), Healthcare (+1.43%) and Energy (+0.46%).
Top 3 Sectors traded in red*: Consumer Cyclicals (-1.36%), Real Estate (-1.04%) and Industrials (-0.65%).
London Stock Exchange: Stocks Performance (at the time of writing)
Crude Oil Future Prices*: Brent future crude oil (future) price and WTI crude oil (future) price were hovering at $72.63/barrel and $70.36/barrel, respectively.
Gold Price*: Gold price was quoting at US$ 1,898.05 per ounce, up by 0.13% against the prior day closing.
Currency Rates*: GBP to USD: 1.4169; EUR to GBP: 0.8593.
Bond Yields*: US 10-Year Treasury yield: 1.467%; UK 10-Year Government Bond yield: 0.7385%.
*At the time of writing