Global Markets: Benchmark indices of the NYSE traded in green, with the Dow Jones Industrial Average Index traded 286.04 points or 1.02% higher at 28,197.34, the broader S&P 500 index traded 32.37 points or 1.03% higher at 3,174.00, and the technology benchmark index Nasdaq Composite expanded by 88.94 points or 1.03% higher at 8,743 (at the time of writing, before the U.S market close at 10:30 AM ET).
Global News: On 12th December 2019, the stocks opened in the green, after Fed Chairman Jerome Powell's press conference, which lead to humble gains on the previous day as well. Apple reported a slowdown in the iPhone Shipments in China, post which its stock fell by around 1 per cent. General Electric was upgraded by one of the analysts to "buy" post which its stock jumped 3.2 per cent. Starbucks was also upgraded by an analyst, which saw its stock rising by 1.6 per cent. Delta Air lines announced a purchase of an unspecified minority stake in Wheels up, which is a privately-owned aviation company, and upgraded its guidance on earnings for FY 2020, following which its stock was up by 2.1 per cent. Continental Resources CEO Mr Harold Hamm has decided to step down as the CEO of the company. Post this news, the company's share was down by 0.3 per cent.
S&P 500 (SPX)
Top Performers*: Wynn Resorts Ltd, General Electric Co and Las Vegas Sands Corp are top gainers and increased by 5.52%, 4.19% and 2.83% respectively.
Worst Performers*: Mosaic Co, Autodesk Inc, and Johnson Controls International Plc are the top three laggards and decreased by 2.31%, 1.70% and 1.19% respectively.
NASDAQ Composite (IXIC)
Top Performers*: Tonix Pharmaceuticals Holdings Corp, Assertio Therapeutics Inc, and FuelCell Energy Inc are top gainers and increased by 66.98%, 26.11% and 21.42% respectively.
Worst Performers*: RiceBran Technologies, CTI Industries Corp and Diffusion Pharmaceuticals Inc are the top three laggards and decreased by 33.17%, 29.05% and 28.27% respectively.
Top Performing Sectors*: Consumer Cyclicals (up 0.61%), Technology (up 0.58%) and Telecommunication Services (up 0.58%).
Dow Jones Industrial Average (DJI)
Top Performers*: Cisco Systems Inc, Chevron Corp, and JP Morgan Chase & Co are top gainers and increased by 1.54%, 1.43% and 1.01% respectively.
Worst Performers*: Apple Inc, 3M Co, and Boeing Co are the top three laggards and decreased by 0.21%, 0.14% and 0.02% respectively.
European Markets: The London's broader equity benchmark index FTSE 100 traded at 57.22 points or 0.79% higher at 7,273.47, the FTSE 250 index snapped 145.92 points or 0.71% higher at 20,793.03, and the FTSE All-Share Index ended 30.38 points or 0.76% higher at 4,033.41 respectively. Another European equity benchmark index STOXX 600 ended at 407.58, up by 1.36 points or 0.33 per cent.
European News: In economic news, real estate agents are expecting a revival of the real estate market in the United Kingdom post the December 12 general elections, in a survey conducted by Royal Institute of Chartered Surveyors, the number of respondents optimistic about a revival in the market has increased in the last three months, the institute however still maintains the situation is still far from normal as the economy is still gripped in politico-economic anxiety.
In business news, AVI Global Trust Plc today came out with its monthly update on the performance figures of the company for the month of  November 2019, the NAV of the company during the period rose by 2.2 per cent in the back of underlying NAV growth and a tightening portfolio discount.
London Stock Exchange
Best Performers*: ELECTRA PRIVATE EQUITY PLC (ELTA), TULLOW OIL PLC (TLW) and KELLER GROUP PLC (KLR) were on the bright spot for the day and up by 23.26%, 13.90% and 11.42% respectively.
Worst Performers*: COSTAIN GROUP PLC (COST), JOHN LAING GROUP PLC (JLG) and AO WORLD PLC (AO.) are the top three laggards of the day and down by 18.28%, 10.42% and 7.83% respectively.
FTSE 100 Index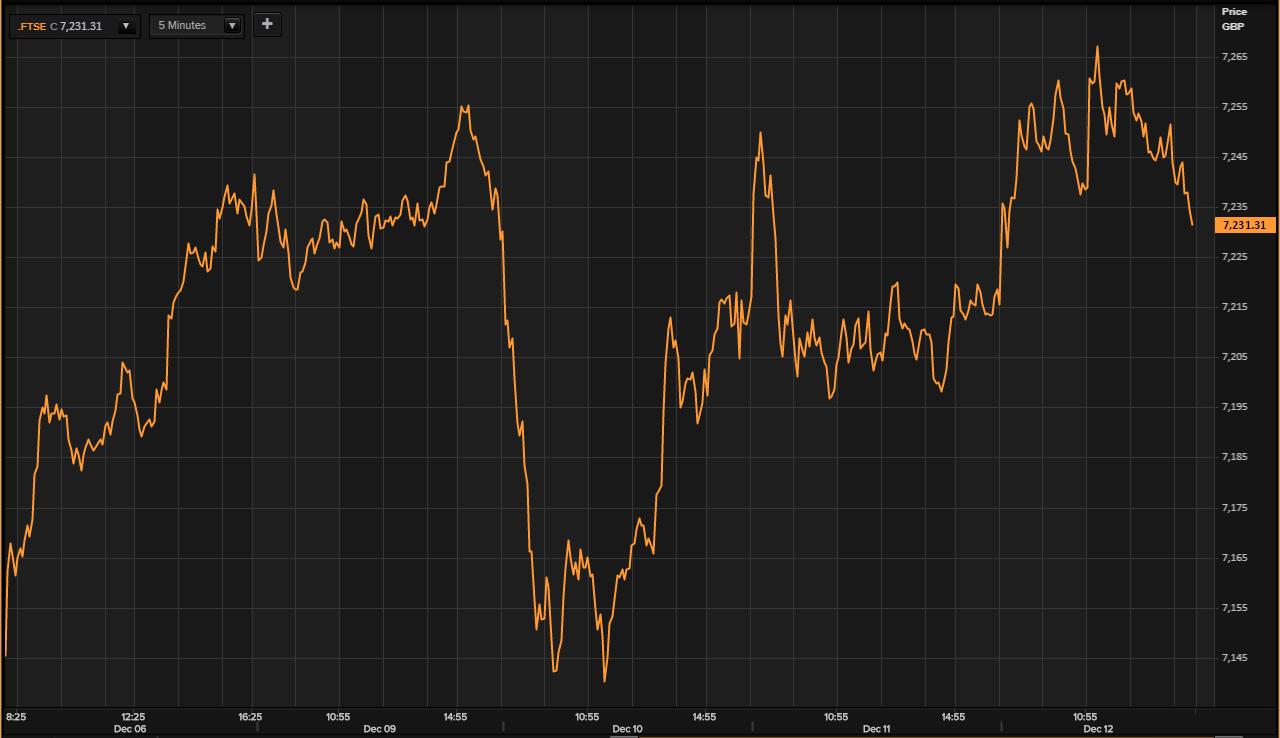 5-days Price Performance Chart of FTSE-100 Index (as on December-12-2019), before the market closed. (Source: Thomson Reuters)
Performers*: STANDARD CHARTERED PLC (STAN), FLUTTER ENTERTAINMENT PLC (FLTR) and POLYMETAL INTERNATIONAL PLC (POLY) are the top three gainers in today's session and up by 3.88%, 2.75% and 2.60% respectively.
Laggards*: SEVERN TRENT PLC (SVT), UNITED UTILITIES GROUP PLC (UU.), and HIKMA PHARMACEUTICALS (HIK) are top laggards at the FTSE 100 index and down by 2.93%, 2.43% and 2.18% respectively.
Volume Gainers*: LLOYDS BANKING GROUP PLC (LLOY), VODAFONE GROUP PLC (VOD), and BARCLAYS PLC (BARC).
Best Performing Sectors*: Financials (up 1.25%), Telecommunications Services (up 0.43%) and Basic Materials (up 0.2%).
Worst Performing Sectors*: Utilities (down 1.29%), Healthcare (down 0.51%), and Consumer Non-Cyclicals (down 0.36%).
Currency*: GBP/USD and EUR/GBP were quoting at 1.3160 and 0.8455, respectively.
US & UK 10-Year Bond Yields*: U.S 10-Year Treasuries yield was quoting at 1.899%, and the UK 10-Year Government Bond yield was trading at 0.813%, respectively.
*At the time of writing
With Bank of England reducing the interest rates to a historic low level, the spotlight is back on diverse investment opportunities.
Amidst this, are you getting worried about these falling interest rates and wondering where to put your money?
Well! Team Kalkine has a solution for you. You still can earn a relatively stable income by putting money in the dividend-paying stocks.
We think it is the perfect time when you should start accumulating selective dividend stocks to beat the low-interest rates, while we provide a tailored offering in view of valuable stock opportunities and any dividend cut backs to be considered amid scenarios including a prolonged market meltdown.


CLICK HERE FOR YOUR FREE REPORT!