US Markets: Broader indices in the United States traded in green - particularly, the S&P 500 index traded 8.21 points or 0.19 per cent higher at 4,365.94, Dow Jones Industrial Average Index surged by 50.09 points or 0.15 per cent higher at 34,020.56, and the technology benchmark index Nasdaq Composite traded higher at 14,773.80, up by 59.90 points or 0.41 per cent against the previous day close (at the time of writing – 11:45 AM ET).
US Market News: The major indices of Wall Street traded in a green zone boosted by the better-than-expected data from the housing market. Among the gaining stocks, Uber Technologies (UBER) shares surged by around 8.92% after the Company had raised its third-quarter financial outlook. Vail Resorts (MTN) shares rose by around 0.91% after KeyBanc upgraded the stock to "overweight". Johnson & Johnson (JNJ) shares grew by around 0.33% after the Company had declared its covid vaccine booster to be 94% effective. Among the declining stocks, Big Lots (BIG) shares dropped by around 4.88% after Piper Sandler had downgraded the stock from "overweight" to "neutral".
UK Market News: The London markets traded in a green zone after suffering heavy losses in the previous trading session. Moreover, the UK public sector net borrowings stood at 20.50 billion pounds during August 2021, down by around 5.5 billion pounds from the equivalent period of the prior year.
Entain shares climbed by about 18.66% after sports betting firm DraftKings made a lucrative offer worth approximately USD 20 billion in a cash & stock deal.
Oxford Instruments shares went up by around 3.38% after the Company anticipated full-year trading performance to remain slightly ahead of the expectations.
Top Global Cues to watch out today
Kingfisher had shown a year-on-year drop of around 0.6% in the third quarter like-for-like sales so far. However, the Company had reported a surge in the first-half revenue and profit. Meanwhile, the shares dropped by around 4.41%.
Compass Group shares fell by around 1.62% after the Company had expected full-year revenue to remain around 76% of the 2019 levels.
European Indices Performance (at the time of writing):

FTSE 100 Index One Year Performance (as on 21 September 2021)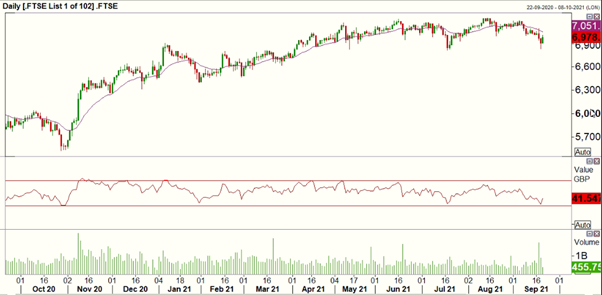 1 Year FTSE 100 Chart (Source: Refinitiv)
Top 3 Volume Stocks in FTSE 100*: Lloyds Banking Group PLC (LLOY); International Consolidated Airlines Group S.A. (IAG.); Rolls-Royce Holdings PLC (RR).
Top Sectors traded in green*: Energy (+2.79%), Real Estate (+2.38%), Consumer Cyclicals (+1.48%).
London Stock Exchange: Stocks Performance (at the time of writing)
Crude Oil Future Prices*: Brent future crude oil (future) price and WTI crude oil (future) price were hovering at $74.36/barrel and $70.59/barrel, respectively.
Gold Price*: Gold price was quoting at US$ 1,776.25 per ounce, up by 0.70% against the prior day closing.
Currency Rates*: GBP to USD: 1.3660; EUR to USD: 1.1730.
Bond Yields*: US 10-Year Treasury yield: 1.324%; UK 10-Year Government Bond yield: 0.8050%.
*At the time of writing