US Markets: Broader indices in the United States traded on a mixed note - particularly, the S&P 500 index traded 3.87 points or 0.09 per cent higher at 4,231.13, Dow Jones Industrial Average Index dipped by 55.12 points or 0.16 per cent lower at 34,544.70, and the technology benchmark index Nasdaq Composite traded higher at 13,967.27, up by 42.36 points or 0.30 per cent against the previous day close (at the time of writing - 11:50 AM ET).
US Market News: The major indices of Wall Street traded in a green zone driven by the meme stocks rally and gains made by technology stocks. Among the gaining stocks, Target (TGT) shares went up by about 0.11% after the Company had reported a jump of around 32% in the quarterly dividend. Among the declining stocks, Lordstown Motors (RIDE) shares plunged by about 18.58% after the Company stated in an SEC filing highlighting the challenges in funding vehicle production. Campbell Soup (CPB) shares dropped by around 5.29% after the quarterly top-line and bottom-line business had missed the forecast. Casey's General Stores (CASY) shares went down by about 4.20% after the Company had reported quarterly earnings of USD 1.12 per share.
Global Market Round Up || US Stocks and FTSE 100 Edge Lower
UK Market News: The London markets traded in a red zone amid ongoing worries regarding inflation after the latest figures released from China and US data to be released later this week. The National Bureau of Statistics had reported China's producer price index jumped to 9.0% in May 2021, while it was 6.8% for April 2021.
Upper Crust owner SSP Group shares rose by about 0.91%, even after it had reported wider interim losses during H1 FY21. Moreover, the business was adversely impacted by the closure of outlets due to the Covid-19 pandemic.
FTSE 100 listed Smith & Nephew was upgraded to "outperform" by Credit Suisse. Moreover, the shares grew by around 2.68%.
British Airways owner International Consolidated Airlines Group shares climbed by around 3.93%, although the CMA ("Competition and Markets Authority") stated that it would investigate British Airways as it might have broken the consumer law by not offering refunds to the customers. Furthermore, it remained the best performer on the FTSE 100 index.
European Indices Performance (at the time of writing):
FTSE 100 Index One Year Performance (as on 9 June 2021)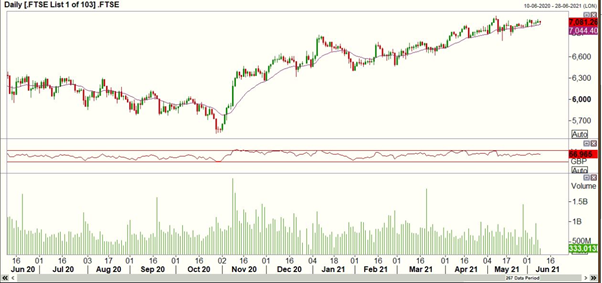 1 Year FTSE 100 Chart (Source: Refinitiv)
Top 3 Volume Stocks in FTSE 100*: Lloyds Banking Group Plc (LLOY); International Consolidated Airlines Group SA (IAG); Barclays Plc (BARC).
Top 3 Sectors traded in green*: Healthcare (+2.37%), Energy (+0.65%) and Consumer Non-Cyclicals (+0.29%).
Top 3 Sectors traded in red*: Basic Materials (-1.98%), Financials (-1.47%) and Real Estate (-1.43%).
London Stock Exchange: Stocks Performance (at the time of writing)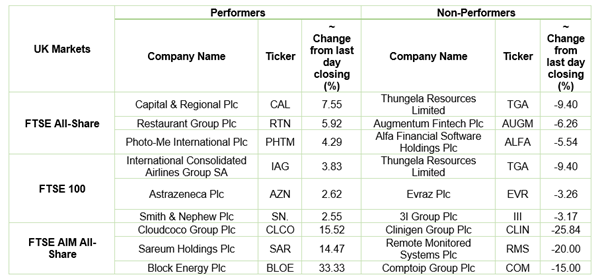 Crude Oil Future Prices*: Brent future crude oil (future) price and WTI crude oil (future) price were hovering at $72.21/barrel and $69.96/barrel, respectively.
Gold Price*: Gold price was quoting at US$ 1,893.80 per ounce, down by 0.03% against the prior day closing.
Currency Rates*: GBP to USD: 1.4116; EUR to GBP: 0.8629.
Bond Yields*: US 10-Year Treasury yield: 1.491%; UK 10-Year Government Bond yield: 0.7360%.
*At the time of writing