US Markets: Broader indices in the United States traded on a mixed note - particularly, the S&P 500 index traded 0.81 points or 0.02 per cent higher at 3,568.60, Dow Jones Industrial Average Index declined by 31.70 points or 0.11 per cent lower at 29,406.72, and the technology benchmark index Nasdaq Composite traded higher at 11,863.86, up by 62.26 points or 0.53 per cent against the previous day close (at the time of writing, before the US market close at 10:50 AM ET).
US Market News: The Wall Street traded on a mixed note as the covid-19 cases continue to rise. The weekly jobless claims in the US were reported at 742,000 for the week ended 14 November, which was above the expected 710,000 claims. Among the gaining stocks, Boeing rose by around 1.5% and gained the most on DOW 30. Exchange operator Nasdaq was up by close to 1.3% after the reports that it will buy Verafin for USD 2.75 billion. Among the decliners, Macy's slumped by close to 7.7% after the company reported a quarterly loss of 19 US cents. BJs Wholesales declined by around 4.4%, although it reported an increase in the comparable store sales. Nvidia slipped by nearly 1.1%, although the company posted earnings of USD 2.91 per share.
US Stocks Performance*
European News: The London and European markets traded in the as the covid-19 cases weighed down on the investor's sentiments. The UK announced the post-Brexit boost for military spendings. Meanwhile, the government-backed lending related to covid-19 got increased to £65.48 billion. Among the gaining stocks, shares of Royal Mail surged by around 6.2% after it posted a 9.8% increase in revenue. Grainger rose by nearly 1.3% after it reported 16% growth in net rental income. 888 Holdings gained by close to 0.3% after it announced the roll-out of the control centre. HgCapital Trust was up by around 0.1% after it announced an investment in Septeo Group. Among the decliners, Investec declined by close to 6.0%, although the company reported a growth in funds under management. Syncona slipped by around 0.7% after the company reported a NAV total return of 9.6% in H1 FY21.
European Indices Performance (at the time of writing):

FTSE 100 Index One Year Performance (as on 19 November 2020)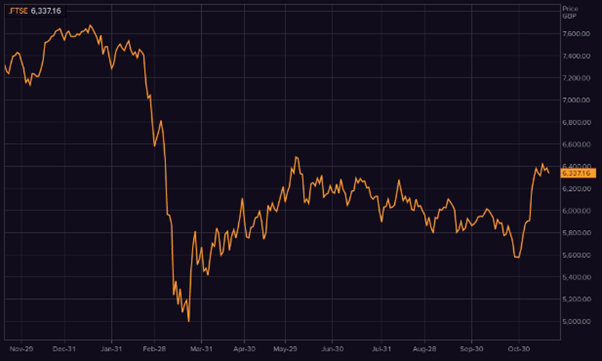 1 Year FTSE 100 Chart (Source: Refinitiv, Thomson Reuters)
Top 3 Volume Stocks in FTSE 100*: Lloyds Banking Group Plc (LLOY); Rolls-Royce Holdings Plc (RR.); Vodafone Group Plc (VOD).
Top 2 Sectors traded in green*: Healthcare (+0.59%) and Industrials (+0.35%).
Top 3 Sectors traded in red*: Energy (-2.59%), Real Estate (-1.70%) and Basic Materials (-1.32%).
London Stock Exchange: Stocks Performance (at the time of writing)
Crude Oil Future Prices*: Brent future crude oil (future) price and WTI crude oil (future) price were hovering at $43.89/barrel and $41.61/barrel, respectively.
Gold Price*: Gold price was quoting at US$1,861.85 per ounce, down by 0.64% against the prior day closing.
Currency Rates*: GBP to USD: 1.3237; EUR to GBP: 0.8952.
Bond Yields*: US 10-Year Treasury yield: 0.849%; UK 10-Year Government Bond yield: 0.323%.
*At the time of writing
High yielding dividend stocks may be a good bet amid lower Government Bond yield regime.
With yields on UK government bonds are at a record low, stocks with higher dividend yield (%) will be back in investor's attention.
Dividend stocks usually do not get into a free fall and outperform most of the time.
Dividend stocks are easy to get cash flow from your stock investments without liquidating anything. Further, you can use dividends to buy additional units of stock. And, if you reinvest dividends, you can significantly increase your long-term return from your investments because of the power of compounding.
Click here to find out Top quality high yielding dividend stocks for 2020.
CLICK HERE FOR YOUR FREE REPORT!