US Markets: Wall Street started slightly higher on Wednesday, 20 October, with Dow Jones Industrial Average leading the charge, followed by wider share indicator S&P 500, while the tech-heavy benchmark Nasdaq Composite struggled to oscillate in the positive territory during the opening trade. So far, the leading stock indices have advanced significantly following the earnings optimism amidst the market participants.
The investors are looking forward to the outcome of back-to-back speeches by the Charles L. Evans, CEO of Federal Reserve Bank of Chicago, and Randal Keith Quarles, Vice Chair for Supervision at the US Federal Reserve, scheduled in the first half session today.
US Market News: With all the three major stock indices hovering in green, the heavyweight shares of Apple Inc, Facebook Inc and IDEXX Laboratories contributed the most to the upswing of Nasdaq Composite, while the stock of Alphabet, ASML Holding NV and Netflix stood as the major negative point contributors.
The stock of Peloton Interactive Inc (up 4.38%), Sirius XM Holdings Inc (up 2.24%), Micron Technology Inc (up 1.74%), eBay Inc (up 1.74%) and Cadence Design Systems (up 1.66%) emerged as the top gainers among Nasdaq components.
UK Markets: UK shares grappled with mounting fears of high inflation as the Office for National Statistics reported an annual growth of 3.1% in the consumer price index based inflation in the September of 2021. However, the uptick was marginally down as compared to the August's YoY rise of 3.2%.
FTSE 100 (one-year performance)
Source: REFINITIV
The benchmark FTSE 100 traded in a range bound manner throughout the day with the blue-chip mining shares, alongside the banking majors dragging the index. The gains in shares of Unilever (up 0.87%), Diageo (up 1.18%), British American Tobacco (up 0.70%), Relx (up 0.86%), Reckitt Benckiser Group (up 1.17%), National Grid (up 1.15%), along with a slight support from industry leaders AstraZeneca (up 0.20%) and HSBC Holdings (0.23%) helped the index in offsetting the losses.
UK Market Snapshot
Top 3 volume leaders: Lloyds Banking Group, International Consolidated Airlines Group and Rolls-Royce Holdings Plc
Top 3 sectoral indices: Electricity Generation and Distribution, Telecommunications, Beverages
Bottom 3 sectoral indices: Travel, Real Estate Trusts, Household Goods
Crude oil prices: Brent crude up 0.24% at $85.28/barrel; US WTI crude up 0.41% at $82.78/barrel
Gold prices: An ounce of gold traded at $1,783.35, up 0.73%
Exchange rate: GBP vs USD - 1.3808, up 0.10% | GBP vs EUR - 1.1855, up 0.02%
Bond yields: US 10-Year Treasury yield - 1.639% | UK 10-Year Government Bond yield - 1.1560%
Global Markets @ 15:45 BST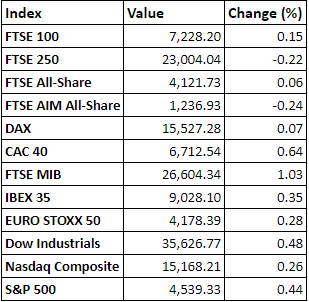 *All figures mentioned are recorded at the time of writing