UK Market: The UK market plunged on Friday, with the blue-chip FTSE 100 index falling over 1.20%. The blue-chip index headed for one of its worst weeks of the year, with miners leading the losses after parts of Shanghai announced fresh COVID-19 curbs. The pound slumped to around US$1.24 after US inflation hit a fresh 40-year high in May to 8.6% year-on-year, up from the earlier forecast of 8.3%. Next week, the Bank of England is likely to raise interest rates further for the fifth time since December 2021 by another 0.25% to 1.25%, which also weighed on the sentiments.
ProCook Group Plc (LON: PROC): The share of UK's leading direct-to-consumer specialist kitchenware brand, ProCook Group Plc, fell by almost 40%, with day's low of GBX 42.00. the company said revenues for the year to next April are set to be flat at around £69 million because of a squeeze on household budgets. It expects adjusted profits to be between £4 million and £6 million.
GSK Plc (LON: GSK): The share of the multinational pharmaceutical company GSK Plc rose by around 1%, with a day's high of GBX 1,756.00. The company said its vaccine for respiratory syncytial virus showed statistically significant and clinically meaningful efficacy in a last-stage trial involving adults aged 60 years and older.
CMC Markets Plc (LON: CMCX): The share of the financial services company CMC Markets Plc rose by around 10%, with a day's high of GBX 265.00. The company said that pre-tax profit fell for fiscal 2022 as revenue decreased because of a strong comparative. It also added that it continued to see uncertainty in financial markets and other sectors.
US Markets: The US market is likely to get a dismal start, as suggested by the futures indices. S&P 500 future was down by 105.32 points or 2.68% at 3,910.00, while the Dow Jones 30 futures was down by 2.44% or 788.45 points at 31,484.34. The technology-heavy index Nasdaq Composite future was down by 3.11% at 11,888.76 (At the time of writing – 10:20 AM ET).
US Market News:
The share of the electronic-signature technology company DocuSign (DOCU) plunged 26.1% in the premarket trading session after its quarterly profit and revenue failed to beat Wall Street forecasts. The company previously warned that a return to post-Covid working conditions could cut into its business.
The share of an American mountain resort company, Vail Resorts (MTN), surged by 6.7% in the premarket trading session after the company reported better than expected quarterly results. Covid-related restrictions and successful efforts to attract visitors outside of its peak skiing season helped in driving the quarterly results.
European Indices Performance (at the time of writing):
FTSE 100 Index One Year Performance (as on 10 June 2022)
(Source: Refinitiv)
Top 3 Volume Stocks in FTSE 100*: Lloyds Banking Group plc (LLOY), Vodafone Group Plc (VOD), Barclays Plc (BARC).
Top 3 Sectors traded in red*: Basic Material (-4.33%), Financials (-2.90%), Consumer Cyclicals (-2.40%).
London Stock Exchange: Stocks Performance (at the time of writing)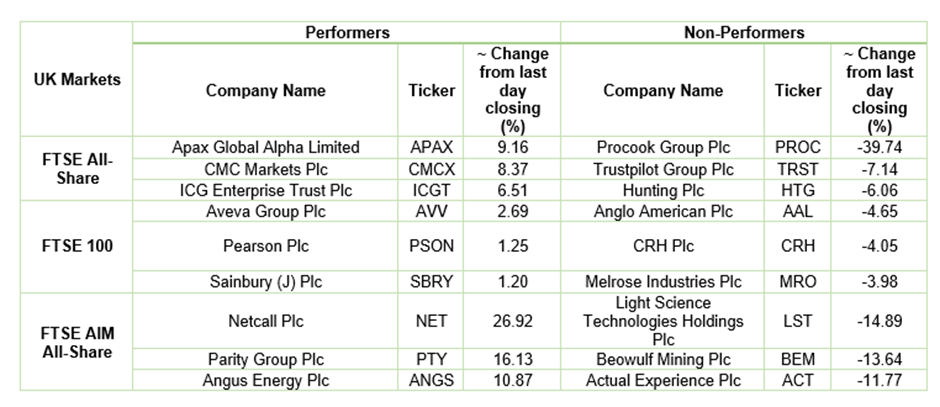 Crude Oil Future Prices*: Brent future crude oil (future) price and WTI crude oil (future) price were hovering at $124.24/barrel and $122.69/barrel, respectively.
Gold Price*: Gold price was hovered at around US$ 1,834.45 per ounce, down by 0.94% mmmm the prior day's closing.
Currency Rates*: GBP to USD: 1.2441; EUR to USD: 1.0580.
Bond Yields*: US 10-Year Treasury yield: 3.038%; UK 10-Year Government Bond yield: 2.3255%.
*At the time of writing