UK Market: The UK stock market showed a mixed trend with the blue-chip FTSE 100 index down by 0.16%, while the mid-cap focused FTSE 250 index up by 0.11%. FTSE100 listed oil & gas stocks like Royal Dutch Shell Plc (-2.44%), and BP Plc (-1.95%) have dragged the blue-chip index lower with investors taking the opportunity to book profit after a recent rally due to a rise in crude oil prices.
Spirent Communications Plc (LON: SPT): Shares of the telecom equipment provider were up by over 7.5%, with a day's high of GBX 248.40 after the company announced its business update for the financial year ended 31 December 2021. The overall business performance was in line with market expectations, with a 10% growth in revenue to $576 million.
DeepMatter Group Plc (LON: DMTR): Shares of the AIM-listed big data and analytics company were down by over 23%, with a day's low of GBX 0.25 after the company announced the results of its open offer. The company received interest from the shareholders as it looks to raise gross proceeds of £0.25 million.
Wincanton Plc (LON: WIN): Shares of the supply chain solutions provider were up by over 12%, with a day's high of GBX 392 after the announcement of its third-quarter trading update. The company witnessed high demand for its services from different industry groups leading to revenue growth of 15%.
US Markets: The US market is likely to extend gains with a positive start, as indicated by the futures indices. S&P 500 future was up by 24 points or 0.54% at 4,548, while the Dow Jones 30 futures was up by 0.42% or 148 points at 35,040. The technology-heavy index Nasdaq Composite future was up by 1.05% at 15,190 (At the time of writing – 8:50 AM ET).
US Market News:
Shares of the jewellery retail store operator, Signet Jewelers (SIG), was up by over 6% in the pre-market session after the company announced positive sales figures during the festive seasons.
Shares of the insurance company, Travelers (TRV), were up by 2.5% in pre-market trade following the announcement of positive quarterly results. The company's revenue was above the consensus market forecast driven by growth in underwriting and investment income revenue.
Shares of the gaming sector company Electronic Arts (EA) were up by 1% in pre-market trading. As per the media report, the company could be next in line as the next probable acquisition target following the Microsoft-Activision deal.
European Indices Performance (at the time of writing):
FTSE 100 Index One Year Performance (as on 20 January 2022)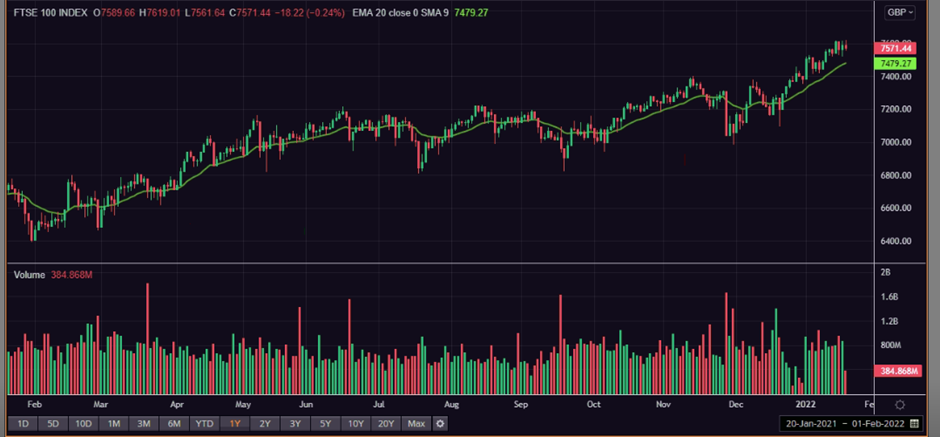 (Source: Refinitiv)
Top 3 Volume Stocks in FTSE 100*: Lloyds Banking Group plc (LLOY), Vodafone Group Plc (VOD), Natwest Group Plc (NWG)
Top 3 Sectors traded in green*: Industrials (0.51%), Basic Materials (0.50%), Utilities (0.42%)
Top 3 Sectors traded in red*: Energy (-2.54%), Financials (-0.48%), Real Estates (-0.24%)
London Stock Exchange: Stocks Performance (at the time of writing)

Crude Oil Future Prices*: Brent future crude oil (future) price and WTI crude oil (future) price were hovering at $88.10/barrel and $85.66/barrel, respectively.
Gold Price*: Gold price quoted at US$ 1,846 per ounce, up by 0.20% against the prior day closing.
Currency Rates*: GBP to USD: 1.3636; EUR to USD: 1.1353.
Bond Yields*: US 10-Year Treasury yield: 1.829%; UK 10-Year Government Bond yield: 1.2300%.
*At the time of writing